Cymbalta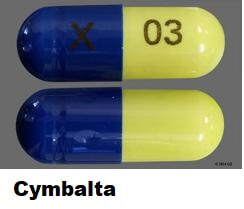 Name of generic origin: duloxetine 
Drug class: Serotonin-norepinephrine reuptake inhibitors
Oral route(Capsule, Delayed Release)
Antidepressants increased the risk of suicidal thinking and behaviour in children, adolescents, and young adults in short-term studies . These studies did not show an increase in the risk of suicidal thoughts and behaviour with antidepressant use in patients over age 24; there was a reduction in risk with antidepressant use in patients aged 65 or older. Closely monitor all antidepressant-treated patients for clinical worsening, and for the emergence of suicidal thoughts and behaviours. Inform caregivers and families about the need for constant monitoring and contact with the doctor¹.
Brand names
In the U.S.
Available Dosage Forms:
Therapeutic Class: Antidepressant
Pharmacologic Class: Serotonin/Norepinephrine Reuptake Inhibitor
Uses for Cymbalta
Cymbalta can be used for treating anxiety and depression. It also helps with discomfort due to nerve injury that is associated with diabetic neuropathy (diabetic peripheral neuropathy).
Duloxetine can also be used to treat Fibromyalgia (muscle stiffness and pain) as well as persistent (long-lasting) pain due to bones and muscles.
Duloxetine is part of a class of medications that are referred to as selective serotonin and norepinephrine-reuptake inhibitors (SSNRIs). They are believed to be effective by enhancing the activities of chemical substances called serotonin and norepinephrine within the brain.
This medication is only available upon prescription by your doctor.
Before using Cymbalta
When deciding whether to take a medication, the potential risks of using the drug should be considered in relation to the benefits it can bring. It is a choice you and your physician will take. To determine the appropriate medicine to be considered, the following factors should be assessed:
Allergies
Discuss with your physician whether you've had any allergic or unusual reaction to this medication or any other medication. Inform your health care doctor if you are suffering from other kinds of allergies, like to dyes, foods preservatives, animal products, or other substances. For non-prescription medications, look over the label or ingredient list carefully.
Pediatric
The studies that have been conducted up to now have not found issues specific to children, which could hinder the efficacy of duloxetine for children to alleviate anxiety in children seven years old and over. However, the safety and effectiveness are not proven for children who are less than 7 years old. age.
The studies that have been conducted up to now have not found issues that are specific to children, which could hinder the effectiveness of duloxetine for children in treating fibromyalgia. children aged 13 and over. However, the safety and effectiveness have not been proven in children under 13 years old.
Studies have not been conducted on the relation of age and the effect of duloxetine on other indications in the child population. The safety and effectiveness of duloxetine have not been proven for any other indication.
Geriatric
The studies that have been conducted so far have not revealed particular geriatric problems that might hinder the effectiveness of duloxetine among the older. However, older patients could be more susceptible to the effects of this medication as compared to younger adults. They also have a higher risk to suffer from hyponatremia (low sodium levels in the blood) and are at a higher risk of falls, which could require caution for patients taking duloxetine.
Breastfeeding
There aren't enough research studies on women to determine the risks to babies when using this medication while breastfeeding. Be sure to weigh the potential benefits against the risks that could be associated with using this medication during nursing.
Interactions with medications
While certain medications should not be combined in any way, however, there are instances where two different medications can be taken together, even if interactions could occur. In these situations, your doctor might want to adjust the dose or take other precautions if needed. If you are taking this medication it is essential to let your doctor know that you are currently taking one or more of the drugs mentioned below. The following interactions were determined based on their potential importance and are not meant to be comprehensive.
The use of this medication together with any of the following medications is not recommended. Your doctor could decide to not prescribe this medication or modify one of the other medications you are taking.
Bromopride

Furazolidone

Iproniazid

Isocarboxazid

Linezolid

Methylene Blue

Metoclopramide

Moclobemide

Nialamide

Phenelzine

Rasagiline

Selegiline

Thioridazine

Tranylcypromine

Viloxazine
Utilizing this medicine in conjunction together with any of the following medications is generally not advised, however it may be necessary in certain instances. If both medications are prescribed in conjunction and your doctor recommends a change in the dosage or frequency you take one or both of the medications.
Abciximab

Aceclofenac

Acemetacin

Alfentanil

Almotriptan

Amphetamine

Amtolmetin Guacil

Anagrelide

Anileridine

Apixaban

Asenapine

Aspirin

Benzhydrocodone

Benzphetamine

Brexpiprazole

Bromfenac

Brompheniramine

Bufexamac

Buprenorphine

Bupropion

Buspirone

Butorphanol

Capmatinib

Carbamazepine

Celecoxib

Chlorpheniramine

Choline Salicylate

Cifenline

Cilostazol

Cimetidine

Clonixin

Clozapine

Cocaine

Codeine

Cyclobenzaprine

Darunavir

Deferasirox

Desvenlafaxine

Dexibuprofen

Dexketoprofen

Dextroamphetamine

Dextromethorphan

Diclofenac

Difenoxin

Diflunisal

Dihydrocodeine

Diphenoxylate

Dipyrone

Dolasetron

Donepezil

Doxorubicin

Doxorubicin Hydrochloride Liposome

Droxicam

Edoxaban

Encainide

Enoxacin

Epoprostenol

Escitalopram

Ethylmorphine

Etodolac

Etofenamate

Etoricoxib

Felbinac

Fenfluramine

Fenoprofen

Fentanyl

Fepradinol

Feprazone

Flecainide

Floctafenine

Flufenamic Acid

Fluoxetine

Fluvoxamine

Frovatriptan

Givosiran

Granisetron

Hydrocodone

Hydromorphone

Hydroxytryptophan

Ibuprofen

Indecainide

Indomethacin

Iobenguane I 123

Iobenguane I 131

Ketobemidone

Ketoprofen

Ketorolac

Lamifiban

Lasmiditan

Levomilnacipran

Levorphanol

Lexipafant

Lisdexamfetamine

Lithium

Lorcainide

Lorcaserin

Lornoxicam

Loxoprofen

Lumiracoxib

Meclofenamate

Mefenamic Acid

Meloxicam

Meperidine

Metaxalone

Methadone

Methamphetamine

Milnacipran

Mirtazapine

Morniflumate

Morphine

Morphine Sulfate Liposome

Nabumetone

Nalbuphine

Naproxen

Nebivolol

Nefazodone

Nepafenac

Nicomorphine

Niflumic Acid

Nimesulide

Nimesulide Beta Cyclodextrin

Ondansetron

Opium

Opium Alkaloids

Oxaprozin

Oxycodone

Oxymorphone

Oxyphenbutazone

Ozanimod

Papaveretum

Parecoxib

Paregoric

Paroxetine

Pentazocine

Phenylbutazone

Piketoprofen

Piritramide

Piroxicam

Pixantrone

Pranoprofen

Proglumetacin

Propafenone

Propyphenazone

Proquazone

Recainam

Remifentanil

Rivaroxaban

Rizatriptan

Rofecoxib

Salicylic Acid

Salsalate

Sertraline

Sibrafiban

Sibutramine

Sodium Salicylate

St John's Wort

Sufentanil

Sulfinpyrazone

Sulindac

Sulodexide

Sumatriptan

Tapentadol

Tenoxicam

Tianeptine

Tiaprofenic Acid

Ticlopidine

Tilidine

Tirofiban

Tolfenamic Acid

Tolmetin

Tramadol

Trazodone

Tryptophan

Valdecoxib

Venlafaxine

Vilazodone

Vortioxetine

Xemilofiban

Ziprasidone

Zolmitriptan
The combination of this medication in conjunction with one of the following drugs could cause an increased risk of some side effects. However, having both medicines in combination could be the most effective treatment for you. If you have been prescribed both medications by your doctor, they might alter the dosage or frequency of use of either or both drugs.
Acenocoumarol

Phenprocoumon

Warfarin
Interactions with food, tobacco and alcohol
Certain medications shouldn't be used during or near the time of having food items or eating particular kinds of food as interactions could happen. Smoking or drinking alcohol in conjunction together with certain medications can result in interactions. The following interactions have been chosen in light of their potential importance and are not intended to be comprehensive.
The use of this medicine in conjunction together with the following is generally not advised, however it may be necessary for certain situations. If taken together with other medications, your doctor could alter the dose or frequency you take this medication or provide specific directions regarding the use of alcohol, food, or tobacco.
Other medical issues
The presence of any other medical conditions could affect the effectiveness of this medication. Be sure to inform your doctor if there are any other medical conditions including:
History of alcohol abuse

Kidney disease, whether severe 

Liver Disease (including cirrhosis)–Should not be treated in patients with these conditions.
Bipolar disorder (mood disorder accompanied by depression and mania) or the possibility of or

Problems with bleeding 

Diabetes 

Problems with digestion 

Glaucoma (angle-closure) 

A blood vessel or heart disease

Hypertension (high blood pressure)

Hyponatremia (low sodium levels in the blood)

Mania 

Seizures

Urinary problems (eg urinary retention, difficulty urinating)–Use with care.

 

It could make these problems more severe.
Kidney disease: Use with care.

 

The effects could be increased due to the slower elimination of the medication out of the body.
Proper use of Cymbalta
Use this medication as directed by your physician to improve your health as much as is possible. Don't take more of it, and don't take it for longer periods of time and don't use it for a longer period than what the prescribed by your doctor.
The medicine includes a Medication Guide. Take the time to read and follow the instructions carefully. Talk to your doctor if have any concerns.
Take this capsule with delayed release in its entirety, with the option of eating it without. Don't chew, crush or crack the capsule. Do not take the capsule out of or open the Cymbalta(r) delayed release capsule, and then sprinkle its contents over food items or in liquids.
If you're unable to take this Drizalma Sprinkle(tm) delayed-release capsule whole, you can follow these steps:
You can open the capsule and sprinkle the contents on one tablespoon (15 milliliters) of apple sauce.

 

Consume the mix immediately and do not keep any of the mixes to be used later.

It is possible to open the capsule and transfer the contents into an all-plastic catheter tip syringe, and then add 50mL of water.

 

Don't use any other liquids.

 

Shake it gently for 10 seconds and then pass it through the Nasogastric tube.

 

Rinse the tube with more water (about 15 millilitres) in case you need to.
You'll need to use this medication for a few weeks before you start feeling better. Continue to take the medication even if you think that you're not improving Talk to your physician if there are any concerns.
Dosing
The dosage of this medication can differ to different people. Follow your doctor's prescriptions or the instructions in the prescription. The information below is only the doses that are typical of this medication. If you have a dose that is different you should not alter it unless your doctor instructs you to change it.
The amount of medicine you consume is contingent on how strong the drug is. Additionally, the amount of doses that you are taking each day, the amount of time between doses and the duration of time that you are taking the medication will depend on the medical condition that you're treating with the medication.
For oral dosage forms (delayed-release capsules):

To treat anxiety:

Adults: At the beginning 60 milligrams (mg) every day.

 

Patients may begin at 30 mg once per day for one week before increasing to 60 mg every day.

 

Your physician may raise your dosage as needed.

 

But, the dosage is generally not greater than 120 mg daily.

Adults over the age of 30: Start with 30 mg once per every day for 2 weeks, before increasing to 60 mg every day.

 

Your physician may alter your dosage as necessary.

 

But, the dosage is typically not higher than 120 mg per day.

Children aged 7 years and over–Initially, 30 mg once per day for two weeks prior to increasing the dosage to 60 mg a every day.

 

Your physician may alter your dose as necessary.

 

However, the dose should typically not be higher than 120 mg per day.

Children who are younger than 7 years old – Use and dosage should be determined by your physician.

For the treatment of muscles that are painful for a long time:

Adults: 60 milligrams (mg) every day.

 

Patients may begin at 30 mg once per day for a week, before increasing up to 60 mg twice a day.

Children: Use and dosage should be decided by your physician.

To treat depression:

Adults – 40 milligrams (mg) daily (given in 20 mg doses twice every day) up to 60 mg daily (given at least once per day or as 30 mg twice times every day).

 

Your physician may raise your dosage as required.

 

But, the dosage is typically not higher than 120 mg daily.

Children–Use and dosage should be determined by your physician.

To treat peripheral neuropathy caused by diabetes:

Adults – 60 milligrams (mg) daily.

Children–Use and dosage should be determined by your physician.

To treat fibromyalgia:

Adults – 60 milligrams (mg) every day.

 

Some patients can begin with 30 mg a day for a week prior to increasing to 60 mg each day.

Children aged 13 or older – Start with 30 mg daily.

 

Your physician may alter your dosage as necessary.

 

But, the dosage is generally not higher than 60 mg daily.

Children who are younger than 13 years old – Use and dosage must be determined by your doctor.
Missed dose
If you have missed the dose of this medication be sure to take it as fast as you can. But, if it's close to the time for the next dose, you can skip the missed dose, and go back to your normal dosage schedule. Don't double doses.
Storage
Keep the medicine in a tightly sealed bottle at room temperatures, and away from moisture, heat and bright light. Avoid getting frozen.
Keep away from the children's reach.
Avoid keeping outdated medicines or medicines that are no longer required.
Discuss with your doctor to tell you how to dispose of any medication that you do not make use of.
Use caution when taking Cymbalta
It is essential that your physician monitor your progress on a regular basis to ensure that you are prepared for any adjustments in your dosage and to prevent any undesirable negative effects.
Take duloxetine only in conjunction with a monoamine oxide (MAO) inhibitor (eg isocarboxazid [Marplan(r)or Phenelzine [Nardil(r) selegiline [Eldepryl(r)[Eldepryl(r)] and tranylcypromine [Parnate(r)[Parnate(r)]) within the last two weeks. Don't begin using an MAO inhibitor for 5 days after discontinuing duloxetine. When you start, you might be prone to confusion, agitation anxiety, stomach or intestinal symptoms, sudden increases in body temperature, very elevated blood pressure or extreme convulsions. Talk to your doctor if are unsure if you are taking an MAOI such as Linezolid (Zyvox(r)) and Methylene Blue injection.
Duloxetine could cause teens or young adults become angry, frustrated or exhibit other abnormal behavior. It can also trigger people to develop suicidal ideas and tendencies or to be more depressed. Certain people might have difficulty sleeping, have trouble sleeping or experience a significant rise in energy levels, or even begin to be reckless. When you, or your loved ones observe any of these consequences, speak to your doctor immediately. Inform your doctor that you or someone else in your family suffers from Bipolar Disorder (manic-depressive) or attempt at suicide.
Consult your physician right now if you feel tenderness or pain in the upper stomach or bowels, pale stool and dark urine, a loss of appetite nausea, vomiting or skin that appears yellow or red. These may be signs of a liver issue that is serious.
Check with your physician about the other medications you're taking. Duloxetine can cause serious health issues known as serotonin syndrome also known as neuroleptic malignant disorder (NMS)-like reactions when taken in conjunction in conjunction with certain medications, such as buspirone (Buspar(r)) and Fentanyl (Abstral(r), Duragesic(r)) or lithium (Eskalith(r), Lithobid(r)) Tryptophan, St. John's wort amphetamines, and some pain medication (eg tramadol [Ultram(r)Sumatriptan [Imitrex(r)), zolmitriptan [Zomig(r) or the rizatriptan [Maxalt(r )]). Consult your physician before taking any other medications.
This medication may increase the risk of bleeding issues. Check with your physician whether you're using other medications that thin blood, including Aspirin or NSAID medication for pain (eg naproxen, ibuprofen, naproxen Advil(r), Aleve(r), Celebrex(r), or Motrin(r)) or warfarin (Coumadin(r)).
Skin reactions that are serious (eg erythema multiforme Stevens-Johnson Syndrome, for instance) may occur while you are taking treatment with this medication. Consult your physician right in case you notice peeling, blistering or loosening of your skin, colds and coughs and diarrhoea, itching, muscle or joint pain or red eyes that are irritated. red skin lesions, usually with a purple-coloured centre sore throats or ulcers, white spots that appear in the mouth or on your lips or unusual weakness or fatigue during treatment with this medication.
Do not abruptly discontinue taking this medicine without first consulting with your physician. If you've been advised not to take duloxetine discuss with your doctor the best way to gradually reduce the dose. This can lower the risk of suffering withdrawal symptoms like headaches, nausea, dizziness and vomiting, sweating more irritability, nightmares, difficulties sleeping or tingling feelings.
This medication can alter the levels of blood sugar. If you're diabetic, and observe a change to you results from your urine or blood tests for sugar, talk to your physician.
This medication can cause blurred vision dizziness, drowsiness problems with thinking, or difficulty controlling body movements. This can result in fractures, falls and other injuries. Be sure to know what your reaction is to this medicine prior to you drive, operate machines, or perform any else that may be risky in the event that you aren't alert or in a position to clearly see. You might also be feeling lightheaded or faint or fall when you get up abruptly from a sitting or lying posture, so move up slowly. If any of these symptoms are troubling you or preventing you from doing your regular routine, consult your physician immediately.
It is necessary to check your blood pressure prior to starting the medication and also while you're taking it. If you observe any changes to your blood pressure recommendation make sure to contact your doctor immediately. If you have questions regarding this, ask your physician.
Hyponatremia (low sodium levels in blood) could be a result of this medication. Consult your physician in case you are experiencing problems with your urine, confusion, reduced output and difficulty concentrating, a rapid or irregular heartbeats headaches, memory issues nausea or vomiting swelling of the ankles, face or hands, difficulty breathing, unusual fatigue or weakening.
This medication can cause sexual issues. Talk to your doctor immediately if you notice a decrease in attraction to sexual activity and inability to get or maintain an erection or decrease in sexual capability and desire, drive or performance.
Do not smoke while taking this medicine. If you have questions regarding this, consult your physician.
Cymbalta side effects
In addition to the beneficial effects, medicines can produce unwanted side negative effects. While not all of these adverse effects can occur, if they occur, they could require medical attention.
Talk to your doctor immediately in the event that any of these negative side effects occur:
The exact cause is not known.
Area of rash

Blindness

the skin peels, blisters or peeling or

blurred vision

change in consciousness

chest tightness

chills

Stools made of clay

cold sweats

confusion

Dark urine that is dark

lower output of urine

diminished vision

difficulties swallowing

faintness, dizziness, or lightheadedness when rising quickly from a sitting or lying or seated

Eye discomfort

fainting

rapid or irregular heartbeat

general fatigue or weakness or general fatigue

Itching or hives or an appearance of a skin rash

Hives, itching and swelling of the eyelids, around the face, eyes lips, or the tongue

an increase in thirst

Muscle or joint discomfort

Large, hive-like swellings around the eyes, face and lips. It can also be seen on the tongue throat, hands, feet, legs or sexual organs

stool with a light color

loss of consciousness

Lesions of the skin that are red, typically with a purple central

Eyes that are red and irritated

The skin is red

seizures

ulcers, sores, or white spots on your mouth, or around the lip

stomach pain

swelling of the ankles, face or hands

Tearing

Unpleasant breath unpleasant breath

Upper right stomach discomfort in the upper right stomach

Vomiting of blood

Skin and eyes that are yellow
Contact emergency assistance immediately in the event that any of these signs of an overdose are present:
The signs of an overdose
Agitation

diarrhoea

febrile

Loss of bladder control

muscle spasm or jerking the entire extremity

Reflexes that are overactive

poor coordination

insanity

Shivering

Drowsiness, sleepiness, or unusually sleepiness or unusual

abrupt loss of consciousness

sweating

speaking or acting in the passion that you are unable to be in control of

The hands shake or shake

Twitching

unusual fatigue or weakness

vomiting
Certain side effects can be experienced which usually don't require medical care. These side effects can disappear when your body adjusts. Additionally your doctor could be able inform you ways to avoid or minimize the effects of these adverse effects. Consult your doctor for any of these adverse effects that persist or are troubling or if there are any concerns about these:
More popular
Pain or aches in the body

cough

difficulties in bowel movements (stool)

dry mouth

Ear congestion

frequent urination

headache

weakening or losing strength or

Loss of appetite

Loss of voice

Muscle aches

nausea

Drowsiness, sleepiness or unusually sleepiness or unusual

Sneezing

sore throat

nasal stuffiness or runny nose

The amount of sweating is increasing

Trouble sleep

weight loss
Less well-known
Abnormal ejaculation

unusual orgasm

acidic or stomach sourness

Belching

burning or crawling sensation of numbness, pain, "pins and needles" or tingling sensations

changes in the taste

Change or issue with semen discharge

less interest in sexual encounters

difficulties in difficulty in

sensation in the form of redness or warmth on the neck, face or arms, and, occasionally the upper chest.

heartburn

inability to maintain or have the ability to maintain an

indigestion

longer than normal time for longer than usual time to

loose stool

lack of sexual capability or drive, desire or loss of sexual ability, desire, drive or

Loss of taste

muscles cramps, pains or stiffness

shakes in your hands, arms, legs or feet

stomach discomfort or upset

sudden sweating

swollen joints

The shaking or trembling of feet or hands
Other adverse side effects that are not listed could also be present in certain patients. If you observe any other symptoms, consult with your physician.
Additional details
Always consult your doctor to confirm that the information provided on this page is applicable to your specific situation.
SRC: NLM .