Zomig
Generic name: zolmitriptan (oral)
Brand names: Zomig, Zomig-ZMT
Drug class: Antimigraine agents
Medically reviewed by  A Ras MD.
What is Zomig?
Zomig is a prescription medication used to treat migraine headaches in adults. ZOMIG is not for other types of headaches. The safety and efficacy of Zomig in patients under 18 have not been established.
What is a Migraine Headache?
Migraine is an intense, throbbing headache. You may have pain on one or both sides of your head. You may have nausea and vomiting, and be sensitive to light and noise. The pain and symptoms of a migraine headache can be worse than a common headache. Some women get migraines around the time of their menstrual period. Some people have visual symptoms before the headache, such as flashing lights or wavy lines, called an aura.
How does Zomig work?
Treatment with Zomig reduces swelling of blood vessels surrounding the brain. This swelling is associated with the headache pain of a migraine attack. Zomig blocks the release of substances from nerve endings that cause more pain and other symptoms like nausea, and sensitivity to light and sound. It is thought that these actions contribute to relief of your symptoms by Zomig.
Description
ZOMIG® (zolmitriptan) Nasal Spray contains zolmitriptan, which is a selective 5-hydroxytryptamine 1B/1D (5-HT1B/1D) receptor agonist. Zolmitriptan is chemically designated as (S)-4-[[3-[2-(dimethylamino)ethyl]-1H-indol-5-yl]methyl]-2-oxazolidinone and has the following chemical structure:
The empirical formula is C16H21N3O2, representing a molecular weight of 287.36. Zolmitriptan is a white to almost white powder that is readily soluble in water. ZOMIG Nasal Spray is supplied as a clear to pale yellow solution of zolmitriptan, buffered to a pH 5.0. Each ZOMIG Nasal Spray contains 2.5 mg or 5 mg of zolmitriptan in a 100‑µL unit dose aqueous buffered solution containing citric acid, anhydrous, USP, disodium phosphate dodecahydrate USP and purified water USP.
ZOMIG Nasal Spray is hypertonic. The osmolarity of ZOMIG Nasal Spray for 2.5 mg is 360 to 420 mOsmol, and for 5 mg is 420 to 470 mOsmol.
Mechanism of Action
Zolmitriptan binds with high affinity to human recombinant 5‑HT1D and 5‑HT1B receptors, and moderate affinity for 5‑HT1A receptors. The N‑desmethyl metabolite also has high affinity for 5‑HT1B/1D and moderate affinity for 5‑HT1A receptors.
Current theories proposed to explain the etiology of migraine headache suggest that symptoms are due to local cranial vasodilatation and/or to the release of sensory neuropeptides (vasoactive intestinal peptide, substance P and calcitonin gene-related peptide) through nerve endings in the trigeminal system. The therapeutic activity of ZOMIG for the treatment of migraine headache is thought to be due to the agonist effects at the 5‑HT1B/1D receptors on intracranial blood vessels (including the arterio‑venous anastomoses) and sensory nerves of the trigeminal system which result in cranial vessel constriction and inhibition of pro-inflammatory neuropeptide release.
Who should not take Zomig?
Do not take Zomig if you:
Have heart disease or a history of heart disease
Have uncontrolled high blood pressure
Have hemiplegic or basilar migraine (if you are not sure about this, ask your doctor)
Have or had a stroke or problems with your blood circulation
Have serious liver problems
Have taken any of the following medicines in the last 24-hours: other "triptans" like almotriptan (Axert), eletriptan (Relpax), frovatriptan (Frova), naratriptan (Amerge), rizatriptan (Maxalt), sumatriptan (Imitrex), sumatriptan/naproxen (Treximet); ergotamines like Bellergal-s, Cafergot, Ergomar, Wigraine; dihydroergotamine like d.h.e. 45 or Migranal; or methysergide (Sansert). These medications have side effects similar to Zomig.
Have taken monoamine oxidase (MAO) inhibitors such as phenelzine sulfate (Nardil) or tranylcypromine sulfate (Parnate) for depression or other conditions within the last 2 weeks.
Are allergic to Zomig or any of its ingredients. The active ingredient is zolmitriptan. The inactive ingredients are listed at the end of this guide.
What should I tell my healthcare provider before taking Zomig?
Tell your doctor about all the medicines you take or plan to take, including prescription and non-prescription medicines, supplements, and herbal remedies.
Tell your doctor if you are sensitive to phenylalanine, which can be found in the artificial sweetener aspartame. Zomig-ZMT contains phenylalanine.
Tell your doctor if you are taking selective serotonin reuptake inhibitors (SSRIs) or serotonin norepinephrine reuptake inhibitors (SNRIs), two types of drugs for depression or other disorders. Common SSRIs are Celexa (citalopram HBr), Lexapro (escitalopram oxalate), Paxil (paroxetine), Prozac (fluoxetine), Symbyax (olanzapine/fluoxetine), Zoloft (sertraline), Sarafem (fluoxetine) and Luvox (fluvoxamine). Common SNRIs are Cymbalta (duloxetine) and Effexor (venlafaxine). Your doctor will decide if you can take Zomig with your other medicines.
Tell your doctor if you know that you have any of the following: risk factors for heart disease like high cholesterol, diabetes, smoking, obesity (overweight), menopause, or a family history of heart disease or stroke.
Tell your doctor if you are pregnant or plan to become pregnant. It is not known if Zomig will harm your unborn baby.
Tell your doctor if you are breast feeding or plan to breast feed. It is not known if Zomig passes into your breast milk. Talk to your doctor about the best way to feed your baby while using Zomig.
How should I take Zomig?
Take Zomig exactly as your doctor tells you to take it. Your doctor will tell you how much Zomig to take and when to take it.
If you take Zomig-ZMT Orally Disintegrating Tablets, do not remove the tablet from the blister pack until you are ready to take your medicine.
You do not need to take any liquids with your Zomig-ZMT Orally Disintegrating Tablets.
Take Zomig‑ZMT Orally Disintegrating Tablets whole.
Place Zomig-ZMT Orally Disintegrating Tablets on your tongue, where it will dissolve.
Safely throw away any unused tablets or pieces of tablets that have been removed from the blister packaging.
If your headache comes back after your first dose, you may take a second dose any time after 2 hours of taking the first dose. For any attack where the first dose did not work, do not take a second dose without talking with your doctor. Do not take more than a total of 10 mg of Zomig (tablets or spray combined in any 24 hour period. If you take too much medicine, contact your doctor, hospital emergency department, or poison control center right away.
What are the possible side effects of Zomig?
Zomig is generally well tolerated. As with any medicine, people taking Zomig may have side effects. The side effects are usually mild and do not last long.
The most common side effects of Zomig are:
pain, pressure or tightness in the neck, throat or jaw
tingling or other abnormal sensations
tiredness
drowsiness
feeling warm or cold
feeling of tightness or heaviness in other areas of the body
dry mouth
In very rare cases, patients taking triptans may experience serious side effects, such as heart attacks, high blood pressure, stroke, or serious allergic reactions. Extremely rarely, patients have died. Call your doctor right away if you have any of the following problems after taking Zomig:
severe tightness, pain, pressure or heaviness in your chest, throat, neck, or jaw
shortness of breath or wheezing
sudden or severe stomach pain
hives; tongue, mouth, or throat swelling
problems seeing
unusual weakness or numbness
Some people may have a reaction called serotonin syndrome, which can be life-threatening, when they use Zomig. In particular, this reaction may occur when they use Zomig together with certain types of antidepressants known as SSRIs or SNRIs. Symptoms may include mental changes (hallucinations, agitation, coma), fast heartbeat, changes in blood pressure, high body temperature or sweating, tight muscles, trouble walking, nausea, vomiting, and diarrhea. Call your doctor immediately if you have any of these symptoms after taking Zomig.
This is not a complete list of side effects. Talk to your doctor if you develop any symptoms that concern you.
What to do in case of an overdose?
Call your doctor or poison control center or go to the nearest hospital emergency room.
General information about the safe and effective use of Zomig
Medicines are sometimes prescribed for conditions that are not mentioned in patient information leaflets. Do not use Zomig for a condition for which it was not prescribed. Do not give Zomig to other people, even if they have the same symptoms as you. People may be harmed if they take medicines that have not been prescribed for them.
This guide summarizes the most important information about Zomig. If you would like more information about Zomig, talk to your doctor. You can ask your doctor or pharmacist for information on Zomig that is written for healthcare professionals. You can also call 1-877-835-5472 or visit our website at www.Zomig.com.
How should I store Zomig?
Store both Zomig Tablets and Zomig‑ZMT Orally Disintegrating Tablets at controlled room temperature, 68°F to 77°F (20°C to 25°C) and away from children. Protect from light and moisture. Discard when expired.
What are the ingredients in Zomig?
Active ingredient: zolmitriptan
Inactive ingredients:
Tablets: anhydrous lactose NF, microcrystalline cellulose NF, sodium starch glycolate NF, magnesium stearate NF, hydroxypropyl methylcellulose USP, titanium dioxide USP, polyethylene glycol 400 NF, yellow iron oxide NF (2.5 mg tablet), red iron oxide NF (5 mg tablet), and polyethylene glycol 8000 NF
Orally Disintegrating Tablets: mannitol USP, microcrystalline cellulose NF, crospovidone NF, aspartame NF, sodium bicarbonate USP, citric acid anhydrous USP, colloidal silicon dioxide NF, magnesium stearate NF and orange flavor SN 027512
Label
PACKAGE/LABEL PRINCIPAL DISPLAY PANEL – 2.5 MG
NDC 64896-682-51
Zomig

®

 Nasal Spray
ZOLMITRIPTAN
2.5 mg
For Intranasal Use Only
Rx only
This pack contains 6 single-use spray devices
1-877-835-5472
WWW.ZOMIG.COM
amneal

®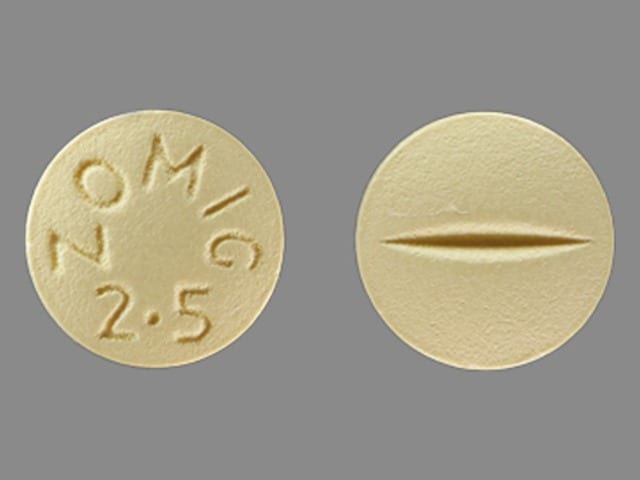 PACKAGE/LABEL PRINCIPAL DISPLAY PANEL – 5 MG
NDC 64896-681-51
Zomig

®

 Nasal Spray
ZOLMITRIPTAN
5 mg
For Intranasal Use Only
Rx only
This pack contains: 6 single-use nasal spray devices
1-877-835-5472
WWW.ZOMIG.COM
amneal

®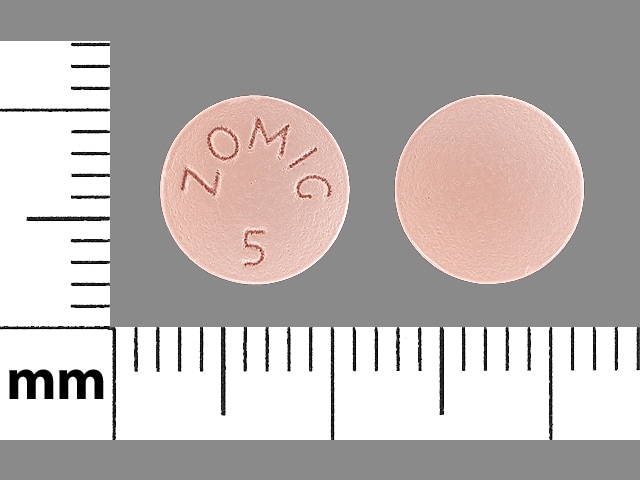 SRC: NLM .