Tebentafusp-tebn side effects
Generic Name: tebentafusp-tebn
Dosage Form: injection
Brand name: Kimmtrak
Medically reviewed, A Ras MD. Updated on March 24, 2022.
What is Tebentafusp-tebn?
Tebentafusp-tebn side effects are the unwanted reactions that may be experienced while using Tebentafusp-tebn.
This is a prescription medication for adults who are HLA-A*02:01 positive with uveal cancer that can't be treated surgically or has developed.
Your doctor will check for the presence of the gene HLA-A*02:01 to determine if this medication is appropriate for you. It isn't known whether this medication can be used safely and effectively for children.
Tebentafusp-tebn is a CD3 T cell engager with a bispecific gp100 peptide-HLA-directed T cell receptor. Tebentafusp-tebn has a molecular weight of about 77 kDa. Tebentafusp-tebn is made in E. coli bacteria using recombinant DNA technology.
Tebentafusp-tebn injection comes as a sterile, preservative-free, clear, colorless, or slightly yellowish solution for intravenous infusion in a single-dose vial.¶
Tebentafusp-tebn (100 mcg), citric acid monohydrate (0.95 mg), disodium hydrogen phosphate (2.91 mg), mannitol (5 mg), polysorbate 20 (0.1 mg), trehalose (25 mg), and water for injection with a pH of 6.5 are all contained in each single-dose vial.
Mechanism of Action
Tebentafusp-tebn is a bispecific gp100 peptide-HLA-A*02:01 directed T cell receptor CD3 T cell engager. The TCR arm binds to a gp100 peptide presented by human leukocyte antigen-A*02:01 (HLA-A*02:01) on the cell surface of uveal melanoma tumor cells.
In vitro, tebentafusp-tebn bound to HLA-A*02:01-positive uveal melanoma cells and activated polyclonal T cells to release inflammatory cytokines and cytolytic proteins, which results in direct lysis of uveal melanoma tumor cells.
Important information
Tebentafusp-tebn can trigger severe side effects that could be life-threatening. It generally occurs during the very first 3 injections. These adverse effects include:
Cytokine Release Syndrome (CRS).

Inform your doctor immediately if you experience some of the symptoms listed below:
Your healthcare provider will test for these issues in the course of treatment. Your healthcare provider could temporarily suspend or stop treatment if you experience serious adverse effects.
Warnings and Precautions
Skin reactions: Patients who received this medication had rashes, pruritus, and cutaneous edema. If skin responses occur, treat them according to how long they last and how severe they are.
Elevated liver enzymes: Patients taking Tebentafusp-tebn saw an increase in liver enzymes. Keep an eye on your ALT, AST, and total bilirubin levels.
Embryo-Fetal Toxicity: This substance has the potential to harm a fetus. Inform patients with reproductive potential about the risk to the fetus and the importance of using effective contraception.
Prior to receiving Tebentafusp-tebn
Before you get Tebentafusp-tebn inform your healthcare provider of the medical conditions you suffer from for example, if you are:
You are expecting or planning to become preg.

Tebentafusp-tebn

 may harm your unborn baby.

Talk to your healthcare provider when you are pregnant while receiving treatment.
For females who have the potential to get pregnant:
Your doctor should conduct the pregnancy test prior to when you begin treatment.

Make sure you are using a reliable method of birth control throughout treatment and for at minimum 1 week following the last dose.

Are breastfeeding or planning to or plan to.

It is unclear whether Tebentafusp-tebn is absorbed into breast milk.

Avoid breastfeeding during the treatment period, and at least for a week following the dose, you received.
What other medications can affect Tebentafusp-tebn?
Inform your doctor about the medicines you are taking such as prescription and over-the-counter medications such as vitamins, herbal supplements.
How do I get Tebentafusp-tebn?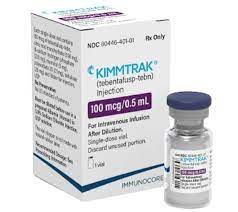 Tebentafusp-tebn will be delivered to you via infusion intravenous (IV) infusion through your vein for between 15 and 20 minutes.

Tebentafusp-tebn is typically given once a week.

Your physician will decide what treatments you will require.

The healthcare professional will monitor you for a minimum of 16 hours following the initial three treatments, and for a minimum of 30 minutes following any subsequent treatments.

Your doctor may delay your treatment if they suffer from specific negative side negative effects.

Your doctor may perform routine blood tests as part of your treatment.
Tebentafusp-tebn side effects
Kimmtrak could have serious adverse negative side effects, such as:
Read Important details.

Skin reactions.

Kimmtrak can trigger irritations to your skin, which require medical treatment.

Contact your physician whenever you notice reactions to your skin, such as itching, rash, or swelling on your skin, that are serious and don't go away.

Blood tests for abnormal liver function.

Your doctor will conduct blood tests to test your liver prior to starting Kimmtrak and throughout treatment.

Inform your healthcare provider when you notice signs of liver disorders, for example, the right-sided abdominal pain or the swelling of the eyes or skin.
The most frequent side effects are:
Cryokine Release Syndrome (CRS)

febrile

Itching

tiredness

chills

stomach pain

swelling

Low blood pressure (symptoms can include dizziness or lightheadedness)

dry skin

headache

Atypical liver blood test results
Infrequent side effects
low amount of albumin proteins in the blood
low amount of magnesium in the blood
low amount of phosphate in the blood
low amount of calcium in the blood
anemia
decreased blood platelets
low levels of a type of white blood cell called neutrophils
a decreased number of lymphocytes in the blood
high blood pressure
high blood levels of the lipase enzyme
a high alanine transaminase level
a high aspartate transaminase level
hair loss
hair discoloration
skin discoloration
decreased pigmentation of the skin
joint pain
backache
muscle spasm
muscle pain
pain in the arms or legs
dizziness
flu-like symptoms
temporary redness of face and neck
decreased appetite
a feeling of pins and needles on the skin
night sweats
pain in the oropharynx
Clinical Trials Experience
Because clinical trials are done under such a wide range of conditions, adverse reaction rates seen in one drug's clinical trials cannot be directly compared to rates seen in another drug's clinical trials, and may not reflect rates seen in practice.
First-line metastatic uveal melanoma
The safety of KIMMTRAK was assessed in the IMCgp100-202, a randomized (2:1), open-label, active-controlled trial in patients with metastatic or advanced uveal melanoma who had not previously undergone systemic therapy. KIMMTRAK (20 mcg intravenously on Day 1, 30 mcg intravenously on Day 8, 68 mcg intravenously on Day 15, and 68 mcg intravenously thrice a week afterward) or investigator's choice medication (N=111) were given to patients. Patients who received KIMMTRAK had a median exposure time of 5.3 months (range: 0.3 to 33 months).
Patients who got KIMMTRAK experienced serious side effects in 28% of cases. Cytokine release syndrome (10%), rashes (4.5%), pyrexia (2.4%), and hypotension (2.4%) were serious adverse reactions that occurred in less than 2% of patients (2 percent ). One patient (0.4%) died as a result of an adverse reaction (pulmonary embolism).
In 3.3 percent of patients who received KIMMTRAK, adverse events led to permanent cessation. Anaphylactic reaction, cerebral edema, cytokine release syndrome, tiredness, hepatotoxicity, hypotension, and nausea were among the side effects that led to the permanent discontinuation of KIMMTRAK (each 0.4 percent ).
Patients who got KIMMTRAK had 25 percent of their doses interrupted due to adverse effects. Fatigue (3.7%), lipase rise (2.9%), pyrexia (2.4%), alanine aminotransferase increase (2%), and aspartate aminotransferase increase (2%) were among the adverse responses that needed dosage stoppage in less than 2% of patients (2 percent ).
In 5% of individuals who received KIMMTRAK, adverse events resulted in a dose reduction. Cytokine release syndrome (2.4 percent) and rashes (1.4 percent) were two adverse events that necessitated dosage modification in less than 2% of patients (2 percent ).
Cytokine release syndrome, rash, pyrexia, pruritus, exhaustion, nausea, chills, abdominal discomfort, edema, hypotension, dry skin, headache, and vomiting were the most prevalent adverse effects in patients who received KIMMTRAK (30 percent). Reduced lymphocyte count, increased creatinine, increased glucose, increased AST, increased ALT, decreased hemoglobin, and decreased phosphate were the most common laboratory abnormalities in patients who received KIMMTRAK (50 percent).
TABLE 1 summarizes the adverse reactions observed in study IMCgp100-202.
Table 1: Adverse Reactions (≥20%) in Patients with Metastatic Uveal Melanoma Who Received KIMMTRAK in Study IMCgp100-202
a

 Represents algorithmic identification of CRS cases based on ASTCT grading criteria (Lee et al. 2019).


b

 Represents a composite of multiple related terms.

Side effects

KIMMTRAK
(N=245)
Investigator's Choice (pembrolizumab, or ipilimumab, or dacarbazine)
(N=111)
All Grades
(%)
Grade 3 or 4
(%)
All Grades
(%)
Grade 3 or 4
(%)

Immune system disorders

Cytokine release syndrome
89
0.8
2.7
0

Skin and subcutaneous tissue disorders

Rash
83
18
28
0
Pruritus
69
4.5
23
0
Dry skin
31
0
3.6
0
Skin Hypopigmentation

b

28
NA
5
NA
Erythema
24
0
0.9
0
Hair color changes
20
NA
0
NA

General disorders and administration site conditions

Pyrexia
76
3.7
7
0.9
Fatigue
64
6
42
0.9
Chills
48
0.4
3.6
0
Edem
45
0
10
0

Gastrointestinal disorders

Nausea
49
2
26
0.9
Abdominal pain
45
2.9
33
3.6
Vomiting
30
1.2
9
0
Diarrhea
25
1.2
20
2.7

Vascular disorders

Hypotension
39
3.3
2.7
0

Nervous system disorders

Headache
31
0.4
10
0.9

Musculoskeletal and connective tissue disorders

Arthralgia
22
0.8
16
0
Clinically relevant adverse reactions occurring in < 20% of patients who received KIMMTRAK included back pain, decreased appetite, constipation, hypertension, tachycardia or sinus tachycardia, dyspnea, paresthesia, dizziness, flushing, muscle spasms, myalgia, pain in extremity, alopecia, skin hyperpigmentation, influenza-like illness, oropharyngeal pain, and night sweats.
Table 2 summarizes the selected laboratory abnormalities observed in study IMCgp100-202.
Table 2: Selected Laboratory Abnormalities (≥ 10%) worsening from baseline in patients who received KIMMTRAK versus Investigator's Choice
Alk Phos = Alkaline Phosphatase; AST=aspartate aminotransferase; ALT=alanine aminotransferase


a

 The denominator used to calculate the rate varied from 242 to 245 for KIMMTRAK and 105 to 109 for IC based on the number of patients with a baseline value and at least one post-treatment value for the laboratory assessment.

KIMMTRAK

a




(N=245)

Investigator's Choice

(pembrolizumab, or ipilimumab, or dacarbazine)
(N=111)
Grades 1-4
(%)
Grades 3-4
(%)
Grades 1-4
(%)
Grades 3-4
(%)

HEMATOLOGY

Lymphocyte count decreased
91
56
26
1.8
Hemoglobin decreased
51
0.8
20
0.9
Platelet count decreased
16
0
15
0.9
Neutrophil count decreased
14
2
8
1.8

CHEMISTRY

Creatinine increased
87
0.4
73
0
Glucose increased
66
3.3
39
4.6
AST increased
55
13
39
1.9
ALT increased
52
9
29
1.8
Phosphate decreased
51
11
20
2
Albumin decreased
47
2.1
14
0.9
Calcium decreased
45
1.6
15
1.9
Lipase increased
37
15
28
6
Magnesium decreased
34
0
8
0
Alk phos increased
34
2.9
36
1.8
Sodium decreased
30
2.9
15
0.9
Potassium increased
29
1.6
15
0.9
Bilirubin increased
27
4.1
14
7
Amylase increased
23
4.1
18
1
Glucose decreased
18
0.4
4.6
0
Potassium decreased
17
0.8
8
0.9
Calcium increased
13
0
3.7
0
Immunogenicity
Immunogenicity is a possibility with all therapeutic proteins. The sensitivity and specificity of the assay are critical in detecting antibody production. Furthermore, various factors such as assay methodology, sample handling, sample collection time, concomitant drugs, and underlying disease may influence the recorded incidence of antibody (including neutralizing antibody) positive in an assay. As a result, comparing the incidence of antibodies in the research reported below to the incidence of antibodies in other studies or to the incidence of antibodies in other products may be misleading.
In studies IMCgp100-102 and IMCgp100-202, treatment-emergent anti-drug antibodies (ADA) against tebentafusp-tebn were found in 33 percent and 29 percent of patients receiving tebentafusp-tebn, respectively, across all dosages. After tebentafusp-tebn therapy, the median period for ADA development was 6-9 weeks. It is unknown whether these binding ADAs can neutralize tebentafusp-tebn. In patients with high titer ADAs, tebentafusp-tebn clearance increased. Based on preliminary findings, the creation of ADA does not appear to have a clinically meaningful effect on the incidence or severity of hypersensitivity-related adverse responses, and there is no evidence of a reduction in overall survival.
There are many possible adverse negative effects. Contact your physician to get medical advice on possible side effects. You can report adverse reactions to the FDA via 1-800-FDA1088..
General information regarding the safe and efficient use of Kimmtrak.
Some medicines are used for reasons other than those mentioned in a Patient Information Leaflet. If you'd like more information, speak to your healthcare professional. You could ask your healthcare professional for additional information specifically written for healthcare professionals.
How supplied
Each KIMMTRAK (tebentafusp-tebn) injection carton (NDC 80446-401-01) contains:
One single-dose vial containing 100 mcg of tebentafusp-tebn in 0.5 mL of sterile, preservative-free, clear, colorless, or slightly yellowish solution.
The vial stopper is not made with natural rubber latex.
Storage and Handling
Store KIMMTRAK vials in the original carton refrigerated at 2°C to 8°C (36°F to 46°F) and protect from light until time of use. Do not freeze. Do not shake.
Label
80446-401-01 – 100 mcg/0.5 mL Carton Label
80446-401-01 – 100 mcg/0.5 mL Vial Label
Additional details
Always consult your doctor to make sure the information presented on this site is appropriate to your particular situation.