What is Nitrostat?
Nitrostat is a type of medicine known as an organic nitrate and is a vasodilating agent. It is used to treat a type of chest pain called angina.
 Description
Nitrostat is a stabilized sublingual compressed nitroglycerin tablet that contains 0.3 mg, 0.4 mg , or 0.6 mg nitroglycerin; as well as lactose monohydrate, NF; glyceryl monostearate, NF; pregelatinized starch, NF; calcium stearate, NF powder; and silicon dioxide, colloidal, NF.
Nitroglycerin, an organic nitrate, is a vasodilating agent. The chemical name for nitroglycerin is 1, 2, 3 propanetriol trinitrate and the chemical structure is:
Mechanism of Action
Nitroglycerin forms free radical nitric oxide (NO) which activates guanylate cyclase, resulting in an increase of guanosine 3'5′ monophosphate (cyclic GMP) in smooth muscle and other tissues. These events lead to dephosphorylation of myosin light chains, which regulate the contractile state in smooth muscle, and result in vasodilatation.
What is Angina?
Who should not take Nitrostat?
Do not use Nitrostat if you are allergic to organic nitrates (like the active ingredient in Nitrostat).
You should not take Nitrostat if you have the following conditions:
very recent heart attack
severe anemia
increased pressure in the head
Do not take Nitrostat with drugs for erectile dysfunction, like Viagra (sildenafil citrate), Cialis (tadalafil), or Levitra (vardenafil hydrochloride), as this may lead to extreme lowering of your blood pressure.
Do not take Nitrostat if you take medicines called guanylate cyclase stimulators which include riociguat, a medicine that treats pulmonary arterial hypertension and chronic-thromboembolic pulmonary hypertension.
What should I tell my healthcare provider before taking Nitrostat?
Before using Nitrostat, tell your doctor if:
You are taking any medicines that are used to treat angina, heart failure, or an irregular heartbeat.
You are taking any medicines that reduce blood pressure.
You are taking any diuretics (water pills).
You are taking medicines that can cause dry mouth such as tricyclic antidepressants (e.g. amitriptyline, desipramine, doxepin), anticholinergic drugs, or any antimuscarinic drugs (e.g. atropine).
You are taking ergotamine or similar drugs for migraine headaches.
You are taking aspirin.
You are taking any medicines for erectile dysfunction.
You are pregnant or plan to become pregnant.
You are breastfeeding.
How should I take Nitrostat?
Do not chew, crush, or swallow Nitrostat tablets.
You should sit down when taking Nitrostat tablets and use caution when you stand up. This eliminates the possibility of falling due to lightheadedness or dizziness.
One tablet should be dissolved under the tongue or in the oral cavity at the first sign of chest pain.
The dose may be repeated approximately every 5 minutes, until the chest pain is relieved.
If the pain persists after a total of 3 tablets in a 15-minute period, or is different than you typically experience, call your doctor or seek emergency help.
Nitrostat may be used 5 to 10 minutes prior to activities that might cause chest pain.
You may feel a burning or tingling sensation in your mouth when you take Nitrostat.
What should I avoid while taking Nitrostat?
Do not breastfeed. It is not known if Nitrostat will pass through your milk.
Do not consume alcohol while taking Nitrostat, as this can lower your blood pressure.
Do not start any new prescription or non-prescription medicines or supplements, unless you check with your doctor first.
What are the possible side effects of Nitrostat?
Nitrostat may cause the following side effects:
headache
vertigo (a major symptom of balance disorder)
dizziness
weakness
heart palpitations (unusual awareness of the heartbeat)
low blood pressure upon rising from a seated position
sweating
paleness
fainting
flushing (warm or red condition of your skin)
other skin reactions that may be severe
Tell your doctor if you are concerned about any side effects you experience. These are not all the possible side effects of Nitrostat. For a complete list, ask your doctor or pharmacist.
General information about the safe and effective use of Nitrostat
Sometimes doctors will prescribe a medicine for a condition that is not included in the patient information leaflets. Only use Nitrostat the way your doctor told you to. Do not give Nitrostat to other people, even if they have the same symptoms you have. It may harm them.
You can ask your pharmacist or doctor for information about Nitrostat, or you can visit the Pfizer website at www.pfizer.com or call 1-800-438-1985.
What are the ingredients in Nitrostat?
Active ingredients: nitroglycerin
Inactive ingredients: lactose monohydrate; glyceryl monostearate; calcium stearate; silicon dioxide; starch, corn
Label
PRINCIPAL DISPLAY PANEL – 0.3 MG TABLET BOTTLE LABEL
ALWAYS DISPENSE WITH
PATIENT PACKAGE INSERT

Pfizer

NDC 0071-0417-24

Nitrostat

®


(Nitroglycerin Sublingual
Tablets, USP)

0.3 mg/tablet

100 Sublingual Tablets


Rx only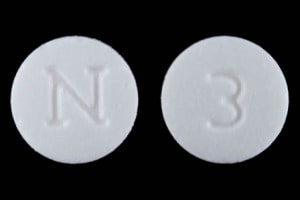 PRINCIPAL DISPLAY PANEL – 0.4 MG TABLET BOTTLE LABEL
ALWAYS DISPENSE WITH
PATIENT PACKAGE INSERT

Pfizer

NDC 0071-0418-13

Nitrostat

®


(Nitroglycerin Sublingual
Tablets, USP)

0.4 mg / tablet

25 Sublingual Tablets


Rx only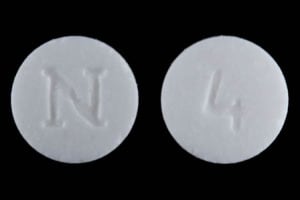 PRINCIPAL DISPLAY PANEL – 0.6 MG TABLET BOTTLE LABEL
ALWAYS DISPENSE WITH
PATIENT PACKAGE INSERT

Pfizer

NDC 0071-0419-24

Nitrostat

®


(Nitroglycerin Sublingual
Tablets, USP)

0.6 mg/tablet

100 Sublingual Tablets


Rx only