Gleevec
Generic name: Imatinib
Drug class: BCR-ABL tyrosine kinase inhibitors
What is Gleevec ?
Gleevec is a prescription medicine that is used to treat cancer. It is used to treat blood problems.
Description
Imatinib is a small molecule kinase inhibitor. Gleevec film-coated tablets contain imatinib mesylate equivalent to 100 mg or 400 mg of imatinib free base. Imatinib mesylate is designated chemically as 4-[(4-Methyl-1-piperazinyl)methyl]-N-[4-methyl-3-[[4-(3-pyridinyl)-2-pyrimidinyl]amino]-phenyl]benzamide methanesulfonate and its structural formula is:
Imatinib mesylate is a white to off-white to brownish or yellowish tinged crystalline powder. Its molecular formula is C29H31N7O • CH4SO3 and its molecular weight is 589.7 g/mol. Imatinib mesylate is soluble in aqueous buffers less than or equal to pH 5.5 but is very slightly soluble to insoluble in neutral/alkaline aqueous buffers. In non-aqueous solvents, the drug substance is freely soluble to very slightly soluble in dimethyl sulfoxide, methanol, and ethanol, but is insoluble in n-octanol, acetone, and acetonitrile.
Inactive Ingredients: colloidal silicon dioxide (NF); crospovidone (NF); hydroxypropyl methylcellulose (USP); magnesium stearate (NF); and microcrystalline cellulose (NF). Tablet coating: ferric oxide, red (NF); ferric oxide, yellow (NF); hydroxypropyl methylcellulose (USP); polyethylene glycol (NF), and talc (USP).
Mechanism of Action
Imatinib mesylate is a protein-tyrosine kinase inhibitor that inhibits the BCR-ABL tyrosine kinase, the constitutive abnormal tyrosine kinase created by the Philadelphia chromosome abnormality in CML. Imatinib inhibits proliferation and induces apoptosis in BCR-ABL positive cell lines as well as fresh leukemic cells from Philadelphia chromosome positive chronic myeloid leukemia. Imatinib inhibits colony formation in assays using ex vivo peripheral blood and bone marrow samples from CML patients.
In vivo, imatinib inhibits tumor growth of BCR-ABL transfected murine myeloid cells as well as BCR-ABL positive leukemia lines derived from CML patients in blast crisis.
Imatinib is also an inhibitor of the receptor tyrosine kinases for platelet-derived growth factor (PDGF) and stem cell factor (SCF), c-Kit, and inhibits PDGF- and SCF-mediated cellular events. In vitro, imatinib inhibits proliferation and induces apoptosis in GIST cells, which express an activating c-Kit mutation.
Before taking Gleevec, tell your doctor:
If you are allergic to Gleevec; any part of this medicine; or any other drugs, foods, or substances. Tell your doctor about the allergy and what signs you had.
If you are taking warfarin.
If you are taking any of these drugs: Carbamazepine, dexamethasone, phenobarbital, phenytoin, rifabutin, rifampin, or St. John's wort.
If you are breast-feeding. Do not breast-feed while you take Gleevec or for 1 month after you stop Gleevec.
This is not a list of all drugs or health problems that interact with this medicine.
Tell your doctor and pharmacist about all of your drugs (prescription or OTC, natural products, vitamins) and health problems. You must check to make sure that it is safe for you to take Gleevec with all of your drugs and health problems. Do not start, stop, or change the dose of any drug without checking with your doctor.
What are some things I need to know or do while I take Gleevec?
Tell all of your health care providers that you take Gleevec. This includes your doctors, nurses, pharmacists, and dentists.
Avoid driving and doing other tasks or actions that call for you to be alert or have clear eyesight until you see how Gleevec affects you.
You may have more chance of getting an infection. Wash hands often. Stay away from people with infections, colds, or flu.
You may bleed more easily. Be careful and avoid injury. Use a soft toothbrush and an electric razor.
If you have upset stomach, throwing up, diarrhea, or are not hungry, talk with your doctor. There may be ways to lower these side effects.
Talk with your doctor before getting any vaccines. Use of some vaccines with Gleevec may either raise the chance of an infection or make the vaccine not work as well.
Have blood work checked as you have been told by the doctor. Talk with the doctor.
This medicine may cause you to swell or keep fluid in your body. Tell your doctor if you have swelling, weight gain, or trouble breathing.
Very bad and sometimes deadly holes in the GI (gastrointestinal) tract have happened with Gleevec. Talk with the doctor.
Very bad and sometimes deadly liver problems have happened with Gleevec. Call your doctor right away if you have signs of liver problems like dark urine, feeling tired, not hungry, upset stomach or stomach pain, light-colored stools, throwing up, or yellow skin or eyes.
Patients with cancer who take Gleevec may be at a greater risk of getting a severe health problem called tumor lysis syndrome (TLS).This may lead to death. Call your doctor right away if you have a fast or abnormal heartbeat; any passing out; trouble passing urine; muscle weakness or cramps; upset stomach, throwing up, diarrhea, or not able to eat; or feel sluggish.
Heart failure has happened with Gleevec, as well as heart failure that has gotten worse in people who already have it. Tell your doctor if you have heart disease. Call your doctor right away if you have shortness of breath, a big weight gain, a heartbeat that is not normal, or swelling in the arms or legs that is new or worse.
If you are 65 or older, use Gleevec with care. You could have more side effects.
This medicine may affect growth in children and teens in some cases. They may need regular growth checks. Talk with the doctor.
This medicine may cause harm to the unborn baby if you take it while you are pregnant.
If you are able to get pregnant, a pregnancy test will be done to show that you are NOT pregnant before starting Gleevec. Talk with your doctor.
Use birth control that you can trust to prevent pregnancy while taking Gleevec and for at least 2 weeks after stopping the drug.
If you get pregnant while taking Gleevec or within 2 weeks after your last dose, call your doctor right away.
How is Gleevec best taken?
Use Gleevec as ordered by your doctor. Read all information given to you. Follow all instructions closely.
Take with a meal.
Take with a full glass of water.
You may put tablets in a glass of water or apple juice. How much liquid to use depends on your dose. Talk with your doctor. Put Gleevec in the water or apple juice and stir. Drink right away after Gleevec has dissolved. Rinse cup with more water or juice and drink.
Take Gleevec at the same time of day.
Keep taking Gleevec as you have been told by your doctor or other health care provider, even if you feel well.
Drink lots of noncaffeine liquids unless told to drink less liquid by your doctor.
Avoid grapefruit and grapefruit juice.
If the tablet is crushed or broken, do not touch the contents. If you do touch the contents or get it in your eyes, wash hands or eyes right away.
What do I do if I miss a dose?
Skip the missed dose and go back to your normal time.
Do not take 2 doses at the same time or extra doses.
What are the side effects of Gleevec that I need to call my doctor about immediately?
WARNING/CAUTION: Even though it may be rare, some people may have very bad and sometimes deadly side effects when taking a drug. Tell your doctor or get medical help right away if you have any of the following signs or symptoms that may be related to a very bad side effect:
Signs of an allergic reaction, like rash; hives; itching; red, swollen, blistered, or peeling skin with or without fever; wheezing; tightness in the chest or throat; trouble breathing, swallowing, or talking; unusual hoarseness; or swelling of the mouth, face, lips, tongue, or throat.
Signs of infection like fever, chills, very bad sore throat, ear or sinus pain, cough, more sputum or change in color of sputum, pain with passing urine, mouth sores, or wound that will not heal.
Signs of bleeding like throwing up or coughing up blood; vomit that looks like coffee grounds; blood in the urine; black, red, or tarry stools; bleeding from the gums; abnormal vaginal bleeding; bruises without a cause or that get bigger; or bleeding you cannot stop.
Signs of electrolyte problems like mood changes, confusion, muscle pain or weakness, a heartbeat that does not feel normal, seizures, not hungry, or very bad upset stomach or throwing up.
Signs of kidney problems like unable to pass urine, change in how much urine is passed, blood in the urine, or a big weight gain.
Chest pain or pressure.
A burning, numbness, or tingling feeling that is not normal.
Very bad headache.
Feeling very tired or weak.
Change in eyesight.
Low mood (depression).
Bone pain.
A very bad skin reaction (Stevens-Johnson syndrome/toxic epidermal necrolysis) may happen. It can cause very bad health problems that may not go away, and sometimes death. Get medical help right away if you have signs like red, swollen, blistered, or peeling skin (with or without fever); red or irritated eyes; or sores in your mouth, throat, nose, or eyes.
What are some other side effects of Gleevec?
All drugs may cause side effects. However, many people have no side effects or only have minor side effects. Call your doctor or get medical help if any of these side effects or any other side effects bother you or do not go away:
Hair loss.
Upset stomach or throwing up.
Muscle spasm.
Feeling sleepy.
Feeling tired or weak.
Not able to sleep.
Belly pain.
Not hungry.
Gas.
Headache.
Dry skin.
Diarrhea.
Change in taste.
Nose and throat irritation.
Joint pain.
Weight gain.
Night sweats.
Back pain.
Anxiety.
These are not all of the side effects that may occur. If you have questions about side effects, call your doctor. Call your doctor for medical advice about side effects.
You may report side effects to the FDA at 1-800-332-1088. You may also report side effects at https://www.fda.gov/medwatch.
If overdose is suspected:
If you think there has been an overdose, call your poison control center or get medical care right away. Be ready to tell or show what was taken, how much, and when it happened.
Label
100 mg label
NOVARTIS
NDC 0078-0401-34
Gleevec

®


(imatinib mesylate)
Tablets
100 mg
Rx only
Each tablet contains 100 mg of imatinib free base.
90 Tablets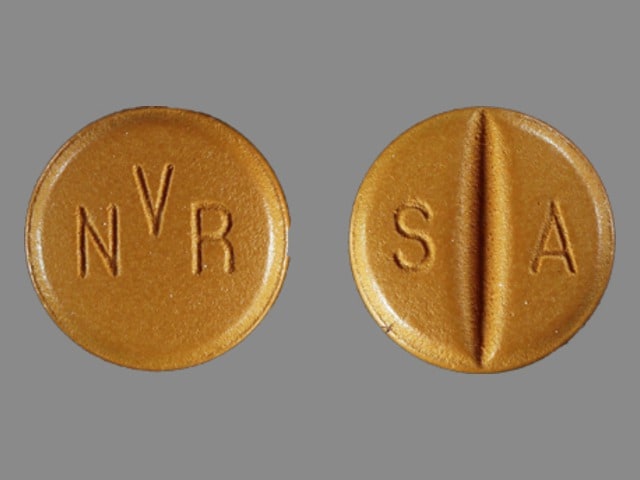 400 mg label
NDC 0078-0649-30
gleevec

®


(imatinib mesylate) tablets
400 mg per tablet
Each tablet contains 400 mg of imatinib free base
30 Tablets
Rx only
NOVARTIS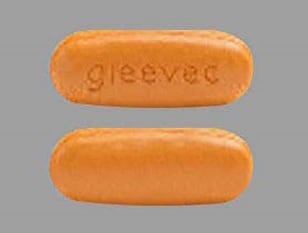 How do I store and/or throw out Gleevec?
Store at room temperature.
Store in a dry place. Do not store in a bathroom.
Keep all drugs in a safe place. Keep all drugs out of the reach of children and pets.
Throw away unused or expired drugs. Do not flush down a toilet or pour down a drain unless you are told to do so. Check with your pharmacist if you have questions about the best way to throw out drugs. There may be drug take-back programs in your area.
References
OSHA Hazardous Drugs. OSHA. [Accessed on 20-September- 2013, from http://www.osha.gov/SLTC/hazardousdrugs/index.html]
SRC: NLM.