Zavesca
Generic name: miglustat
Drug class: Miscellaneous metabolic agents
Medically reviewed by  A Ras MD.
What is Zavesca used for?
Zavesca is a prescription medicine that is used to treat Gaucher's disease.
Description
ZAVESCA® (miglustat capsules, 100 mg) is a glucosylceramide synthase inhibitor, which is a glucosyl transferase enzyme responsible for the first step in the synthesis of most glycosphingolipids. ZAVESCA is an N-alkylated imino sugar, a synthetic analog of D-glucose.
The chemical name for miglustat is 1,5-(butylimino)-1,5-dideoxy-D-glucitol with the chemical formula C10H21NO4 and a molecular weight of 219.28.
Miglustat is a white to off-white crystalline solid and has a bitter taste. It is highly soluble in water (>1000 mg/mL as a free base).
ZAVESCA is supplied in hard gelatin capsules each containing 100 mg miglustat for oral administration. Each ZAVESCA 100 mg capsule also contains magnesium stearate, povidone (K30), and sodium starch glycolate. Ingredients in the capsule shell include gelatin and titanium dioxide, and the shells are printed with edible ink consisting of black iron oxide and shellac.
 Mechanism of Action
Type 1 Gaucher disease is caused by a functional deficiency of glucocerebrosidase, the enzyme that mediates the degradation of the glycosphingolipid glucosylceramide.
Miglustat functions as a competitive and reversible inhibitor of the enzyme glucosylceramide synthase, the initial enzyme in a series of reactions which results in the synthesis of most glycosphingolipids.
ZAVESCA helps reduce the rate of glycosphingolipid biosynthesis so that the amount of glycosphingolipid substrate is reduced to a level which allows the residual activity of the deficient glucocerebrosidase enzyme to be more effective (substrate reduction therapy). In vitro and in vivo studies have shown that miglustat can reduce the synthesis of glucosylceramide-based glycosphingolipids.
Before taking Zavesca, tell your doctor:
If you are allergic to Zavesca; any part of this medicine; or any other drugs, foods, or substances. Tell your doctor about the allergy and what signs you had.
If you have kidney disease.
If you are breast-feeding or plan to breast-feed.
This is not a list of all drugs or health problems that interact with this medicine.
Tell your doctor and pharmacist about all of your drugs (prescription or OTC, natural products, vitamins) and health problems. You must check to make sure that it is safe for you to take Zavesca with all of your drugs and health problems. Do not start, stop, or change the dose of any drug without checking with your doctor.
What are some things I need to know or do while I take Zavesca?
Tell all of your health care providers that you take Zavesca. This includes your doctors, nurses, pharmacists, and dentists.
You may bleed more easily. Be careful and avoid injury. Use a soft toothbrush and an electric razor.
Have blood work checked as you have been told by the doctor. Talk with the doctor.
This medicine may cause diarrhea. If you get diarrhea, talk with your doctor about ways to lower this effect. Do not stop taking Zavesca without talking with your doctor.
Follow the diet plan that your doctor told you about.
This medicine may affect growth in children and teens in some cases. They may need regular growth checks. Talk with the doctor.
Tell your doctor if you are pregnant or plan on getting pregnant. You will need to talk about the benefits and risks of using Zavesca while you are pregnant.
How is Zavesca best taken?
Use Zavesca as ordered by your doctor. Read all information given to you. Follow all instructions closely.
It is best to take Zavesca in between meals or as you have been told by your doctor.
Take Zavesca at the same time of day.
Keep taking Zavesca as you have been told by your doctor or other health care provider, even if you feel well.
What do I do if I miss a dose?
Skip the missed dose and go back to your normal time.
Do not take 2 doses at the same time or extra doses.
What are the side effects of Zavesca that I need to call my doctor about immediately?
WARNING/CAUTION: Even though it may be rare, some people may have very bad and sometimes deadly side effects when taking a drug. Tell your doctor or get medical help right away if you have any of the following signs or symptoms that may be related to a very bad side effect:
Signs of an allergic reaction, like rash; hives; itching; red, swollen, blistered, or peeling skin with or without fever; wheezing; tightness in the chest or throat; trouble breathing, swallowing, or talking; unusual hoarseness; or swelling of the mouth, face, lips, tongue, or throat.
Severe diarrhea.
Diarrhea that will not go away.
A big weight loss.
A burning, numbness, or tingling feeling that is not normal.
Weakness.
Change in eyesight.
Any unexplained bruising or bleeding.
Memory problems or loss.
Very bad headache.
Shakiness.
Trouble walking.
What are some other side effects of Zavesca?
All drugs may cause side effects. However, many people have no side effects or only have minor side effects. Call your doctor or get medical help if any of these side effects or any other side effects bother you or do not go away:
Stomach pain or heartburn.
Weight loss.
Diarrhea.
Upset stomach or throwing up.
Gas.
Bloating.
Not hungry.
Dry mouth.
Back pain.
Leg cramps.
Muscle cramps.
Headache.
Feeling of heaviness in your arms or legs.
Period (menstrual) changes.
These are not all of the side effects that may occur. If you have questions about side effects, call your doctor. Call your doctor for medical advice about side effects.
You may report side effects to the FDA at 1-800-332-1088. You may also report side effects at https://www.fda.gov/medwatch.
If overdose is suspected:
If you think there has been an overdose, call your poison control center or get medical care right away. Be ready to tell or show what was taken, how much, and when it happened.
How do I store and/or throw out Zavesca?
Store at room temperature.
Store in a dry place. Do not store in a bathroom.
Keep all drugs in a safe place. Keep all drugs out of the reach of children and pets.
Throw away unused or expired drugs. Do not flush down a toilet or pour down a drain unless you are told to do so. Check with your pharmacist if you have questions about the best way to throw out drugs. There may be drug take-back programs in your area.
Label
PRINCIPAL DISPLAY PANEL – 100 MG CAPSULE BLISTER CARD CARTON
NDC 66215-201-90
zavesca

®

 100 mg
(migLUstat) capsules
This package is not child resistant.
Contents:
90 Capsules (six blister cards of 15 capsules each)
Oral use
Rx only
janssen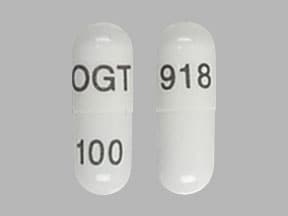 SRC: NLM .