Ultram
Generic name: tramadol
Brand names: Ultram, Ultram ER
Drug class: Narcotic analgesics
Medically reviewed by  A Ras MD.
What is Ultram?
Ultram is a strong prescription pain medicine that contains an opioid (narcotic) that is used for the management of pain in adults when other pain treatments such as non-opioid pain medicines do not treat your pain well enough or you cannot tolerate them.
An opioid pain medicine that can put you at risk for overdose and death. Even if you take your dose correctly as prescribed you are at risk for opioid addiction, abuse, and misuse that can lead to death.
Description
ULTRAM® (tramadol hydrochloride) tablets, for oral use, are an opioid agonist. The chemical name for tramadol hydrochloride is (±)cis-2-[(dimethylamino)methyl]-1-(3-methoxyphenyl) cyclohexanol hydrochloride. The structural formula is:
The molecular weight of tramadol hydrochloride is 299.8. Tramadol hydrochloride is a white, bitter, crystalline and odorless powder. It is readily soluble in water and ethanol and has a pKa of 9.41. The n-octanol/water log partition coefficient (logP) is 1.35 at pH 7. ULTRAM tablets contain 50 mg of tramadol hydrochloride (equivalent to 43.9 mg of tramadol) and are white in color. Inactive ingredients in the tablet are pregelatinized corn starch, modified starch (corn), hypromellose, lactose, magnesium stearate, microcrystalline cellulose, polyethylene glycol, polysorbate 80, sodium starch glycolate, titanium dioxide and carnauba wax.
Mechanism of Action
ULTRAM contains tramadol, an opioid agonist and inhibitor of norepinephrine and serotonin re-uptake. Although the mode of action is not completely understood, the analgesic effect of tramadol is believed to be due to both binding to µ-opioid receptors and weak inhibition of re-uptake of norepinephrine and serotonin.
Opioid activity is due to both low affinity binding of the parent compound and higher affinity binding of the O-demethylated metabolite M1 to µ-opioid receptors. In animal models, M1 is up to 6 times more potent than tramadol in producing analgesia and 200 times more potent in µ-opioid binding. Tramadol-induced analgesia is only partially antagonized by the opioid antagonist naloxone in several animal tests. The relative contribution of both tramadol and M1 to human analgesia is dependent upon the plasma concentrations of each compound .
Analgesia in humans begins approximately within one hour after administration and reaches a peak in approximately two to three hours.
What is the most important information I should know about Ultram?
Get emergency help right away if you take too much Ultram (overdose). When you first start taking Ultram, when your dose is changed, or if you take too much (overdose), serious or life-threatening breathing problems that can lead to death may occur.
Taking Ultram with other opioid medicines, benzodiazepines, alcohol, or other central nervous system depressants (including street drugs) can cause severe drowsiness, decreased awareness, breathing problems, coma, and death.
Never give anyone else your Ultram. They could die from taking it. Selling or giving away Ultram is against the law.
Store Ultram securely, out of sight and reach of children, and in a location not accessible by others, including visitors to the home.
Important Information Guiding Use in Pediatric Patients:
Do not give Ultram to a child younger than 12 years of age.
Do not give Ultram to a child younger than 18 years of age after surgery to remove the tonsils and/or adenoids.
Avoid giving Ultram to children between 12 to 18 years of age who have risk factors for breathing problems such as obstructive sleep apnea, obesity, or underlying lung problems.
Who should not take Ultram?
Do not take Ultram if you have:
Severe asthma, trouble breathing, or other lung problems.
A bowel blockage or have narrowing of the stomach or intestines.
An allergy to tramadol.
Taken a Monoamine Oxidase Inhibitor, MAOI, (medicine used for depression) within the last 14 days.
What should I tell my healthcare provider before taking Ultram?
Before taking Ultram, tell your healthcare provider if you have a history of:
head injury, seizures
problems urinating
liver, kidney, thyroid problems
pancreas or gallbladder problems
abuse of street or prescription drugs, alcohol addiction, or mental health problems.
Tell your healthcare provider if you are:
pregnant or planning to become pregnant. Prolonged use of Ultram during pregnancy can cause withdrawal symptoms in your newborn baby that could be life-threatening if not recognized and treated.
breastfeeding. Not recommended; it may harm your baby.
taking prescription or over-the-counter medicines, vitamins, or herbal supplements. Taking Ultram with certain other medicines can cause serious side effects that could lead to death.
How should I take Ultram?
Do not change your dose. Take Ultram exactly as prescribed by your healthcare provider. Use the lowest dose possible for the shortest time needed.
Take your prescribed dose as indicated by your healthcare provider. The maximum dosage is 1 or 2 tablets every 4 to 6 hours, as needed for pain relief. Do not take more than your prescribed dose and do not take more than 8 tablets per day. If you miss a dose, take your next dose at your usual time.
Call your healthcare provider if the dose you are taking does not control your pain.
If you have been taking Ultram regularly, do not stop taking Ultram without talking to your healthcare provider.
Dispose of expired, unwanted, or unused Ultram by taking your drug to an authorized Drug Enforcement Administration (DEA)-registered collector or drug take-back program. If one is not available, you can dispose of Ultram by mixing the product with dirt, cat litter, or coffee grounds; placing the mixture in a sealed plastic bag, and throwing the bag in your trash.
What should I avoid while taking Ultram?
Drive or operate heavy machinery, until you know how Ultram affects you. Ultram can make you sleepy, dizzy, or lightheaded.
Drink alcohol or use prescription or over-the-counter medicines that contain alcohol. Using products containing alcohol during treatment with Ultram may cause you to overdose and die.
What are the possible side effects of Ultram?
sleepiness
tiredness
headache
abdominal pain
Call your healthcare provider if you have any of these symptoms and they are severe.
Get emergency medical help if you have:
trouble breathing
shortness of breath
fast heartbeat
chest pain
swelling of your face, tongue, or throat
extreme drowsiness
light-headedness when changing positions
feeling faint
agitation
high body temperature
trouble walking
stiff muscles
mental changes such as confusion
These are not all the possible side effects of Ultram. Call your doctor for medical advice about side effects. You may report side effects to FDA at 1-800-FDA-1088.
How should I store Ultram?
Store at 20°C to 25°C (68°F to 77°F); excursions permitted to 15°C to 30°C (59°F to 86°F).
Store Ultram securely and dispose of properly.
Keep out of sight and reach of children.
What are the ingredients in Ultram?
Active ingredient: tramadol hydrochloride
Inactive ingredients: starch, corn; modified corn starch (1-octenyl succinic anhydride); hypromellose, unspecified; lactose, unspecified form; magnesium stearate; microcrystalline cellulose; polyethylene glycol, unspecified; polysorbate 80; sodium starch glycolate type a potato; titanium dioxide; carnauba wax.
Label
PRINCIPAL DISPLAY PANEL – 50 MG TABLET BOTTLE LABEL
NDC 50458-659-60

Ultram

®


(tramadol HCl tablets)


CIV

50 mg
SCORED
TABLET

Keep out of reach of children.

Rx only

100 tablets


janssen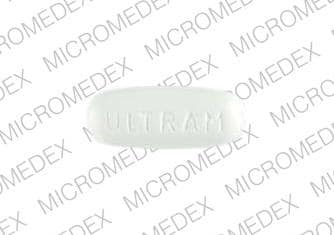 SRC: NLM .