Tenuate
Generic name: diethylpropion
Brand names: Tenuate, Tenuate Dospan
Drug classes: Anorexiants, CNS stimulants
Medically reviewed by  A Ras MD
What is Tenuate?
Tenuate is a prescription medicine that is used to treat obesity.
Description
Diethylpropion hydrochloride is available for oral administration in immediate-release tablets containing 25 mg diethylpropion hydrochloride and in controlled-release tablets containing 75 mg diethylpropion hydrochloride. The inactive ingredients in each immediate-release tablet are: cornstarch, lactose, magnesium stearate, pregelatinized cornstarch, talc, and tartaric acid. The inactive ingredients in each controlled-release tablet are: carbomer 934P, mannitol, povidone, tartaric acid, zinc stearate. Diethylpropion hydrochloride is a sympathomimetic agent. The chemical name for diethylpropion hydrochloride is 1-phenyl-2-diethylamino-1-propanone hydrochloride.
Its chemical structure is:
The diethylpropion hydrochloride 75 mg formulation is dispersed in a hydrophilic matrix. On exposure to water, the diethylpropion hydrochloride is released at a relatively uniform rate as a result of slow hydration of the matrix. The result is controlled release of the anorectic agent.
Before taking Tenuate, tell your doctor:
If you are allergic to Tenuate; any part of this medicine; or any other drugs, foods, or substances. Tell your doctor about the allergy and what signs you had.
If you have any of these health problems: Blood vessel disease, glaucoma, high blood pressure, nervous, anxious, or tense state, overactive thyroid disease, or structure problems of the heart or other heart problems.
If you have ever abused drugs.
If you have high pressure in the lungs.
If you have taken certain drugs for depression or Parkinson's disease in the last 14 days. This includes isocarboxazid, phenelzine, tranylcypromine, selegiline, or rasagiline. Very high blood pressure may happen.
If you are taking another drug for weight loss or have taken one within the last year.
This is not a list of all drugs or health problems that interact with this medicine.
Tell your doctor and pharmacist about all of your drugs (prescription or OTC, natural products, vitamins) and health problems. You must check to make sure that it is safe for you to take Tenuate with all of your drugs and health problems. Do not start, stop, or change the dose of any drug without checking with your doctor.
What are some things I need to know or do while I take Tenuate?
Tell all of your health care providers that you take Tenuate. This includes your doctors, nurses, pharmacists, and dentists.
Avoid driving and doing other tasks or actions that call for you to be alert until you see how Tenuate affects you.
If you have been taking Tenuate for many weeks, talk with your doctor before stopping. You may want to slowly stop Tenuate.
Talk with your doctor before you drink alcohol or use other drugs and natural products that slow your actions.
Check blood pressure and heart rate as the doctor has told you.
People who take drugs for weight loss like Tenuate may have a higher chance of having raised pressure in the lungs. This is rare but is often deadly. Talk with your doctor.
If you have high blood sugar (diabetes) and take drugs to lower blood sugar, talk with your doctor. Weight loss may raise the chance of low blood sugar if you take drugs to lower blood sugar. Call your doctor right away if you have signs of low blood sugar like dizziness, headache, feeling sleepy, feeling weak, shaking, a fast heartbeat, confusion, hunger, or sweating.
If you are being treated for high blood pressure, talk with your doctor. Weight loss may raise the chance of low blood pressure in people who are treated for high blood pressure. Call your doctor right away if you have signs of low blood pressure like very bad dizziness or passing out.
If you have been taking Tenuate for a long time or at high doses, it may not work as well and you may need higher doses to get the same effect. This is known as tolerance. Call your doctor if Tenuate stops working well. Do not take more than ordered.
Do not take Tenuate for longer than you were told by your doctor.
This medicine may be habit-forming; avoid long-term use. Tell your doctor if you have a history of drug or alcohol abuse.
This medicine may cause unsafe heart-related side effects. Tell your doctor if you have any heart disease.
This medicine may raise the chance of seizures in some people, including people who have had seizures in the past. Talk to your doctor to see if you have a greater chance of seizures while taking Tenuate.
Follow the diet and workout plan that your doctor told you about.
Do not give to a child younger than 17 years of age.
Tell your doctor if you are pregnant or plan on getting pregnant. You will need to talk about the benefits and risks of using Tenuate while you are pregnant.
Tell your doctor if you are breast-feeding. You will need to talk about any risks to your baby.
How is Tenuate best taken?
Use Tenuate as ordered by your doctor. Read all information given to you. Follow all instructions closely.
Take 1 hour before a meal.
Take last dose of the day at least 4 hours before bedtime.
Keep taking Tenuate as you have been told by your doctor or other health care provider, even if you feel well.
What do I do if I miss a dose?
Take a missed dose as soon as you think about it.
If it is close to the time for your next dose, skip the missed dose and go back to your normal time.
Do not take 2 doses at the same time or extra doses.
What are the side effects of Tenuate that I need to call my doctor about immediately?
WARNING/CAUTION: Even though it may be rare, some people may have very bad and sometimes deadly side effects when taking a drug. Tell your doctor or get medical help right away if you have any of the following signs or symptoms that may be related to a very bad side effect:
Signs of an allergic reaction, like rash; hives; itching; red, swollen, blistered, or peeling skin with or without fever; wheezing; tightness in the chest or throat; trouble breathing, swallowing, or talking; unusual hoarseness; or swelling of the mouth, face, lips, tongue, or throat.
Signs of high blood pressure like very bad headache or dizziness, passing out, or change in eyesight.
Weakness on 1 side of the body, trouble speaking or thinking, change in balance, drooping on one side of the face, or blurred eyesight.
Chest pain or pressure or a fast heartbeat.
A heartbeat that does not feel normal.
Change in the way you act.
Mood changes.
Hallucinations (seeing or hearing things that are not there).
Very nervous and excitable.
Change in eyesight.
Not able to get or keep an erection.
Change in sex interest.
Fever or chills.
Sore throat.
Any unexplained bruising or bleeding.
Seizures.
Shortness of breath.
Swelling in the arms or legs.
Trouble controlling body movements.
Feeling very tired or weak.
For males, enlarged breasts.
Period (menstrual) pain.
What are some other side effects of Tenuate?
All drugs may cause side effects. However, many people have no side effects or only have minor side effects. Call your doctor or get medical help if any of these side effects or any other side effects bother you or do not go away:
Dizziness.
Feeling sleepy.
Feeling nervous and excitable.
Dry mouth.
Not hungry.
Not able to sleep.
Bad taste in your mouth.
Headache.
Upset stomach or throwing up.
Restlessness.
Shakiness.
Feeling tired or weak.
Belly pain.
These are not all of the side effects that may occur. If you have questions about side effects, call your doctor. Call your doctor for medical advice about side effects.
You may report side effects to the FDA at 1-800-332-1088. You may also report side effects at https://www.fda.gov/medwatch.
If overdose is suspected:
If you think there has been an overdose, call your poison control center or get medical care right away. Be ready to tell or show what was taken, how much, and when it happened.
Label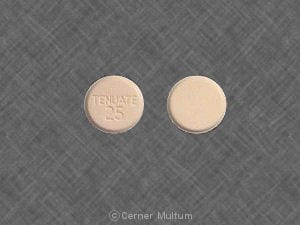 How do I store and/or throw out Tenuate?
Store at room temperature.
Protect from heat.
Keep lid tightly closed.
Store in a dry place. Do not store in a bathroom.
Keep all drugs in a safe place. Keep all drugs out of the reach of children and pets.
Throw away unused or expired drugs. Do not flush down a toilet or pour down a drain unless you are told to do so. Check with your pharmacist if you have questions about the best way to throw out drugs. There may be drug take-back programs in your area.
SRC: NLM .