Ryaltris
Generic name: Mometasone, olopatadine and mometa
Dosage Form: Nasal spray
Medically reviewed by A Ras MD. The last update was on  March 29, 2022.
What is Ryaltris?
Ryaltris is a prescribed nasal spray that has 2 drugs, olopatadine Hydrochloride, an antihistamine, as well as mometasone, a corticosteroid. Ryaltris is used for treating signs of allergies that are seasonal among people aged 12 and older.
It is unclear whether this medication has been proven safe or effective for children younger than 12 years old. age.
Important: Use only for use in the nose area only. Avoid spraying in your mouth or eyes.
Description
Ryaltris is a metered-dose manual nasal spray unit containing an aqueous suspension of a fixed-dose combination of a histamine-1 (H1) receptor inhibitor (olopatadine hydrochloride) and a corticosteroid (mometasone furoate monohydrate).
Olopatadine hydrochloride is a white, sparingly water-soluble crystalline powder. The chemical name for olopatadine hydrochloride is 2-[(11Z)-11-[3-(dimethylamino)propylidene]-6Hbenzo[c][1]benzoxepin-2-yl]acetic acid hydrochloride. It has a molecular weight of 373.88, and its molecular formula is C21H23NO3•HCl with the following chemical structure: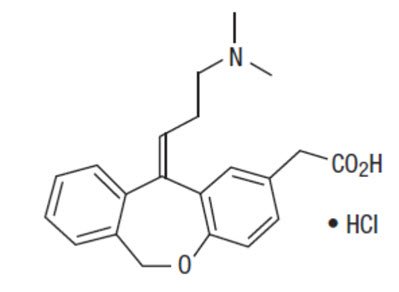 Mometasone furoate monohydrate is an anti-inflammatory corticosteroid having the chemical name [(8S,9R,10S,11S,13S,14S,16R,17R)-9-chloro-17-(2-chloroacetyl)-11-hydroxy-10,13,16trimethyl-3-oxo-6,7,8,11,12,14,15,16-octahydrocyclopenta[a]phenanthren-17-yl] furan-2carboxylate;hydrate and the following chemical structure:
Mometasone furoate monohydrate is a white powder, with an empirical formula of C27H30Cl2O6•H2O and a molecular weight of 539.45. It is practically insoluble in water; slightly soluble in methanol, ethanol, and isopropanol; soluble in acetone and chloroform; and freely soluble in tetrahydrofuran. Its partition coefficient between octanol and water is >5000.
Ryaltris is a nasal spray containing an isotonic aqueous suspension of olopatadine hydrochloride (equivalent to 0.6% w/v olopatadine base) and mometasone furoate monohydrate (equivalent to 0.025% w/w mometasone furoate on the anhydrous basis). After initial priming (6 sprays), each metered spray delivers 100 microliters of suspension containing 665 mcg of olopatadine hydrochloride (equivalent to 600 mcg olopatadine base) and 25 mcg of mometasone furoate. Ryaltris also contains benzalkonium chloride, carboxymethyl cellulose sodium, dibasic sodium phosphate heptahydrate, edetate disodium, hydrochloric acid, microcrystalline cellulose, polysorbate 80, sodium chloride, sodium hydroxide, and water for injection. It has a pH of approximately 3.7¶
Mechanism of Action
Ryaltris contains both olopatadine hydrochloride and mometasone furoate. The mechanisms of action described below for the individual components apply to Ryaltris.
Who shouldn't use Ryaltris?
Don't use Ryaltris when you are sensitive to olopatadine hydrochloride or mometasone furoate monohydrate, or any of the other ingredients. Look at the end at the bottom of this article for a full listing of the ingredients. Talk to your healthcare professional for clarification if you're not sure.
Before using Ryaltris
Before using Ryaltris be sure to inform your physician about all your medical conditions, such as those that:
have had recent nasal sores, nasal surgery, or nasal injury.

Have eye or vision issues are present, for example, cataracts or glaucoma (increased pressure inside your eye).

are suffering from tuberculosis or untreated fungal, bacterial or viral infection or eye illnesses due to herpes.

You may have come across someone with measles or chickenpox.

You are feeling unwell or are experiencing other symptoms that you are unable to know about.

Are pregnant or planning to get pregnant.

 

It's not clear whether Ryaltris could cause harm to your baby.

 

Consult your doctor in case you are expecting or planning to be pregnant.

Are breastfeeding or planning to or plan to.

 

It isn't known whether Ryaltris is absorbed into breast milk.

 

Consult your doctor regarding the best method you can feed your infant using Ryaltris.
What other medications can impact Ryaltris?
Inform your doctor about every medication you use such as prescription and over-the-counter supplements such as vitamins, herbal supplements.
Be sure to inform your doctor when you take any of the following medications:
Certain medications that treat HIV (such like ritonavir atazanavir indinavir, nelfinavir and saquinavir)

cobicistat-containing products

Certain antifungals (such as ketoconazole and itraconazole)

Certain antibiotics (such as telithromycin or clarithromycin)

Certain antidepressants (such as nefazodone)
Ryaltris and various other medications may interact with each other, leading to adverse negative effects.
Take note of the medicines you take. Make a list of all your medications and present it to your healthcare professional or pharmacist if you are given a new medication.
What should I do with Ryaltris?
Review instructions for use at the end to get specific information on how to utilize Ryaltris.

Ryaltris is designed for use in the nose area only.

 

Don't spray it into your mouth or eyes.

Utilize Ryaltris exactly as your health care doctor advises you to use it.

If your child swallows Ryaltris or you consume excessive amounts of Ryaltris make a call to your doctor or go to the closest hospital emergency room as soon as you can.

Visit your doctor often to review your symptoms while taking Ryaltris and to determine any adverse reactions.
Dosing Information
Indication and usage
Ryaltris is indicated for the treatment of symptoms of seasonal allergic rhinitis in adult and pediatric patients 12 years of age and older.
Dosage and administration
For nasal use only.
The recommended dosage of

Ryaltris

is 2 sprays (2 sprays deliver a total of 1,330 mcg of olopatadine hydrochloride and 50 mcg of mometasone furoate) in each nostril twice daily.
Shake the bottle well before each use.
 Prime

Ryaltris

before initial use by releasing 6 sprays. When

Ryaltris

has not been used for 14 or more days, re-prime by releasing 2 sprays or until a fine mist appears.
Avoid spraying

Ryaltris

into the eyes or mouth.
Dosage and strength
Nasal spray: 665 mcg of olopatadine hydrochloride and 25 mcg of mometasone furoate in each spray 4
Contraindication
Ryaltris is contraindicated in patients with known hypersensitivity to any ingredients of this medication. Hypersensitivity reactions, including wheezing, has occurred after nasal administration of mometasone furoate
What are the most important things to avoid when using Ryaltris?
Ryaltris may cause Drowsiness or sleepiness.

 

Don't drive, operate machines, or perform any other activity that requires you to stay alert until you understand the way Ryaltris affects your body.

 

Avoid drinking alcohol or using any other medication that can make you feel tired during the use of Ryaltris.
Side effects of Ryaltris
Ryaltris could produce serious side effects for example:
issues with the throat and nose.

 

The symptoms of throat and nose problems could be:

nosebleeds

ulcers (ulcers) within the nostrils

A hole in the cartilage that runs between your nose and the cartilage (nasal septal perforation).

 

The symptoms of nasal septal perforation can include:

A crusty nose

nosebleeds

runny nose 

A whistling sound is heard when you breathe.

Slow wound healing.

 

Ryaltris can slow wound healing. Ryaltris until the nose is healed, when you've got a sore in your nose, or if you've had surgery for the nose or your nose has been damaged.

Thrush (Candida) is a fungal infection that affects the throat and your nose.

 

Inform your doctor If you notice any white or red patches on your mouth or in your nose.

eye problems, like cataracts and glaucoma. You should have regular eye examinations when you use Ryaltris.

allergic reactions.

 

Contact your doctor or seek emergency medical attention If you experience any of the symptoms of an allergic reaction:

wheezing

It is a rash

Hives

swelling of your mouth, face, and tongue

breathing issues

health issues that affect your immune system, which could make you more susceptible to infections.

 

The use of medications that lower your immune system can make you more susceptible to infections.

 

These can be tuberculosis (TB) as well as herpes simplex infections as well as infections caused by fungi bacteria, viruses, or parasites.

 

Beware of contact with individuals who carry contagious diseases such as measles or chickenpox when using Ryaltris.

 

If you have contact with someone suffering from measles or chickenpox, contact your healthcare professional immediately.

 

Signs of infection can include:

The fever

Pains or aches

chills

Feeling tired

adrenal insufficiency.

 

Insufficiency of the adrenal glands occurs when the adrenal glands don't produce enough hormones steroid.

 

Signs of adrenal dysfunction include:

slows the growth of youngsters. A child's growth must be monitored regularly when using Ryaltris.

sleepiness or Drowsiness.
The most commonly reported adverse effects are the following:
Unpleasant taste

nosebleeds

nasal discomfort
Contact your doctor whether you experience any symptoms that bother you or don't disappear. This isn't all of the possible adverse effects. For more details, consult your physician or pharmacist. Contact your physician to get medical advice on the effects of side effects. You can report any side effects to the FDA at 1-800-FDA-1088.
General information regarding the safe and efficient use of Ryaltris
Sometimes, medicines are prescribed for different reasons than those stated within the Patient Information. Don't use this medication for any health condition that was not recommended. Don't give it to others regardless of whether they are suffering from similar symptoms as you do. It could harm them.
It is possible to consult your physician and pharmacist to provide information specifically written for health professionals.
What are the ingredients of Ryaltris?
The active ingredients are Mometasone Furoate Monohydrate and olopatadine
Ingredients inactive: benzalkonium chloride, carboxymethyl cellulose sodium dibasic sodium-phosphate heptahydrate, hydrochloric acid, edetate disodium microcrystalline cellulose, and the polysorbate 80, sodium chloride sodium hydroxide, and water to inject.
Instructions for Use
Important: Use to spray your nostrils only. Don't spray Ryaltris in your mouth or eyes.
Review the instructions for use prior to using Ryaltris and every time you receive a refill. There could be information that is new. This instruction does not substitute for speaking with your doctor regarding your medical condition or treatment. Before using Ryaltris ensure that your healthcare professional demonstrates to you how to utilize it. The bottle should be shaken thoroughly before every use.
Making your nasal spray bottle
The nasal spray needs to be primed prior to use the first time, and also if you haven't used it for 14 days or longer. Prior to priming the spray bottle, shake it well.
Step 1. Remove the dust cap.
Step 2. Hold the nasal spray bottle with firmness and straight up using your middle and index finger to opposite sides of the applicator (on the finger rests) while holding the bottom of the bottle using your thumb.
Step 3. Before first use, you push the pump rapidly and steadily six times before releasing the spray in the air. Keep it away from face and eyes till a thin mist forms.
The Ryaltris is now available for use.
Utilizing your Ryaltris
Step 4. Gently blow your nose to clear your nostrils.

Step 5. Shake the bottle with a good shake prior to usage (morning as well as in the evening).
step 6. Hold the bottle securely using your middle and index finger to both sides of the applicator (on the finger rests) while holding the bottom of the bottle with your thumb.

step 7. Hold 1 nostril closed using fingers. Place the tip of the sprayer into the opposite nostril, and then point it toward the exterior of the nose, but away from the nasal septum (the wall between the two nostrils).

Step 8. Tilt your head towards the forward. Make sure the bottle is upright and then press it down quickly and with a firm grip on the finger rests in order to start the pump. Inhale (inhale) slowly through your nose while you spray. After that, breathe out your mouth. Make sure not to spray aerosol into your eyes or directly onto the nasal septum (the membrane that separates the 2 nostrils).

Step 9. Repeat Steps 6 through 8 and applies another spray to that same nose.
Step 10. Repeat Steps 6 through 8 by spraying 2 times in the opposite nostril. Don't breathe your nostrils for a minimum of 15 minutes after taking Ryaltris to ensure that you get all the medication. Don't tilt your head towards the back. This will prevent the medication from entering your throat.
Step 11. Wipe the spray pump's tip clean with a dry cloth or tissue.

step 12. Hold the spray pump unit, then put it back onto the tip of the sprayer of your bottle till you can hear the click.
Every bottle of Ryaltris has enough medicine to allow you to spray it 240 times following the initial (initial) spraying. Keep an eye on the quantity of sprays that you have used within each bottle. You should not count the sprays used to start priming on the bottle.
How do you clean your Ryaltris the sprayer pump in case it is blocked
Don't try to remove the spray pump by inserting pins or another sharp object. This could harm the spray pump unit and you might not receive the proper dosage of medication.
Step 13. If the spray pump unit is blocked, you can remove it by gently pulling it upwards. The dust cap should be removed and then place the pump unit into warm water to soak.

step 14. After soaking for 15 minutes, clean the spray pump unit as well as the dust cap in warm water and let them dry completely.

step 15. Place the dust cap on the tip of the sprayer and place the pump back onto the bottle.

step 16. After following the steps to unblock your spray pump, refer to the priming of your Ryaltris pump prior to using the section above. Re-prime by using two sprays. Replace
the dust cap and the dust cap, and your Ryaltris is ready to use. Repeat the steps of unblocking when required.
How should I store
Ryaltris

?
Store RYALTRIS at room temperature between 68°F to 77°F (20°C to 25°C).
Do not freeze or refrigerate.
Do not use RYALTRIS after the expiration date on the label or the box.
Throw away your RYALTRIS bottle after using 240 sprays after first priming.
Even though the bottle may not be completely empty, you may not get the correct dose of medicine if you continue to use it.
Keep RYALTRIS and all medicines out of the reach of children
Additional details
Always consult your doctor to confirm that the information provided on this page is applicable to your specific situation.