Orencia side effects
Generic name: abatacept
Brand name: Orencia
Dosage forms: intravenous powder for injection (250 mg); subcutaneous solution (125 mg/mL; 50 mg/0.4 mL; 87.5 mg/0.7 mL)
Drug class: Antirheumatics, Selective immunosuppressants
What is Orencia?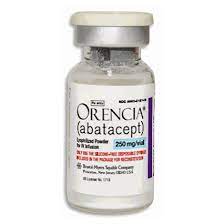 Orencia is a medication used to treat the symptoms of Rheumatoid arthritis as well as to help prevent joint injuries that are caused by these diseases. Orencia is a prescription drug for children and adults who are at least 2 years old.
Orencia is also employed for treating active Psoriatic arthritis for adults.
Orencia does not provide an answer to any autoimmune disease and can only address the symptoms of the disease.
Orencia is also used for reasons not mentioned in this medication guide.¶
Orencia side effects in adult patients With RA
Orencia side effects of Adult Patients With RA, treated with intravenous ORENCIA
The results of placebo-controlled studies that are presented here provide evidence of exposure to ORENCIA given intravenously to patients suffering from active RA (1955 patients who had ORENCIA, 989 patients with placebo). The studies included either a double-blind, placebo-controlled time period for 6 consecutive months (258 patients with ORENCIA, 133 patients with placebo) or one year (1697 patients who had ORENCIA, 856 patients with placebo).
A subset of patients was treated with a biologic DMARD therapy, for instance as the use of a TNF antagonist (204 patients with ORENCIA, 134 patients with placebo). The use of ORENCIA in conjunction in conjunction with a TNF antagonist should not be advised. A majority of patients in RA clinical studies had one or at least one of the following drugs with ORENCIA: methotrexate and nonsteroidal anti-inflammatory drugs (NSAIDs) corticosteroids TNF antagonists, azathioprine chloroquine gold, hydroxychloroquine leflunomide, and sulfasalazine, anakinra.
The most severe adverse reactions were infections that caused serious malignancies. The most frequently reported adverse reactions (occurring in more than 10 % of patients treated with ORENCIA) included headache and upper respiratory tract infections nausea, nasopharyngitis, headache.
The most frequent adverse reactions caused by medical intervention (interruption or the discontinuation of ORENCIA) resulted from infections. The most frequently-reported illnesses that resulted in discontinuation of the dose included upper respiratory tract infections (1 %) as well as asthma (0.7 %) and herpes zoster (0.7 %). The most common infections that resulted in the discontinuation of therapy included pneumonia (0.2 %) localized infection (0.2 %) as well as bronchitis (0.1 %).
Most Commonly Known Orencia side effects in Adult Patients with RA who are treated by Intravenous ORENCIA
Intravenous
ORENCIA
(n=1955)a
Placebo
(n= Placebo
(n=989)b989)b
Headache
18%
13%
Nasopharyngitis
12%
9%
Dizziness
9%
7%
Cough
8%
7%
Back pain
7%
6%
Hypertension
7%
4%
Dyspepsia
6%
4%
Urinary tract infection
6%
5%
Rash
4%
3%
Pain in extremity
3%
2%

Diseases among Patients of Adult Age with RA Treatment by Intravenous ORENCIA
In the placebo-controlled clinical trials of patients suffering from RA the presence of infections was noted at 54% ORENCIA intravenous treated patients, and 48% of patients treated with placebo. The most frequently reported infections (reported in between 5% and 3 % of patients) included upper respiratory tract infections sinusitis, nasopharyngitis respiratory tract infection as well as bronchitis and influenza.
Other infections that were reported in less than five % of patients with higher rates (>0.5 %) when using ORENCIA as compared to placebo were herpes simplex, rhinitis as well as pneumonia
The incidence of serious infections was found in 3% of patients treated with ORENCIA as well as 1.9 % of patients who received placebo. The most frequently reported (0.2%-0.5 %age) serious infections that were reported by patients using ORENCIA included cellulitis, pneumonia as well as urinary tract infections bronchitis, diverticulitis, and chronic Pyelonephritis
Malignancies among Patients of Adult Age with RA Treatable by Intravenous ORENCIA
In the placebo-controlled parts of the trial (1955 patients who were treated with RA using ORENCIA for an average of 12 years) The overall frequency of malignancies was comparable in the ORENCIAtreatment group and the placebo-treated group (1.3 % and 1.1 % respectively). However, higher incidences of cancers in the lungs were detected in patients treated with ORENCIA (4 instances, 0.2%) than placebo-treated patients (0 cases of zero cases)
 In the total intravenous ORENCIA clinical trials for patients suffering from RA (placebo-controlled or uncontrolled open-label), eight patients with lung cancer (0.21 instances per 100 patient-years) along with 4 lymphomas (0.10 instances per 100 patient-years) were found within 2688 patients (3827 years of patient care). The lymphoma rate is around 3.5-fold more than what is expected for a gender- and the age-matched general population, based on data from the National Cancer Institute's Surveillance Epidemiology, and Data on End-Results Database.
Patients suffering from RA and RA-related conditions, especially those who have a high degree of active disease are at higher risk of developing lymphoma. Other malignancies include breast, skin, the bladder, bile canal, cervical lymphoma, endometrial myelodysplastic disorder, melanoma the prostate, ovarian, renal thyroid, Uterine tumors. The possible role of ORENCIA in the human development of cancers is not known.
Infusion-related reactions as well as Hypersensitivity Reactions 
Infusion-related acute events (adverse reactions that occur within one hour after the beginning of an infusion) were more frequent in ORENCIA-treated patients than in the placebo patients (9 % for ORENCIA and 6% for placebo). The most frequently reported incidents (1%-2 1 to 2 %) included headache, dizziness, and hypertension.
The most severe infusion-related events recorded in >0.1 % and less than 1 % of patients receiving ORENCIA were cardiopulmonary symptoms like hypotension, elevated blood pressure as well as dyspnea. Other symptoms included nausea urticaria, flushing hypersensitivity, pruritus wheezing, and rashes. The majority of the symptoms were moderate (68 %) up to moderate (28 %). Less than 1% of patients treated with ORENCIA stopped treatment due to an acute infusion-related incident. In controlled studies, six patients treated with ORENCIA in comparison to 2 placebo-treated patients stopped study treatment because of acute events related to infusion.
In clinical studies with 2688 healthy adult RA patients who received the intravenous drug ORENCIA, we found only two instances (<0.1 %) in which anaphylaxis was observed. Other reactions that may be associated with hypersensitivity to drugs, like hypertension, urticaria, hypotension, and dyspnea, all occurred at a rate of less than 0.9 % of patients treated with ORENCIA and typically occurred within the first 24 hours following ORENCIA infusion. Medical support measures that are appropriate to treat hypersensitivity reactions should be readily available to use immediately when there is an allergic response
Orencia side effects of Patients With COPD whose condition is treated for RA with intravenous ORENCIA
In one study, There were 17 and 37 patients with chronic obstructive respiratory disease (COPD) who were treated for RA by using ORENCIA or placebo and placebo, respectively. The COPD patients who received ORENCIA for RA experienced adverse events more often than patients treated with placebo (97 % and 88% respectively).
Respiratory problems were more frequent when patients were treated with ORENCIA than when compared with placebo-treated patients (43 % vs 24 % respectively) comprising COPD exacerbation and cough, dyspnea, and rhonchi. The higher %age of ORENCIA-treated patients experienced an acute adverse event than those treated with placebo (27 % vs. 6%)) for example, COPD exacerbation [3 out of 37 patients (8 %)and pneumonia; 1 out of 37 patients (3 %)[1 of 37 patients (3%)].
Orencia side effects of Adult Patients With RA treated with subcutaneous and Intravenous ORENCIA
The information below is drawn in Study SC-1. Study SC-1 is a double-blind, randomized non-inferiority, a double-dummy study that evaluated ORENCIA's safety with ORENCIA administered intravenously or subcutaneously in 1457 patients suffering from RA and who were given background methotrexate and had an insufficient response for methotrexate (MTX-IR).
A negative reaction pattern observed in patients receiving subcutaneous ORENCIA was similar to that of the adverse reaction profile seen in patients receiving intravenous ORENCIA and was consistent with intravenous ORENCIA used in the studies I-VI.
Injection site reactions of Adult RA Patients Treatable by Subcutaneous ORENCIA
The average rate of injection site reactions within Study SC-1 was 2.6% (19/736) and 2.5 %age (18/721) with respect to those in the subcutaneous ORENCIA group, and for those who received a placebo subcutaneously (given intravenously ORENCIA) as well as the placebo group. The injection site reactions (including pruritus, hematoma as well as erythema) were moderate (83 %) up to moderate (17 %) in severity and none of them required discontinuation of the drug.
Orencia side effects of Adult Patients With PsA
Orencia side effects In Adult Patients With PsA, treated by Intravenous and Subcutaneous ORENCIA
ORENCIA's safety ORENCIA was assessed in 594 patients suffering from PsA (341 patients taking ORENCIA and 253 on placebo) In two randomized double-blind, placebo-controlled studies. Of the 341 patients treated with ORENCIA 128 patients received the intravenous ORENCIA (PsA-I) while 213 were treated with subcutaneous ORENCIA (PsA-II).
Safety profiles were similar between ORENCIA that was administered intravenously in Study PsA I as well as ORENCIA that was administered subcutaneously in Study PsA II and in line with the profile for the safety of ORENCIA for patients suffering from RA
Orencia side effects in patients With pJIA, treated by Intravenous ORENCIA
In general adverse events that occurred in children suffering from the condition of  Polyarticular Juvenile Idiopathic Arthritis (pJIA) who were treated by intravenous ORENCIA were comparable in both frequency and type as those observed in adult patients suffering from RA that were treated by ORENCIA intravenously. ORENCIA.
Study JIA-1 was a 3-part study, which included an open-label extension to assess the efficacy for intravenous ORENCIA in 190 children aged 6-17 years old, who had pJIA. The overall incidence of adverse events over the lead-in period of 4 months during the open-label phase of the study was 70%. Infections occurred at a rate of 36 %. The most frequently reported infections were respiratory tract infections and nasal nasopharyngitis. The symptoms did not recur and the forms of the infections were similar to those seen frequently in pediatric outpatient populations. Other conditions that occurred with an average of 5% were headaches nausea, vomiting, diarrhea cough, pyrexia and abdominal pain
Six grave adverse events [acute lymphocytic Leukemia, ovarian cyst varicella infection, and disease flare as well as joint damage] have been recorded in the first 4 months of treatment with ORENCIA intravenously.
Of the 190 patients who had pJIA treated by intravenous ORENCIA during clinical studies, there was only one hypersensitivity reaction (0.5 %). In the period between periods A B, C, and A the acute reactions that resulted from infusions occurred with a frequency of 4%, 2 %, and 3% respectively, and were in line with the type of reactions that have been reported for adults.
After continued treatment during the extended open-label period, the kinds of adverse events were similar in their frequency and types to those observed in adult patients, with the exception of one patient who was diagnosed with MS while being treated with open-label drugs.
Orencia side effects in patients With pJIA treated with subcutaneous ORENCIA
Study JIA-2 was a study that was open-label that included a short-term time-frame of four months as well as a prolonged extension time that evaluated the safety of ORENCIA administered subcutaneously in 205 children, from 2 to 17 years old age, with pJIA.
 The adverse reaction profiles of patients suffering from pJIA treated by ORENCIA given subcutaneously in Study JIA-2 were similar to the adverse reaction profiles in patients suffering from pJIA who received intravenous Study JIA-1.
There were no reports that involved hypersensitivity. Local injection site reactions occurred at a rate of 4.4 %.
Orencia side effects for patients who undergo unrelated donor Hematopoietic Stem Transfer
The data presented herein came from a single clinical study conducted by ORENCIA (GVHD-1) to treat aGVHD prophylaxis for patients 6 years old and older who have cancers of the hematologic type that were undergoing unrelated HSCT. All patients received methotrexate and calcineurin as the recommended treatment to treat aGVHD treatment. Two groups were assessed with a dose of 10 mg/kg (maximum dose of 1000 mg) by intravenous injection for an interval of 60 min on the day prior to transplantation (Day 1) Then, the infusion was administered on days 5 14, and 28 following transplantation
1):  A single-arm cohort of patients receiving ORENCIA treatment (n=43) that underwent 7 out of 8 Human leukocyte antigen (HLA)-matched HSCT from unrelated donors (7 of 8 cohorts) and
2.):  An uncontrolled cohort consisting of patients treated with ORENCIA (n=73) as well as placebo-treated patients (n=69) who received 8 of 8 HSCTs HLA-matched from non-related donors (8 of 8 patients in the cohort).
In the total of 116 people treated with ORENCIA of whom 27 (23 %) were between the ages of 6 and under 17 years old. aged.
The information on safety beginning with the initial dose of ORENCIA to Day 225 following transplantation in the study is presented below. The frequency of adverse reaction was calculated by pooling data from ORENCIA-treated patients in the two studies (n=116).
The most serious adverse reactions reported by more than 5 % of patients who took ORENCIA when combined with a calcineurin antagonist and methotrexate, included pyrexia (20 %) and pneumonia (8 8%)) an acute kidney injury (7 %), and diarrhea (6 %) as well as hypoxia (5 5 %) and nausea (5 5 %).
The permanent discontinuation of ORENCIA because of an adverse reaction was observed on two occasions (1.7 %) in one instance both of pneumonia and an allergic reaction.
The most frequently reported (>=10 %) adverse reactions among the ORENCIA patients were hypertension, anemia, CMV reactivation/CMV infection, epistaxis, pyrexia, pneumonia, and CD4 lymphocytes depleted. hypermagnesemia, as well as an acute injury to the kidney.
The table provides a summary of the incidence of adverse reactions within the investigation of ORENCIA in GVHD-1.
7 of 8 Cohort
8 of 8 Cohort
Adverse Reaction
ORENCIA (+CNI and MTX)
(N=43)
ORENCIA (+CNI and MTX)
(N=73)
Placebo (+CNI and MTX)
(N=69)
All Grades

(%)

Grade 3 or 4

(%)

All Grades

(%)

Grade 3 or 4

(%)

All Grades

(%)

Grade 3 or 4

(%)

Blood and Lymphatic System Disorders
   Anemia
56
56
69
69
57
57
   CD4 lymphocytes decreased
14
14
14
14
9
9
Vascular Disorders
   Hypertension
49
49
43
43
38
38
General Disorders and Administrative Site Conditions
   Pyrexia
28
9
19
10
20
4
Infections and Infestations
   CMV Reactivation/CMV Infection
26
26
32
32
22
22
   Pneumonia
19
19
12
12
10
9
Respiratory and Mediastinal Disorders
   Epistaxis
12
12
16
16
10
10
Renal and Urinary Disorders
   Acute kidney injury
9
7
15
15
10
10
Metabolism and Nutrition Disorders
   Hypermagnesemia
5
5
18
18
10
10
Clinically relevant adverse reactions less than 10% of patients who took ORENCIA when combined with methotrexate and calcineurin inhibitor in Study GVHD-1. This included EBV Reactivation.
Immunogenicity
Like any therapeutic protein, it is possible to develop immunogenicity. The determination of antibody formation depends on the specificity and sensitivity of the test. Furthermore, the rate of antibodies (including neutralizing antibodies) positive results in an assay could be affected by a variety of variables, such as the method used to conduct the test sampling, handling of samples, time of collection, medications that are concomitant, and the underlying illness.
Therefore, comparing of the prevalence of antibodies in the research that follows with the frequency of other antibodies or other abatacept-related products may be incorrect.
Impotency in Adults with RA who are treated by Intravenous ORENCIA
Antibodies that target the entire abatacept molecule, as well as the CTLA-4 component of abatacept, were analyzed using ELISA tests in RA patients for up to two years following treatment repeatedly via intravenous ORENCIA. Thirty-four out of 1993 (2 %) patients had antibodies that bound to the entire abatacept-like molecule and to CTLA-4 component of abatacept.
Since abatacept levels that are too low interfere with the results of assays, and analysis of subsets were conducted. For the analysis of subsets 9 of the 154 (6 %) patients who had stopped the intravenous ORENCIA treatment for more than 56 days, developed antibodies. Tests that confirmed binding to CTLA-4 were analyzed to determine the presence of neutralizing antibodies using an assay based on luciferase produced by cells. Six of the nine (67 %) evaluated patients were found to have neutralizing antibodies. However, the development of neutralizing antibodies might be missed due to the low sensitivity of the assay.
The anti-abatacept antibody was not associated with development with adverse events or clinical response was found.
The Immunogenicity of Adult Patients with RA treated by subcutaneous and Intravenous ORENCIA
Study SC-1 evaluated the degree of abatacept's immunogenicity after intravenous or subcutaneous ORENCIA administration. The average frequency of immunogenicity for abatacept was one % (8/725) and 22 1 % (16/710) for intravenous and subcutaneous groups and, accordingly. This is in line with the previous data as there was no evidence of a correlation of the immunogenicity effect with the pharmacokinetics, safety, or effectiveness.
The Immunogenicity of Adult Patients with RA treated by ORENCIA 
Study SC-2 was carried out to assess the impact of subcutaneous monotherapy with ORENCIA on the degree of immunogenicity (without any intravenous loading dosage) within 100 RA patients who had never previously received ORENCIA, or any other CTLA4Ig.
Participants who participated in this study received subcutaneous ORENCIA along with methotrexate (n=51) or subcutaneous ORENCIA monotherapy (n=49). In neither group, patients were diagnosed with antibodies against abatacept after four years of therapy. The safety reported during this research was similar to what was observed in other studies of subcutaneous blood vessels.
The Immunogenicity of Adult Patients with RA Following Treatment withdrawal and Restarting ORENCIA 
Study SC-3 was carried out to study the effects of the immunogen of adult RA patients following treatment withdrawal (three months) and resumption in ORENCIA Subcutaneous therapy (patients were treated concurrently using methotrexate). A total of 157 patients participated during the initial 3-month treatment phase and the responders (n=120) were randomly assigned to either ORENCIA subcutaneously or placebo during the next three-month time period (withdrawal phase). Patients in this time period got open-label ORENCIA treatment for the last three-month study period (period 3.).
The study concluded that at the end of the period of withdrawal there were a number of patients who continued receiving subcutaneous ORENCIA developed antibodies against abatacept in comparison to 7/73 (10 %) in patients who received ORENCIA subcutaneously withdrawn in this time. Half of the patients who received a placebo subcutaneously during the period of withdrawal received one intravenous injection of ORENCIA at the beginning of period 3 and the other half received a placebo intravenously.
After the conclusion of period 3, in which all patients received subcutaneous ORENCIA infusions, the rate of immunogenicity was 1/38 (3 %) in the group that received subcutaneous ORENCIA all through the period, and 2/3 (3 %) for the group that received placebo throughout the withdrawal time.
When the therapy was reintroduced it was found that there were none of the injection reactions, and there was no difference in the response to therapy for patients who had been removed off subcutaneous treatments for three months or more compared to those who continued to receive Subcutaneous Therapy (these results were seen in those who did or didn't received the intravenous load dose). The degree of safety demonstrated during this research was in line with what was observed in previous studies.
The Immunogenicity of Patients With pJIA treated by Intravenous ORENCIA
Antibodies that target the whole abatacept molecule, as well as the abatacept CTLA-4 portion, were determined by ELISA tests in patients suffering from pJIA after repeated treatment by intravenous ORENCIA throughout the open-label phase.
For patients who were removed from treatment for a period of up to six months within the period of double-blinding the frequency of formation of antibodies against the CTLA-4 component of the abatacept molecule was 41 % (22/54) and for those who continued to receive therapy, the %age was 13 % (7/54). Twenty of the patients had blood samples that could test for antibodies that had neutralizing activities. Of the 20 samples, 8 (40 %) patients were found to have neutralizing antibodies.
It was typically temporary and titers were not high. Antibodies were not linked to adverse incidents or changes in efficacy or a change in the abatacept concentrations in serum. In the case of patients who were removed from ORENCIA during the double-blind time period for up to six months, no significant incidents related to infusions were detected when re-initiating ORENCIA treatment.
Immunogenicity of patients being treated for the prevention of aGVHD by Intravenous RENCIA
The degree of immunogenicity was measured during HSCT procedures in patients. The overall incidence of immunogenicity, as well as related antibody titers, were not high from the intravenous 4-dose ORENCIA regimen utilized during this investigation. Of the 114 evaluated for immunogenicity individuals in those ORENCIA groups, no was positive in all of the ORENCIA therapy period (Day 1 to 28 days following the transplant).
The off-treatment period (Day 29 through Day 180 post-transplant) 6 out of 91 subjects that were evaluated for their immunogenicity (6.6 %) had positive results in the presence of CTLA4 or possibly Ig 4 of the 6 subjects who were positive were discovered to have at the very minimum one positive sample that showed neutralization activity. The study revealed that the immunogenicity positive subjects were able to identify ADA Positive samples by Day 180 (off-treatment period) which is why, because of the time-of-response and the timing of the response, the effect on PK or safety efficacy was not assessed.