Ganaxolone
Generic Name: Ganaxolone
Brand name: Ztalmy
Medically reviewed by A Rash MD. Updated on 21 March 2022.
What is Ganaxolone?
Ganaxolone is an oral suspension that is prescribed to treat seizures that are caused by the cyclin-dependent kinase-like 5 (CDKL5) deficiencies (CDD) for people who are 2 years old or older.
There is a pending DEA decision on the regulation of ganaxolone under the Controlled Substances Act. A patient's statement on dependence and abuse risks can't be made at this point.It is
It is unclear whether this medication has been proven safe or effective for infants under 2 years of age.
Ganaxolone, a neuroactive steroid that acts as a positive modulator of the gammaaminobutyric acid A (GABAA) receptor. 1-[(3R, 5S, 8R, 9S, 10S, 13S, 14S, 17S)] ganaxolone 2, 4, 5, 6, 7, 8, 9, 11, 12, 14, 15, 16, 17 tetradecahydrocyclopenta[a]phenanthren-17-yl]ethanone) is a methyl-substituted (at the 3ß position) cyclopenta[a]phenanthren-17-yl]ethanone.
Allopregnanolone, a progesterone derivative, is an analog of the endogenous neurosteroid allopregnanolone. Its empirical formula is C22H36O2, and the molecular weight is 332.53 g/mol
Ganaxolone is a white to off-white crystalline powder that only exists in one crystal form and has low
water solubility.
Inactive ingredients in Ztalmy ( brand name) include artificial cherry flavor, citric acid, hypromellose,
methylparaben, polyvinyl alcohol, propylparaben, purified water, simethicone emulsion, sodium
benzoate, sodium citrate, sodium lauryl sulfate, and sucralose.¶
Mechanism of Action
Although the exact mechanism by which ganaxolone exerts its anticonvulsant benefits in the treatment of seizures associated with CDD is unknown, its anticonvulsant actions are likely to be due to positive allosteric regulation of the GABAA receptor in the CNS.
Precautions and warnings
Ganaxolone may cause serious side effects, such as:
Ganaxolone may cause sleepiness.

 

It is possible that taking Ganaxolone together with the central nervous system (CNS) depressants like alcohol could cause an increased amount of sleepiness.

 

Don't drive, operate machines that are heavy or engage in other hazardous activities until you understand the extent to which Ganaxolone can affect the child or you.

As with other antiepileptic medications, Ganaxolone may cause suicidal thoughts or behavior within a tiny percentage of people, approximately one out of 500.




Contact a doctor immediately if you or your child exhibit some of these signs especially if they're brand new, more serious than you think, or if you are concerned:

thoughts of suicide or the idea of dying

attempts to commit suicide

New or even more depressive

Anxiety that is new or worse

experiencing restlessness or agitation

panic attacks

trouble sleeping (insomnia)

New or more severe irritability

Being aggressive, angry or even violent

acting on dangerous impulses

An extreme increase in activity and talk (mania)

or behavior that isn't typical or mood
What can I do to look for the early signs of suicidal thinking and behaviors?
Be aware of any sudden changes, particularly shifts in mood, behavior or thoughts.

Make sure to keep all follow-up appointments with your physician when they are scheduled.

Stop treatment immediately without consulting your healthcare professional.

 

A sudden stoppage of medication for seizures could result in your child or yourself to have more seizures or seizures that don't cease (status epilepticus).
Contact your doctor whenever you need to particularly if you're concerned about any symptoms.
Before taking Ganaxolone
Before beginning treatment, inform your healthcare professional about all of your child's medical issues and those in which either of you
consume alcohol.

Have or had depressive symptoms or mood disorders or suicidal ideas or behavior.

Have been addicted or abused on prescription medications street drugs, alcohol.

Have liver issues.

You are expecting or plan to be pregnant or plan to.

 

Contact your healthcare provider if your child is pregnant while on Ganaxolone.

 

Your healthcare provider and you will decide whether the child or you is required to use Ganaxolone during pregnancy.

If the child or you becomes pregnant when using Ganaxolone consult your physician about enrolling in the North American Antiepileptic Drug Pregnancy Registry.

 

You can join this registry by calling 1-888-233-2234 or visit http://www.

 

aedpregnancyregistry.org/.

 

The aim of this registry is to gather details about how safe antiepileptic medications are during pregnancy.

If you are breastfeeding, or plan to or plan to.

Ganaxolone

can be absorbed into the breast milk of your child.

 

Discuss with your healthcare professional regarding the best method to feed your child when taking Ganaxolone.
What other medications can impact Ganaxolone?
Discuss with your doctor all medications that you or your child is taking for both prescription and non-prescription medications as well as vitamins and herbal supplements. Ganaxolone can affect how other medicines function and other medications may alter the way Ganaxolone functions. Do not stop or change the way you are using other medications without speaking with your doctor.
Tell your doctor that either of you is taking:
alcohol

Opioids

antidepressants
Be aware of the medications you or your child are taking. Keep a record of them to show your doctor or pharmacist whenever the child or you receive an upcoming medication.
What is the best way to take Ganaxolone?
Check out instructions for use provided along with your prescription for details on how to make use of Ganaxolone.

You can take or give Ganaxolone precisely according to what your doctor has instructed you.

Your doctor will inform you of the amount to give or take and the best time to give or take it.

Make sure to measure each dose using the adapter for bottles and oral dosing syringes that are provided to you by your doctor.

 

Don't use a common spoon or teaspoon.

 

If the dosage of Ganaxolone is lower than 1 milliliter the pharmacist will supply you with an appropriate needle to give or take Ganaxolone.

Use or give Ganaxolone in food.

If you experience an overdose, seek medical assistance or call an online Poison Center expert right away.
What should I be aware of when taking Ganaxolone?
Don't drive, operate machines that are heavy, or engage in other hazardous activities until you are aware of the extent to which this medication can affect your child or yourself.

Ganaxolone

can cause your child or you to feel tired.
Dosing and administration
Dosage Information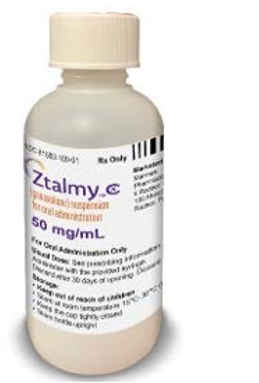 Ganaxolone is administered by mouth three times daily and must be taken with food
The recommended titration schedule and maintenance dosage are based on body weight for patients
weighing 28 kg or less. Dosage recommendations for patients weighing 28 kg or less are included in
Table 1, and dosage recommendations for patients weighing 28 kg or more are included in Table 2.
Dosage should be increased based on tolerability no more frequently than every 7 days. Titration
increments should not exceed those shown in Table 1 and Table 2.
This medication is administered by taking a drink three times per day. It should be taken with food.
Table: 1 Recommendation for Titration Schedules for Patients Weighing 28kg or less
| | | |
| --- | --- | --- |
| Dosage | The Daily Dosage Total | Days |
| 6 mg/kg 3 times a day | 18 mg/kg/day | 1-7 |
| 11 mg/kg three times a day | 33 mg/kg/day | 8-14 |
| 16 mg/kg three times per day | 48 mg/kg/day | 15-21 |
| 21 mg/kg 3 times a day | 63 mg/kg/day | 22 to continue |
Table 2: Recommendation for Titration Schedules for Patients who weigh more than 28kg
| | | | |
| --- | --- | --- | --- |
| Dosage | mL per Dose | Daily dose total | Days |
| 150 mg 3 times daily | 3 | 350 mg | 1-7 |
| 300 mg 3 times daily | 6 | 800 mg | 8-14 |
| Three times a day, 450 mg | 9 | 1350 mg | 15-21 |
| Three times a day, 600 mg per day | 12 | 1800 mg | 22 to continue |
Treatment for seizures caused by cyclin-dependent kinase-like five (CDKL5) in deficiency disorders (CDD) for patients who are 2 years old or older.
Discontinuation of Ganaxolone
Reduce the dose of this medication slowly when you stop treatment. Like all antiepileptic medications, abrupt withdrawal should be avoided, if feasible, to reduce the chance of an increase in seizures or status epilepticus 
Dosage form and strengths
Oral suspension: 50 mg/mL ganaxolone. Each bottle has 110 mL of off-white to white cherry-flavored suspension.
Ganaxolone side effects
This medication can have severe side effects, which include:
Check out Important details.
The most frequent adverse effects are:
insomnia

The fever

excessive salivation or excessive salivation or

seasonal allergies
They aren't all the possible adverse consequences. For more details, consult your physician or pharmacist. Inform your healthcare provider of any side effects that are bothering your child or you, or that doesn't go away. disappear. Consult your physician for advice from a medical professional regarding adverse effects. It is possible to report the side effects to the FDA via 1-800-FDA-1088. You can also reach Marinus Pharmaceuticals at 844-627-4687.
What should I do with my Ganaxolone?
Keep Ganaxolone oral suspension from 59degF and 86degF (15degC to 30degC).).

Always keep the suspension of oral in the bottle it came from in a straight place.

Secure the cap for children shut.

Utilize the suspension orally within 30 days of taking the bottle out.

 

Toss away (dispose of) any remaining medicine after 30 days.
Make sure that all medications are away from the reach of pets and children.
General Information on the safe and efficient usage of Ganaxolone.
Sometimes, medicines are prescribed for reasons that are not the ones listed in the Medication Guide. Don't use this medication to treat a problem for which it is not recommended. Don't give it to others even if they suffer from similar symptoms to those you are suffering from. It could harm them.
Ask your healthcare professional or pharmacist for information on the specific written for health professionals.
More details
Always consult your doctor to confirm that the information provided on this page is applicable to your particular situation.