Generic name: loxapine
Brand name: Adasuve
What is Adasuve
Adasuve is an antipsychotic drug that changes the activity of brain neurotransmitters.
The inhalation powder Adasuve is used to treat agitation caused by schizophrenia or bipolar illness.
Adasuve inhalation is only administered in a hospital or clinic setting, where any breathing issues may be handled swiftly.¶
Warnings and precautions
If you have bronchospasm-causing breathing difficulties (such as asthma or COPD), or if you are currently having trouble breathing with cough and wheezing, you should not take Adasuve inhalation. If you've ever experienced breathing problems after taking this medication, you shouldn't take it again.
Inhaling adasuve can cause bronchospasm (wheezing, chest tightness, shortness of breath), which can cause significant lung difficulties or even cause you to stop breathing.
This medication must be administered in a hospital or clinic setting, so your doctor can rapidly address any major adverse effects.
This medication is not licensed for the treatment of dementia-related psychosis in older persons.
Before taking this medicine, consult your doctor
Adasuve should not be used if you are allergic to loxapine or amoxapine, or if you have any of the following conditions:
coughing and wheezing make it difficult to breathe;
asthma, chronic obstructive pulmonary disease (COPD), or other lung conditions;
a respiratory issue that you're currently medicating; or
history of bronchospasm following the use of Adasuve inhalation
Loxapine is not licensed for use in older persons with dementia-related psychosis because it may raise the risk of death.
Tell your doctor if you've ever had any of the following conditions to ensure Adasuve is safe for you:
epilepsy or a seizure disease of some kind;
blood pressure that is too high or too low;
glaucoma;
urination issues;
Parkinson's disease is a neurological disorder.
cardiac problems heart failure
a stroke or a heart attack; or
if you consume alcoholic beverages or utilize illegal drugs
If you become pregnant or become pregnant, tell your doctor. Antipsychotic medicine taken during the last three months of pregnancy may cause breathing, feeding, or withdrawal signs in the baby.Adasuve should not be used when breastfeeding.
How is Adasuve given?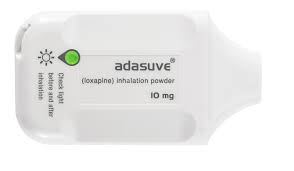 Adasuve inhalation is typically administered once per 24 hours as needed.
This medicine will be given to you by a healthcare provider in a hospital or clinic setting so that any major adverse effects can be handled swiftly.
You can learn how to use the Adasuve inhaler device from a healthcare provider.
One end of the inhaler device has a pull tab and the other has a green indicator light. The green light will turn on when the pull tab is released, indicating that the gadget is ready to use.
If you do not use the inhaler within 15 minutes after the green light turns on, the gadget will deactivate.
If the green light isn't on, don't try to use the inhaler.
You may hear a clicking sound and experience a warm sensation while using the Adasuve inhaler device. These are standard operations. The green light will turn off once you've finished inhaling your dose, indicating that you've used the complete dose.
After using Adasuve, you will be closely monitored for at least 1 hour to ensure you do not have any breathing problems.
Dosing information
The drug is used to treat schizophrenia.
Adult Dose for Agitated State:
Once every 24 hours, take 10 milligrams by oral inhalation.
All patients must undergo screening and assessment prior to administration to reduce the risk of bronchospasm.
Only a healthcare practitioner is a registered healthcare facility may administer this medicine.  For the treatment of agitation caused by schizophrenia or bipolar, I disorder in the short term.
What happens if I forget to take a dose?
Because Adasuve inhalation is only used when necessary, you may only need one dosage. Adasuve should not be given more than once per 24 hours.
What happens if I take too much?
An overdose is unlikely to occur because this medicine is provided by a healthcare practitioner in a medical setting.
What should I stay away from while taking Adasuve?
If you don't know how this medicine will affect you, don't drive or operate machinery. If you stand up too quickly from a sitting or lying position, you may become dizzy. Falls, fractures, and other injuries can occur as a result of dizziness or acute sleepiness.
Do not consume alcoholic beverages.
It's possible that you'll have dangerous side effects.
Adasuve side effects
If you have hives, difficulty breathing, or swelling of your face, lips, tongue, or throat as a result of an allergic response to Adasuve, get immediate medical attention.
Tell your doctor if you have:
sense of dizziness, as if you're about to pass out;
Seeing halos surrounding lights, tunnel vision, eye discomfort, or blurred vision;
Wheezing, coughing, chest tightness, and difficulty breathing are all symptoms of bronchospasm.
urination is minimal or non-existent;
a convulsion (seizures); or
Severe nervous system reaction: stiff (rigid) muscles, high fever, sweating, bewilderment, fast or irregular heartbeats, tremors, and the sense of passing out
Other common Adasuve side effects:
sleepiness;
or a sore throat
a peculiar or disagreeable taste in the mouth
This is not an exhaustive list of potential adverse effects; more may arise. For medical advice on side effects, contact your doctor. You can contact the FDA at 1-800-FDA-1088 to report side effects.
What other medications will have an effect on Adasuve?
When Adasuve is used with other medications that produce drowsiness or slow breathing, it might result in serious adverse effects including death.
Before taking an opioid prescription, a sleeping pill, a muscle relaxant, or a treatment for anxiety or seizures, consult your doctor.
Tell your doctor about all additional medications you're taking, especially:
Depression, anxiety, mood disorders, or mental illness are all treated with drugs.
Cold or allergy medication (Benadryl and similar);
medication for the treatment of Parkinson's disease;
gastrointestinal troubles, motion sickness, or irritable bowel syndrome medication
treatment for an overactive bladder; or
Asthma medicine acts as a bronchodilator.
This is not an exhaustive list. Other pharmaceuticals, such as prescription and over-the-counter medications, vitamins, and herbal items, may interact with loxapine. This list does not include all probable medication interactions.
Label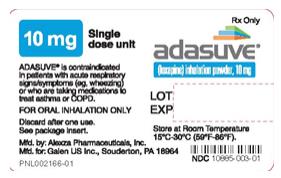 Additional information
Remember to keep this and all other medicines out of the reach of children, never share your medicines with others, and only use Adasuve as directed.
Always check with your healthcare practitioner to make sure the information on this page pertains to your specific situation.