Adagen
Generic name: Pegademase bovine
Brand name:  Adagen
Uses of Adagen

Adagen is an Adenosine deaminase (ADA) enzyme. It's used to treat kids who don't have a fully developed immune system because they don't have enough ADA in their bodies.¶
Pegademase should only be administered by or under the direction of a doctor.
Before using Adagen, consult your doctor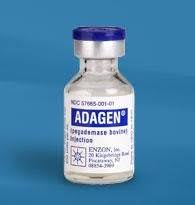 When determining whether or not to use a drug, the dangers must be evaluated against the benefits.
This is a choice that you and your doctor will make together. The following should be taken into account when using this medicine
Precautions to take when using Adagen
It's critical that your doctor monitors your or your child's progress at frequent intervals to ensure that the treatment is working properly. Unwanted side effects may necessitate blood testing.
It is critical that you or your kid continue to get pegademase medication. Treatment must be continued for the rest of one's life. Do not discontinue taking pegademase without first seeing your doctor. The immune system will go down if regular therapy is not continued, and dangerous infections may arise.
Allergies
If you've ever had an unusual or adverse reaction to this or any other drug, tell your doctor. Also inform your doctor if you have any additional allergies, such as those to foods, colors, preservatives, or animals. Read the ingredients on the label or container of non-prescription goods carefully.
Pediatric
Appropriate trials conducted yet have not revealed any pediatric-specific issues that would restrict pegademase's use in children.
Geriatric
There is no information on the association between age and pegademase effects in elderly individuals.
Breastfeeding
There are no good studies in women to determine the harm to an infant if this medicine is used during nursing. Before using this drug during nursing, weigh the potential advantages against the potential hazards.
Medication interactions
Although certain drugs should never be taken together, in other circumstances, two separate medicines can be used together even though interaction is possible. In certain circumstances, your doctor may wish to adjust the dose or take additional measures. If you're taking this medication, it's especially vital to let your doctor know if you're also taking any of the medications mentioned below. The interactions listed below were chosen based on their potential relevance and are not necessarily exhaustive.
It is normally not a good idea to take this drug with any of the following medications, although it may be necessary in rare instances. If both drugs are prescribed at the same time, your doctor may adjust the dose or frequency with which you take one or both of them.
Food/tobacco/alcohol interactions
Because interactions may occur, certain drugs should not be taken at or near the time of eating food or consuming specific types of food. Interactions can also arise when some drugs are taken with alcohol or smoke. Discuss the interaction of your drug with food, drink, or cigarettes with your healthcare provider.
Other health issues
The usage of this drug may be hampered if you have other medical issues. If you have any additional medical issues, make sure to notify your doctor, especially if you have:
Problems with bleeding (e.g., thrombocytopenia) or
Use caution if you have an infection. It's possible that this will aggravate the situation.
Severe thrombocytopenia—Should not be given to people who have this disease.
Uses of Adagen
This drug will be given to you or your kid by a nurse or another certified health practitioner. This drug is administered to you or your kid as an injection into a muscle.
It's possible that you'll be taught how to administer this medication at home. Before giving yourself or your kid an injection, be sure you understand all of the instructions. Do not take more medicine or take it more frequently than your doctor recommends.¶
Dosing
This medicine's dosage will vary depending on the patient. Follow your doctor's orders or the label's instructions. Only the typical dosages of this drug are included in the following information. If your dose differs, do not alter it unless your doctor instructs you to.
The amount of medicine you take is determined by the drug's strength. In addition, the number of dosages you take each day, the duration between doses, and the length of time you take the drug are all determined by the medical issue for which the medicine is being used.
Dosage form for injection:

Treatment for ADA deficiency:

Children—Dosage is chosen by your doctor and is based on body weight. The normal dose is 10 to 20 units per kilogram (kg) of body weight (4.55 to 9.09 units per pound), injected once a week into a muscle. Follow your doctor's orders or the directions on the label if you're getting pegademase at home. Ask your doctor if you have any questions about the proper dosage of pegademase.
What if I miss a dose
Take this drug as soon as you remember if you miss a dose. If your next dosage is approaching, omit the missed dose and return to your usual dosing plan. Do not take two doses at the same time.
Storage
Refrigerate any leftovers. Do not allow yourself to get frozen.
Keep out of children's reach.
Do not store out-of-date or no-longer-needed medications.
Inquire with your doctor about how to get rid of any medicines you don't use.
Used needles should be disposed of in a hard, closed container that the needles cannot penetrate. Keep this container out of reach of kids and dogs.
Adagen Side effects
A drug may have some undesired side effects in addition to its intended effects. Although not all of these adverse effects are likely to occur, if they do, medical treatment may be required.
If any of the following adverse effects develop, contact your doctor right away:
Unknown Incidence
Pains in the back, legs, or stomach
gums that are bleeding
chills
urine that is dark in color
breathing problems
fever
Swelling of the whole body
headache
a decrease in appetite
nosebleeds
In the fingers, toes, and legs, there is discomfort, warmth, or burning.
a pale complexion
eyesight or hearing difficulties
throat irritation
unexpected exhaustion or weakness
a yellowing of the skin or eyes
There may be certain adverse effects that may not require medical treatment. As your body adjusts to the medicine, these side effects may fade away during treatment. In addition, your health care provider may be able to advise you on how to avoid or mitigate some of these adverse effects. If any of the following side effects persist or become troublesome, or if you have any questions about them, see your doctor:
Rare incidence
itching
skin rosiness
redness or discomfort at the injection site
rashes on the skin
Other, not listed, adverse effects may occur in certain people. Check with your healthcare provider if you detect any other side effects.
How supplied
Injectable is a colorless, transparent, preservative-free intramuscular injection solution. Each 1.5 mL single-use vial has 250 units/mL and is packaged in boxes of four vials.
Do not re-enter the vial after using one dose. Discard any leftovers. Do not retain any unneeded medication for subsequent use.
Refrigerate. Temperatures should be kept between +2°C and +8°C (36°F and 46°F). and don't freeze.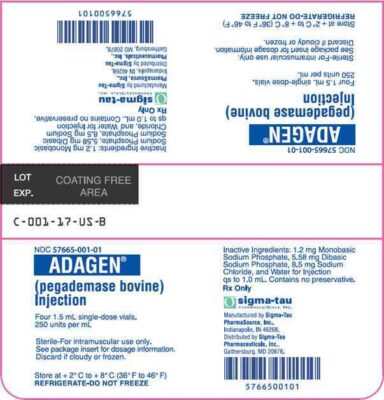 Additional information
Always check with your healthcare practitioner to be sure the information on this page pertains to your specific situation.