Vuity side effects
Generic name: pilocarpine hydrochloride
Dosage form: ophthalmic solution
Medically reviewed by A Ras MD. Last updated on April 10, 2022
What is Vuity
VUITY (pilocarpine hydrochloride ophthalmic solution) 1.25% is a cholinergic muscarinic receptor agonist prepared as an isotonic, colorless, sterile ophthalmic solution containing 1.25% of pilocarpine hydrochloride. The chemical name for pilocarpine hydrochloride is (3S,4R)-3-ethyl-4-[(1-methyl-1H-imidazol-5-yl)methyl]oxolan-2-one hydrochloride. Its molecular weight is 244.72 and its molecular formula is C11H16N2O2 · HCl. Its structural formula is:
Each mL of VUITY contains pilocarpine hydrochloride 1.25% (12.5 mg) as the active ingredient, equivalent to 1.06% (10.6 mg) pilocarpine free-base. Preservative is: benzalkonium chloride 0.0075%. Inactive ingredients in the ophthalmic solution are: boric acid, sodium citrate dihydrate, sodium chloride, purified water, and may also include hydrochloric acid and/or sodium hydroxide for pH adjustment to between 3.5 and 5.5, if necessary.
Wanings and Precautions
Poor Illumination
Patients should be advised to exercise caution in night driving and other hazardous occupations in poor illumination. In addition, miotics may cause accommodative spasm. Patients should be advised not to drive or use machinery if vision is not clear.
Risk of Retinal Detachment
Rare cases of retinal detachment have been reported with other miotics when used in susceptible individuals and those with pre-existing retinal disease. Patients should be advised to seek immediate medical care with sudden onset of vision loss.
Iritis
VUITY is not recommended to be used when iritis is present because adhesions (synechiae) may form between the iris and the lens.
 Use with Contact Lenses
Contact lens wearers should be advised to remove their lenses prior to the instillation of VUITY and to wait 10 minutes after dosing before reinserting their contact lenses.
Potential for Eye Injury or Contamination
To prevent eye injury or contamination, care should be taken to avoid touching the dispensing bottle to the eye or to any other surface.
Vuity side effects
Vuity (Pilocarpine ophthalmic ) side effects are undesired reactions that may be experienced while using this drug. Although not all of these side effects are likely to occur, if they do, medical treatment may be required.
If you experience any of the following negative effects while using pilocarpine ophthalmic, contact your doctor right once.
More common
Increased sweating
muscle tremors
redness of the white part of the eyes or inside of the eyelids
trouble breathing
watering of mouth
Less common
Blurred vision
eye irritation or pain
watering of the eyes
Incidence not known
Chest tightness
fever
hives, itching, skin rash
irritation
joint pain, stiffness, or swelling
redness of the skin
swelling of the eyelids, face, lips, hands, or feet
trouble breathing
Clinical Trials Experience
Because clinical trials are conducted under widely varying conditions, adverse reaction rates observed in the clinical trials of a drug cannot be directly compared to rates in the clinical trials of another drug and may not reflect the rates observed in practice.
VUITY was evaluated in 375 patients with presbyopia in two randomized, double-masked, vehicle-controlled studies (GEMINI 1 and GEMINI 2) of 30 days duration. The most common adverse reactions reported in >5% of patients were headache and conjunctival hyperemia. Ocular adverse reactions reported in 1-5% of patients were blurred vision, eye pain, visual impairment, eye irritation, and increased lacrimation.¶
PRINCIPAL DISPLAY PANEL
NDC 0074-7098-01

Vuity

™

(pilocarpine HCI ophthalmic solution) 1.25%
Contains one 2.5 mL bottle
Rx Only
Sterile
For topical application in the eye
1 x 2.5 mL

Allergan

™

An AbbVie company
PRINCIPAL DISPLAY PANEL
NDC 0074-7098-03

Vuity

™

(pilocarpine HCI ophthalmic solution) 1.25%
Contains one 2.5 mL bottle
Rx Only
Sterile
For topical application in the eye
3 x 2.5 mL

Allergan

™

An AbbVie company
PRINCIPAL DISPLAY PANEL
NDC 0074-7098-04

Vuity

™

(pilocarpine HCI ophthalmic solution) 1.25%
Rx Only
Sterile
2.5 mL
For topical Application in the Eye

Allergan

™

An AbbVie company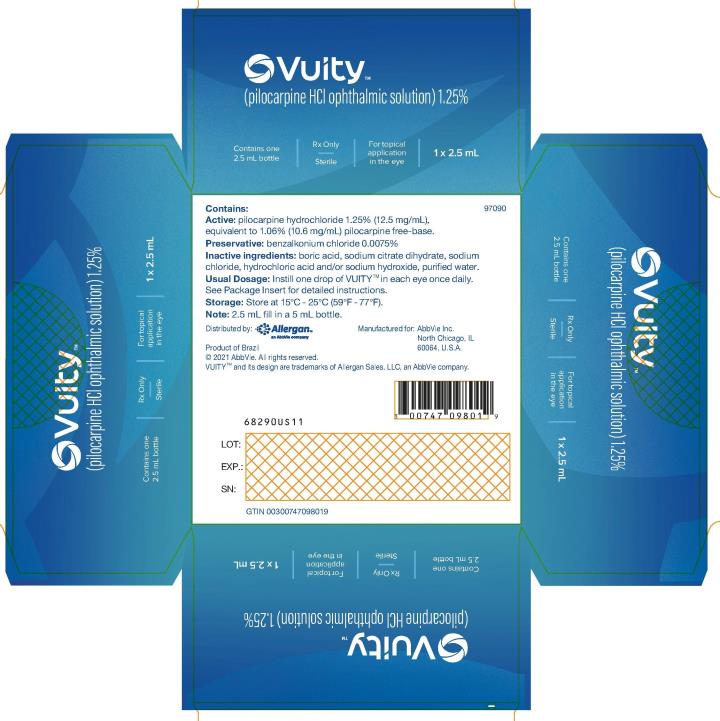 PRINCIPAL DISPLAY PANEL
NDC 0074-7098-05
Professional Sample Not for Resale

Vuity

™

(pilocarpine HCI ophthalmic solution) 1.25%
Rx Only
Sterile
1.5 mL
For topical Application in the Eye

Allergan

™

An AbbVie company