Symproic
Medically reviewed by  A Ras MD.
What is Symproic used for?
Symproic is a prescription medicine that is used to treat constipation caused by some pain drugs.
Description
SYMPROIC (naldemedine), an opioid antagonist, contains naldemedine tosylate as the active ingredient.
The chemical name for naldemedine tosylate is: 17-(cyclopropylmethyl)-6,7-didehydro-4,5α-epoxy-3,6,14-trihydroxy-N-[2-(3-phenyl-1,2,4-oxadiazol-5-yl)propan-2-yl]morphinan-7-carboxamide 4-methylbenzenesulfonic acid.
The structural formula is:
The empirical formula for naldemedine tosylate is C32H34N4O6∙C7H8O3S and the molecular weight is 742.84.
Naldemedine tosylate is a white to light tan powder, soluble in dimethylsulfoxide and methanol, slightly soluble in alcohol and water, and independent of pH.
SYMPROIC (naldemedine) tablets for oral use contain 0.2 mg naldemedine (equivalent to 0.26 mg of naldemedine tosylate).
Excipients are: D-mannitol, croscarmellose sodium, magnesium stearate, hypromellose, talc, and yellow ferric oxide.
Mechanism of Action
Naldemedine is an opioid antagonist with binding affinities for mu-, delta-, and kappa-opioid receptors. Naldemedine functions as a peripherally-acting mu-opioid receptor antagonist in tissues such as the gastrointestinal tract, thereby decreasing the constipating effects of opioids.
Naldemedine is a derivative of naltrexone to which a side chain has been added that increases the molecular weight and the polar surface area, thereby reducing its ability to cross the blood-brain barrier (BBB). Naldemedine is also a substrate of the P-glycoprotein (P-gp) efflux transporter. Based on these properties, the CNS penetration of naldemedine is expected to be negligible at the recommended dose levels, limiting the potential for interference with centrally-mediated opioid analgesia.
Before taking Symproic, tell your doctor:
If you are allergic to Symproic; any part of this medicine; or any other drugs, foods, or substances. Tell your doctor about the allergy and what signs you had.
If you have a bowel block.
If you have ever had bowel block.
If you have liver disease.
If you are taking any of these drugs: Carbamazepine, phenytoin, rifampin, or St. John's wort.
If you are using another drug like this one. If you are not sure, ask your doctor or pharmacist.
If you are breast-feeding. Do not breast-feed while you take Symproic and for at least 3 days after your last dose.
This is not a list of all drugs or health problems that interact with this medicine.
Tell your doctor and pharmacist about all of your drugs (prescription or OTC, natural products, vitamins) and health problems. You must check to make sure that it is safe for you to take Symproic with all of your drugs and health problems. Do not start, stop, or change the dose of any drug without checking with your doctor.
What are some things I need to know or do while I take Symproic?
Tell all of your health care providers that you take Symproic. This includes your doctors, nurses, pharmacists, and dentists.
Talk with your doctor before using a laxative with Symproic.
This medicine is only for use in patients who take pain drugs. Tell your doctor if you stop taking your pain drug.
This medicine may not work as well for people who have been taking pain drugs for less than 4 weeks.
Signs of opioid withdrawal have happened with Symproic. Call your doctor right away if you have more sweating, chills, diarrhea or stomach pain that is not normal, anxiety, feeling irritable, or yawning.
Tell your doctor if you are pregnant or plan on getting pregnant. You will need to talk about the benefits and risks of using Symproic while you are pregnant.
If Symproic is used during pregnancy, it may cause withdrawal in the unborn baby. A doctor will need to check on the unborn baby after Symproic is used.
How is Symproic best taken?
Use Symproic as ordered by your doctor. Read all information given to you. Follow all instructions closely.
Take with or without food.
What do I do if I miss a dose?
Take a missed dose as soon as you think about it.
If it is close to the time for your next dose, skip the missed dose and go back to your normal time.
Do not take 2 doses at the same time or extra doses.
What are the side effects of Symproic that I need to call my doctor about immediately?
WARNING/CAUTION: Even though it may be rare, some people may have very bad and sometimes deadly side effects when taking a drug. Tell your doctor or get medical help right away if you have any of the following signs or symptoms that may be related to a very bad side effect:
Signs of an allergic reaction, like rash; hives; itching; red, swollen, blistered, or peeling skin with or without fever; wheezing; tightness in the chest or throat; trouble breathing, swallowing, or talking; unusual hoarseness; or swelling of the mouth, face, lips, tongue, or throat.
Tears in the stomach or bowel wall have happened in certain people taking Symproic. Call your doctor right away if you have swelling or pain in your stomach that is very bad, gets worse, or does not go away. Call your doctor right away if you throw up blood or have throw up that looks like coffee grounds; upset stomach or throwing up that does not go away; or black, tarry, or bloody stools.
What are some other side effects of Symproic?
All drugs may cause side effects. However, many people have no side effects or only have minor side effects. Call your doctor or get medical help if any of these side effects or any other side effects bother you or do not go away:
Stomach pain or diarrhea.
Upset stomach or throwing up.
These are not all of the side effects that may occur. If you have questions about side effects, call your doctor. Call your doctor for medical advice about side effects.
You may report side effects to the FDA at 1-800-332-1088. You may also report side effects at https://www.fda.gov/medwatch.
If overdose is suspected:
If you think there has been an overdose, call your poison control center or get medical care right away. Be ready to tell or show what was taken, how much, and when it happened.
How do I store and/or throw out Symproic?
Store in the original container at room temperature.
Store in a dry place. Do not store in a bathroom.
Keep all drugs in a safe place. Keep all drugs out of the reach of children and pets.
Throw away unused or expired drugs. Do not flush down a toilet or pour down a drain unless you are told to do so. Check with your pharmacist if you have questions about the best way to throw out drugs. There may be drug take-back programs in your area.
Label
PRINCIPAL DISPLAY PANEL – 0.2 MG TABLET BLISTER PACK CARTON
NDC 59385-041-07
7 Tablets
Dosage: Take 1 tablet
once daily
Each tablet contains 0.2 mg of
naldemedine (equivalent to
0.26 mg of naldemedine tosylate).
Please see the included
Prescribing Information.
Keep out of reach of children.
Dispense the enclosed Medication Guide
to each patient.
Symproic

®


(naldemedine) tablets
0.2 mg
PHYSICIAN SAMPLES NOT FOR SALE
FOR ORAL USE ONLY
Rx ONLY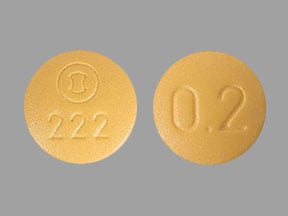 SRC: NLM .