Requip
Medically reviewed by  A Ras MD.
What is Requip used for?
Requip is a prescription medicine that is used to treat Parkinson's disease. It is used to treat restless leg syndrome.
Description
REQUIP (ropinirole) is an orally administered non-ergoline dopamine agonist. It is supplied as the hydrochloride salt of ropinirole 4-[2-(dipropylamino)ethyl]-1,3-dihydro-2H-indol-2-one and has an empirical formula of C16H24N2O•HCl. The molecular weight is 296.84 (260.38 as the free base).
The structural formula is:
Ropinirole hydrochloride is a white to yellow solid with a melting range of 243° to 250°C and a solubility of 133 mg/mL in water.
REQUIP XL Extended-Release Tablets are formulated as a three-layered tablet with a central, active-containing, slow-release layer, and 2 placebo outer layers acting as barrier layers which control the surface area available for drug release. Each biconvex, capsule-shaped tablet contains 2.28 mg, 4.56 mg, 6.84 mg, 9.12 mg, or 13.68 mg ropinirole hydrochloride equivalent to ropinirole 2 mg, 4 mg, 6 mg, 8 mg, or 12 mg, respectively. Inactive ingredients consist of carboxymethylcellulose sodium, colloidal silicon dioxide, glyceryl behenate, hydrogenated castor oil, hypromellose, lactose monohydrate, magnesium stearate, maltodextrin, mannitol, povidone, and one or more of the following: FD&C Yellow No. 6 aluminum lake, FD&C Blue No. 2 aluminum lake, ferric oxides (black, red, yellow), polyethylene glycol 400, titanium dioxide.
 Mechanism of Action
Ropinirole is a non-ergoline dopamine agonist with high relative in vitro specificity and full intrinsic activity at the D2 and D3 dopamine receptor subtypes, binding with higher affinity to D3 than to D2 or D4 receptor subtypes.
Ropinirole has moderate in vitro affinity for opioid receptors. Ropinirole and its metabolites have negligible in vitro affinity for dopamine D1, 5-HT1, 5-HT2, benzodiazepine, GABA, muscarinic, alpha1-, alpha2-, and beta-adrenoreceptors.
The precise mechanism of action of ropinirole as a treatment for Parkinson's disease is unknown, although it is believed to be due to stimulation of postsynaptic dopamine D2-type receptors within the caudate-putamen in the brain. This conclusion is supported by studies that show that ropinirole improves motor function in various animal models of Parkinson's disease. In particular, ropinirole attenuates the motor deficits induced by lesioning the ascending nigrostriatal dopaminergic pathway with the neurotoxin 1-methyl-4-phenyl-1,2,3,6-tetrahydropyridine (MPTP) in primates. The relevance of D3 receptor binding in Parkinson's disease is unknown.
Before taking Requip, tell your doctor:
If you are allergic to Requip; any part of this medicine; or any other drugs, foods, or substances. Tell your doctor about the allergy and what signs you had.
If you are taking another drug that has the same drug in it.
This medicine may interact with other drugs or health problems.
Tell your doctor and pharmacist about all of your drugs (prescription or OTC, natural products, vitamins) and health problems. You must check to make sure that it is safe for you to take Requip with all of your drugs and health problems. Do not start, stop, or change the dose of any drug without checking with your doctor.
What are some things I need to know or do while I take Requip?
Tell all of your health care providers that you take Requip. This includes your doctors, nurses, pharmacists, and dentists.
Avoid driving and doing other tasks or actions that call for you to be alert until you see how Requip affects you.
To lower the chance of feeling dizzy or passing out, rise slowly if you have been sitting or lying down. Be careful going up and down stairs.
Do not stop taking Requip all of a sudden without calling your doctor. You may have a greater risk of side effects. If you need to stop Requip, you will want to slowly stop it as ordered by your doctor.
If you start or stop smoking, talk with your doctor. How much drug you take may need to be changed.
Talk with your doctor before you drink alcohol or use other drugs and natural products that slow your actions.
Check blood pressure and heart rate as the doctor has told you.
If you are 65 or older, use Requip with care. You could have more side effects.
Tell your doctor if you are pregnant or plan on getting pregnant. You will need to talk about the benefits and risks of using Requip while you are pregnant.
Tell your doctor if you are breast-feeding. You will need to talk about any risks to your baby.
Parkinson's disease:
The chance of a type of skin cancer called melanoma may be raised in people with Parkinson's disease. It is not known if Requip may also raise the chance. Have skin exams while you take Requip. Talk with your doctor.
Restless leg syndrome:
Tell your doctor if your signs become worse or start earlier in the day.
Have your skin checked as you have been told by your doctor.
How is Requip best taken?
Use Requip as ordered by your doctor. Read all information given to you. Follow all instructions closely.
Take with or without food.
Keep taking Requip as you have been told by your doctor or other health care provider, even if you feel well.
If you stop taking Requip, talk with your doctor. You may need to be restarted at a lower dose and raise the dose slowly.
For restless leg syndrome, take Requip 1 to 3 hours before bedtime.
What do I do if I miss a dose?
Take a missed dose as soon as you think about it.
If it is close to the time for your next dose, skip the missed dose and go back to your normal time.
Do not take 2 doses at the same time or extra doses.
If you miss a few days of Requip, call your doctor to find out how to restart.
What are the side effects of Requip that I need to call my doctor about immediately?
WARNING/CAUTION: Even though it may be rare, some people may have very bad and sometimes deadly side effects when taking a drug. Tell your doctor or get medical help right away if you have any of the following signs or symptoms that may be related to a very bad side effect:
Signs of an allergic reaction, like rash; hives; itching; red, swollen, blistered, or peeling skin with or without fever; wheezing; tightness in the chest or throat; trouble breathing, swallowing, or talking; unusual hoarseness; or swelling of the mouth, face, lips, tongue, or throat.
Signs of high or low blood pressure like very bad headache or dizziness, passing out, or change in eyesight.
Signs of a urinary tract infection (UTI) like blood in the urine, burning or pain when passing urine, feeling the need to pass urine often or right away, fever, lower stomach pain, or pelvic pain.
Feeling confused.
Strong urges that are hard to control (such as eating, gambling, sex, or spending money).
A skin lump or growth.
Change in color or size of a mole.
Very nervous and excitable.
Change in eyesight.
Chest pain or pressure or a fast heartbeat.
A heartbeat that does not feel normal.
Slow heartbeat.
Hallucinations (seeing or hearing things that are not there).
Mood changes.
Change in how you act.
Shortness of breath.
Trouble controlling body movements that is new or worse.
Swelling in the arms or legs.
A burning, numbness, or tingling feeling that is not normal.
Memory problems or loss.
Not able to focus.
Fever.
Muscle stiffness.
Some people have fallen asleep during activities like driving, eating, or talking. Some people did not feel sleepy and felt alert right before falling asleep. This has happened up to 1 year after Requip was started. If you fall asleep during activities, do not drive or do other tasks or actions that call for you to be alert while you take Requip. Call your doctor right away if this happens or you feel very sleepy.
What are some other side effects of Requip?
All drugs may cause side effects. However, many people have no side effects or only have minor side effects. Call your doctor or get medical help if any of these side effects or any other side effects bother you or do not go away:
Upset stomach or throwing up.
Dizziness.
Feeling sleepy.
Headache.
Sweating a lot.
Belly pain.
Feeling tired or weak.
Dry mouth.
Joint pain.
Feeling nervous and excitable.
Shakiness.
Anxiety.
Nose or throat irritation.
Back pain.
These are not all of the side effects that may occur. If you have questions about side effects, call your doctor. Call your doctor for medical advice about side effects.
You may report side effects to the FDA at 1-800-332-1088. You may also report side effects at https://www.fda.gov/medwatch.
If overdose is suspected:
If you think there has been an overdose, call your poison control center or get medical care right away. Be ready to tell or show what was taken, how much, and when it happened.
How do I store and/or throw out Requip?
Store at room temperature.
Protect from light.
Keep lid tightly closed.
Store in a dry place. Do not store in a bathroom.
Keep all drugs in a safe place. Keep all drugs out of the reach of children and pets.
Throw away unused or expired drugs. Do not flush down a toilet or pour down a drain unless you are told to do so. Check with your pharmacist if you have questions about the best way to throw out drugs. There may be drug take-back programs in your area..
Label
Principal Display Panel
REQUIP

®

 XL

TM

(ropinirole extended-release tablets)

2 mg

R

x

 only

30 Tablets

Each tablet contains 2.28 mg ropinirole HCl equivalent to 2 mg ropinirole.

Dosage:

 See Prescribing Information for complete dosing instructions.
Do not use if safety seal under cap is broken or missing.
Store at 25

o

C (77

o

F); excursions permitted to 15-30

o

C (59-86

o

F) [see USP Controlled Room Temperature].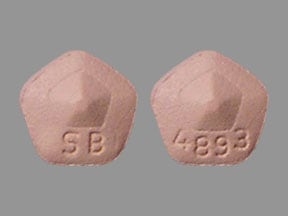 SRC: NLM .