Precose
Medically reviewed by  A Ras MD.
What is Precose used for?
Precose is a prescription medicine that is used to lower blood sugar in patients with high blood sugar (diabetes).
Description
PRECOSE® (acarbose tablets) is an oral alpha-glucosidase inhibitor for use in the management of type 2 diabetes mellitus. Acarbose is an oligosaccharide which is obtained from fermentation processes of a microorganism, Actinoplanes utahensis, and is chemically known as O-4,6-dideoxy- 4-[[(1S,4R,5S,6S)-4,5,6-trihydroxy-3-(hydroxymethyl)-2-cyclohexen-1-yl]amino]-α-D-glucopyranosyl-(1 → 4)-O-α-D-glucopyranosyl-(1 → 4)-D-glucose. It is a white to off-white powder with a molecular weight of 645.6. Acarbose is soluble in water and has a pKa of 5.1. Its empirical formula is C25H43NO18 and its chemical structure is as follows:
PRECOSE is available as 25 mg, 50 mg and 100 mg tablets for oral use. The inactive ingredients are starch, microcrystalline cellulose, magnesium stearate, and colloidal silicon dioxide.
Mechanism of Action:
In contrast to sulfonylureas, PRECOSE does not enhance insulin secretion. The antihyperglycemic action of acarbose results from a competitive, reversible inhibition of pancreatic alpha-amylase and membrane-bound intestinal alpha-glucoside hydrolase enzymes. Pancreatic alpha-amylase hydrolyzes complex starches to oligosaccharides in the lumen of the small intestine, while the membrane-bound intestinal alpha-glucosidases hydrolyze oligosaccharides, trisaccharides, and disaccharides to glucose and other monosaccharides in the brush border of the small intestine. In diabetic patients, this enzyme inhibition results in a delayed glucose absorption and a lowering of postprandial hyperglycemia.
Because its mechanism of action is different, the effect of PRECOSE to enhance glycemic control is additive to that of sulfonylureas, insulin or metformin when used in combination. In addition, PRECOSE diminishes the insulinotropic and weight-increasing effects of sulfonylureas.
Acarbose has no inhibitory activity against lactase and consequently would not be expected to induce lactose intolerance.
Before taking Precose, tell your doctor:
If you are allergic to Precose; any part of this medicine; or any other drugs, foods, or substances. Tell your doctor about the allergy and what signs you had.
If you have kidney disease.
If you have any of these health problems: Diabetic acid problems, problems with food break down, inflammatory bowel disease, bowel block or at risk for bowel block, liver disease, malabsorption syndrome, or ulcers in the colon.
If you are breast-feeding. Do not breast-feed while you take Precose.
This is not a list of all drugs or health problems that interact with this medicine.
Tell your doctor and pharmacist about all of your drugs (prescription or OTC, natural products, vitamins) and health problems. You must check to make sure that it is safe for you to take Precose with all of your drugs and health problems. Do not start, stop, or change the dose of any drug without checking with your doctor.
What are some things I need to know or do while I take Precose?
Tell all of your health care providers that you take Precose. This includes your doctors, nurses, pharmacists, and dentists.
Do not drive if your blood sugar has been low. There is a greater chance of you having a crash.
Check your blood sugar as you have been told by your doctor.
Have blood work checked as you have been told by the doctor. Talk with the doctor.
Talk with your doctor before you drink alcohol.
Follow the diet and workout plan that your doctor told you about.
It may be harder to control blood sugar during times of stress such as fever, infection, injury, or surgery. A change in physical activity, exercise, or diet may also affect blood sugar.
This medicine may affect certain lab tests. Tell all of your health care providers and lab workers that you take Precose.
Tell your doctor if you are pregnant or plan on getting pregnant. You will need to talk about the benefits and risks of using Precose while you are pregnant.
How is Precose best taken?
Use Precose as ordered by your doctor. Read all information given to you. Follow all instructions closely.
Take with the first bite of each meal.
Keep taking Precose as you have been told by your doctor or other health care provider, even if you feel well.
If you take charcoal or digestive enzyme preparations, talk to your doctor about how to take them with Precose.
What do I do if I miss a dose?
Skip the missed dose and go back to your normal time.
Do not take 2 doses at the same time or extra doses.
What are the side effects of Precose that I need to call my doctor about immediately?
WARNING/CAUTION: Even though it may be rare, some people may have very bad and sometimes deadly side effects when taking a drug. Tell your doctor or get medical help right away if you have any of the following signs or symptoms that may be related to a very bad side effect:
Signs of an allergic reaction, like rash; hives; itching; red, swollen, blistered, or peeling skin with or without fever; wheezing; tightness in the chest or throat; trouble breathing, swallowing, or talking; unusual hoarseness; or swelling of the mouth, face, lips, tongue, or throat.
Low blood sugar can happen. The chance may be raised when Precose is used with other drugs for diabetes. Signs may be dizziness, headache, feeling sleepy or weak, shaking, fast heartbeat, confusion, hunger, or sweating. Call your doctor right away if you have any of these signs. Follow what you have been told to do for low blood sugar. This may include taking glucose tablets, liquid glucose, or some fruit juices.
Liver problems have rarely happened with Precose. Sometimes, this has been deadly. Call your doctor right away if you have signs of liver problems like dark urine, feeling tired, not hungry, upset stomach or stomach pain, light-colored stools, throwing up, or yellow skin or eyes.
What are some other side effects of Precose?
All drugs may cause side effects. However, many people have no side effects or only have minor side effects. Call your doctor or get medical help if any of these side effects or any other side effects bother you or do not go away:
These are not all of the side effects that may occur. If you have questions about side effects, call your doctor. Call your doctor for medical advice about side effects.
You may report side effects to the FDA at 1-800-332-1088. You may also report side effects at https://www.fda.gov/medwatch.
If overdose is suspected:
If you think there has been an overdose, call your poison control center or get medical care right away. Be ready to tell or show what was taken, how much, and when it happened.
How do I store and/or throw out Precose?
Store at room temperature.
Keep lid tightly closed.
Store in a dry place. Do not store in a bathroom.
Keep all drugs in a safe place. Keep all drugs out of the reach of children and pets.
Throw away unused or expired drugs. Do not flush down a toilet or pour down a drain unless you are told to do so. Check with your pharmacist if you have questions about the best way to throw out drugs. There may be drug take-back programs in your area.
Label
25 MG TABLETS
80498595 

NDC 

50419-863-51
PRECOSE

®

(acarbose tablets)

25 mg

100 Tablets
Rx 

Only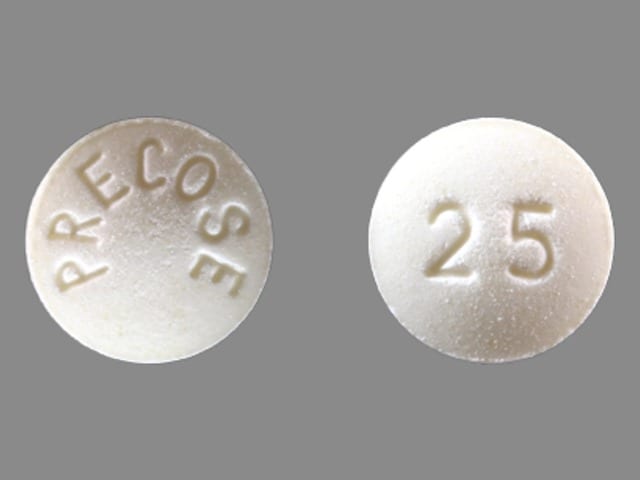 50 MG TABLETS
80498609 

NDC 

50419-861-51
PRECOSE

®

(acarbose tablets)

50 mg

100 Tablets
Rx 

Only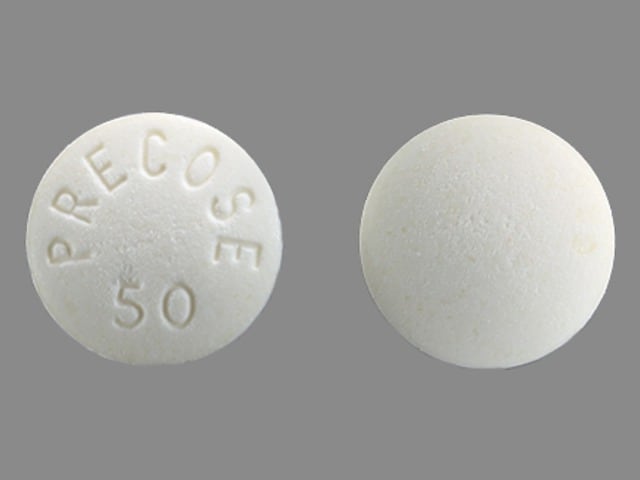 100 MG TABLETS
80498625 

NDC 

50419-862-51
PRECOSE

®

(acarbose tablets)

100 mg

100 Tablets
Rx 

Only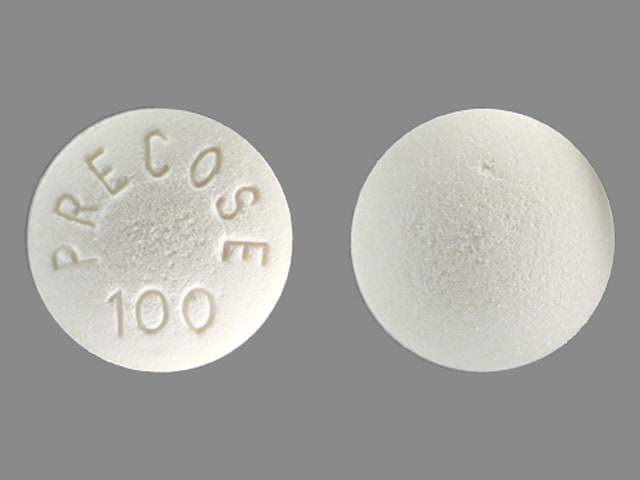 SRC: NLM .