Pilocarpine
Medically reviewed by  A Ras MD.
What is pilocarpine used for?
Pilocarpine is a prescription medicine that is used used to treat dry mouth.
Before taking pilocarpine, tell your doctor:
If you are allergic to pilocarpine; any part of this medicine; or any other drugs, foods, or substances. Tell your doctor about the allergy and what signs you had.
If you have any of these health problems: Asthma, glaucoma, liver disease, or swelling in parts of the eye.
If you are breast-feeding or plan to breast-feed.
This is not a list of all drugs or health problems that interact with pilocarpine.
Tell your doctor and pharmacist about all of your drugs (prescription or OTC, natural products, vitamins) and health problems. You must check to make sure that it is safe for you to take pilocarpine with all of your drugs and health problems. Do not start, stop, or change the dose of any drug without checking with your doctor.
Betoptic®Pilo Ophthalmic Suspension contains betaxolol hydrochloride, a cardiovascular (beta1) adrenoceptor antagonist and pilocarpine hydrochloride, a cholinergic parasympathomimetic agent.
Betaxolol hydrochloride is a white, crystalline powder. Its chemical name is (±)-1[p-(cyclopropylmethoxy)ethyl]phenoxy]-3-(isopropylamino)-2-propanol hydrochloride with an empirical formula of C18H29NO3HCl and a molecular weight of 343.89. The chemical structure of betaxolol hydrochloride is as follows:
Pilocarpine hydrochloride is a white powder. Its chemical name is 2(3H)-furanone, 3-ethyldihydro-4-[(1-methyl-1H-imidazol-5-yl)-methyl]-, monohydrochloride, (3S-cis)- with an empirical formula of C11H16N2O2HCl and a molecular weight of 244.72. The chemical structure of pilocarpine hydrochloride is as follows:
Each mL of Betoptic®Pilo Ophthalmic Suspension contains the following:
Active: Betaxolol hydrochloride 2.8 mg equivalent to 2.5 mg betaxolol base and pilocarpine hydrochloride 17.5 mg;
Preservative: Benzalkonium chloride 0.01%.
Inactive: Mannitol, poly(styrene-divinyl benzene) sulfonic acid, carbomer 934P, boric acid, edetate disodium, sodium hydroxide and/or hydrochloric acid to adjust to a pH 6.0-8.0 and purified water.
Betoptic®Pilo Ophthalmic Suspension is provided as a two-part unit for combination by the Pharmacist. It consists of the following components: Part I – a glass syringe containing pilocarpine hydrochloride 8.75%, sodium hydroxide and/or hydrochloric acid (pH 5.0 ± 0.2) and purified water to 1.6 mL; and Part II – a DROP-TAINER® containing betaxolol 0.313%, poly(styrene-divinyl benzene) sulfonic acid, carbomer 934P, boric acid, mannitol, edetate disodium, benzalkonium chloride, sodium hydroxide (pH 8.0 ± 0.2) and purified water to 6.4 mL.
Betoptic®Pilo Ophthalmic Suspension is prepared by affixing a one-inch, blunt, 27 gauge cannula (supplied) to the syringe containing the pilocarpine hydrochloride solution and adding the entire contents of the syringe through the opening in the dropper tip to the DROP-TAINER® containing the betaxolol suspension and mixing well. The final pH of the combination suspension is 6.0 to 8.0
What are some things I need to know or do while I take pilocarpine?
Tell all of your health care providers that you take pilocarpine. This includes your doctors, nurses, pharmacists, and dentists.
Use care when driving or doing other tasks that call for clear eyesight.
Use care when driving at night or doing other tasks in lowered lighting.
Be careful in hot weather or while being active. Drink lots of fluids to stop fluid loss.
It may take several weeks to see the full effects.
If you are 65 or older, use pilocarpine with care. You could have more side effects.
Tell your doctor if you are pregnant or plan on getting pregnant. You will need to talk about the benefits and risks of using pilocarpine while you are pregnant.
How is pilocarpine best taken?
Use pilocarpine as ordered by your doctor. Read all information given to you. Follow all instructions closely.
Keep taking pilocarpine as you have been told by your doctor or other health care provider, even if you feel well.
What do I do if I miss a dose?
Take a missed dose as soon as you think about it.
If it is close to the time for your next dose, skip the missed dose and go back to your normal time.
Do not take 2 doses at the same time or extra doses.
What are the side effects of pilocarpine that I need to call my doctor about immediately?
WARNING/CAUTION: Even though it may be rare, some people may have very bad and sometimes deadly side effects when taking a drug. Tell your doctor or get medical help right away if you have any of the following signs or symptoms that may be related to a very bad side effect:
Signs of an allergic reaction, like rash; hives; itching; red, swollen, blistered, or peeling skin with or without fever; wheezing; tightness in the chest or throat; trouble breathing, swallowing, or talking; unusual hoarseness; or swelling of the mouth, face, lips, tongue, or throat.
Signs of high or low blood pressure like very bad headache or dizziness, passing out, or change in eyesight.
Shortness of breath.
Swelling.
Fast or slow heartbeat.
A heartbeat that does not feel normal.
Very upset stomach or throwing up.
Change in eyesight, eye pain, or very bad eye irritation.
More tears.
Headache.
Sweating a lot.
Severe diarrhea.
Feeling confused.
Shakiness.
Belly pain.
What are some other side effects of pilocarpine?
All drugs may cause side effects. However, many people have no side effects or only have minor side effects. Call your doctor or get medical help if any of these side effects or any other side effects bother you or do not go away:
Dizziness.
Flushing.
Upset stomach.
Passing urine more often.
Runny nose.
Diarrhea.
Chills.
Feeling tired or weak.
These are not all of the side effects that may occur. If you have questions about side effects, call your doctor. Call your doctor for medical advice about side effects.
You may report side effects to the FDA at 1-800-332-1088. You may also report side effects at https://www.fda.gov/medwatch.
If overdose is suspected:
If you think there has been an overdose, call your poison control center or get medical care right away. Be ready to tell or show what was taken, how much, and when it happened.
How do I store and/or throw out pilocarpine?
Store at room temperature.
Store in a dry place. Do not store in a bathroom.
Keep all drugs in a safe place. Keep all drugs out of the reach of children and pets.
Throw away unused or expired drugs. Do not flush down a toilet or pour down a drain unless you are told to do so. Check with your pharmacist if you have questions about the best way to throw out drugs. There may be drug take-back programs in your area.
Label
PACKAGE/LABEL PRINCIPAL DISPLAY PANEL
Rx Only
NDC 0574-0792-01
Pilocarpine Hydrochloride Tablets
5 mg
100 TABLETS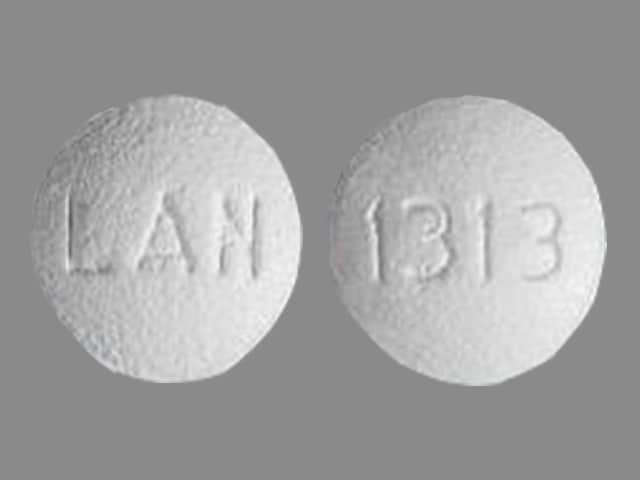 SRC: NLM .