Nourianz
Medically reviewed by  A Ras MD.
What is Nourianz used for?
Nourianz is a prescription medicine that is used to treat Parkinson's disease.
Description
NOURIANZ contains istradefylline, an adenosine receptor antagonist, which has a xanthine derivative structure. The chemical name is (E)-8-(3,4-dimethoxystyryl)-1,3-diethyl-7-methyl-3,7-dihydro-1H-purine-2,6-dione. Its molecular formula is C20H24N4O4. The molecular weight is 384.43. Istradefylline has the following structural formula:
Istradefylline is a light yellow-green crystalline powder. Istradefylline has a dissociation constant (pKa) of 0.78. The aqueous solubility of istradefylline is ~0.5 µg/mL across the physiological pH range and 0.6 µg/mL in water.
NOURIANZ tablets are intended for oral administration only. Each tablet contains 20 mg or 40 mg of istradefylline and the following inactive ingredients: crospovidone, lactose monohydrate, magnesium stearate, microcrystalline cellulose, and polyvinyl alcohol. The film coating contains hypromellose, lactose monohydrate, polyethylene glycol 3350, titanium dioxide, triacetin, and the following dyes: iron oxide red and iron oxide yellow. Carnauba wax is used for polishing.
Mechanism of Action
The precise mechanism by which istradefylline exerts its therapeutic effect in Parkinson disease is unknown. In in vitro studies and in in vivo animal studies, istradefylline was demonstrated to be an adenosine A2A receptor antagonist.
Before taking Nourianz, tell your doctor:
If you are allergic to Nourianz; any part of this medicine; or any other drugs, foods, or substances. Tell your doctor about the allergy and what signs you had.
If you have ever had any mental health or behavior problems.
If you have liver disease.
If you are taking any of these drugs: Carbamazepine, phenytoin, rifampin, or St. John's wort.
This is not a list of all drugs or health problems that interact with this medicine.
Tell your doctor and pharmacist about all of your drugs (prescription or OTC, natural products, vitamins) and health problems. You must check to make sure that it is safe for you to take Nourianz with all of your drugs and health problems. Do not start, stop, or change the dose of any drug without checking with your doctor.
What are some things I need to know or do while I take Nourianz?
Tell all of your health care providers that you take Nourianz. This includes your doctors, nurses, pharmacists, and dentists.
If you start or stop smoking, talk with your doctor. How much drug you take may need to be changed.
This medicine may cause harm to an unborn baby. Women must use birth control while taking Nourianz. If you get pregnant, call your doctor right away.
Tell your doctor if you are breast-feeding. You will need to talk about any risks to your baby.
How is Nourianz best taken?
Use Nourianz as ordered by your doctor. Read all information given to you. Follow all instructions closely.
Take with or without food.
Keep taking Nourianz as you have been told by your doctor or other health care provider, even if you feel well.
What do I do if I miss a dose?
Take a missed dose as soon as you think about it.
If it is close to the time for your next dose, skip the missed dose and go back to your normal time.
Do not take 2 doses at the same time or extra doses.
What are the side effects of Nourianz that I need to call my doctor about immediately?
WARNING/CAUTION: Even though it may be rare, some people may have very bad and sometimes deadly side effects when taking a drug. Tell your doctor or get medical help right away if you have any of the following signs or symptoms that may be related to a very bad side effect:
Signs of an allergic reaction, like rash; hives; itching; red, swollen, blistered, or peeling skin with or without fever; wheezing; tightness in the chest or throat; trouble breathing, swallowing, or talking; unusual hoarseness; or swelling of the mouth, face, lips, tongue, or throat.
Trouble controlling body movements that is new or worse.
Mental, mood, or behavior changes that are new or worse.
Hallucinations (seeing or hearing things that are not there).
Feeling confused.
Strong urges that are hard to control (such as eating, gambling, sex, or spending money).
What are some other side effects of Nourianz?
All drugs may cause side effects. However, many people have no side effects or only have minor side effects. Call your doctor or get medical help if any of these side effects or any other side effects bother you or do not go away:
Upset stomach.
Trouble sleeping.
These are not all of the side effects that may occur. If you have questions about side effects, call your doctor. Call your doctor for medical advice about side effects.
You may report side effects to the FDA at 1-800-332-1088. You may also report side effects at https://www.fda.gov/medwatch.
If overdose is suspected:
If you think there has been an overdose, call your poison control center or get medical care right away. Be ready to tell or show what was taken, how much, and when it happened.
How do I store and/or throw out Nourianz?
Store at room temperature.
Store in a dry place. Do not store in a bathroom.
Keep all drugs in a safe place. Keep all drugs out of the reach of children and pets.
Throw away unused or expired drugs. Do not flush down a toilet or pour down a drain unless you are told to do so. Check with your pharmacist if you have questions about the best way to throw out drugs. There may be drug take-back programs in your area.
Label
PRINCIPAL DISPLAY PANEL – 20 MG TABLET CARTON LABEL
NDC 42747-602-07
Rx Only
NOURIANZ

®


(istradefylline) tablets

20 mg per tablet

7 tablets
(7-count blister card)


Kyowa Kirin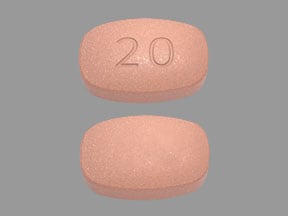 PRINCIPAL DISPLAY PANEL – 40 MG TABLET CARTON LABEL
NDC 42747-604-07
Rx Only
NOURIANZ

®


(istradefylline) tablets

40 mg per tablet

7 tablets
(7-count blister card)


Kyowa Kirin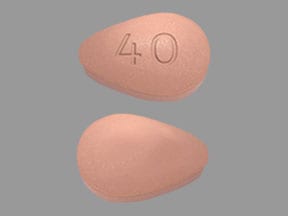 SRC: NLM .