Nifediac CC
Generic name: nifedipine
Class: Calcium channel blocking agents
What is Nifediac CC
Nifediac CC is a calcium channel blocker. The structural formula of nifedipine is 3,5-pyridine dicarboxylic acid, 1,4-dihydro-2,6-dimethyl-4-(2-nitrophenyl)-dimethyl ester, C17H18N2O6
Nifedipine is a yellow crystalline molecule that is essentially water-insoluble but ethanol soluble. It has a 346.3 molecular weight.
The tablet is a once-daily controlled-release tablet that contains 60 nifedipine for oral administration.
Cellulose acetate, hydroxypropyl cellulose, hypromellose, magnesium stearate, polyethylene glycol, polyethylene oxide, red ferric oxide, sodium chloride, and titanium dioxide are all inert components in the formulations.
Nifediac CC uses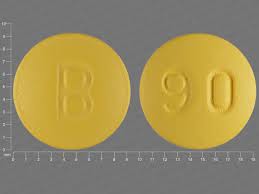 Nifediac CC is used to treat severe chest discomfort (angina) and excessive blood pressure (hypertension). High blood pressure burdens the heart and arteries. If it persists, the heart and arteries may be damaged. This can cause a stroke, heart failure, or kidney failure. High blood pressure raises the risk of a heart attack. Controlling blood pressure may help prevent these issues.
Nifediac CC blocks calcium channels. It operates by altering calcium transport into heart and blood vessel cells. As a result, nifedipine relaxes blood arteries, increasing blood flow and decreasing heart workload.¶
Precautions and warnings
It is vital that your doctor examine your progress regularly to ensure that the medicine is functioning correctly and to monitor for any adverse side effects.

It is not recommended to take this medication if you are also taking any other medications, including

 

Combining these medications could cause serious issues.

 

Check with your physician about the exact medications you're taking.

Lightheadedness, dizziness, or fainting can occur, particularly when you suddenly get up from a sitting or lying posture. 

These signs tend to be more common as you begin to take this medication, or if you increase the dose.

This medication may create swelling of the limbs (edema) in certain patients.

 

Inform your doctor immediately when you experience swelling or bloating on the arms, face or hands, feet or lower legs or feet; tingling in the feet or hands, or an unusual weight loss or gain.

Don't discontinue taking this medication without first consulting with your physician.

 

Your doctor may advise you to reduce gradually the amount of medication you're taking before stopping all at once.

Be sure that the dentist or doctor who treats you is aware that you're using this medication.

 

It is possible that you will have to stop taking this medication a few days prior to performing any medical or surgical procedures.

 

This medication can influence the results of some medical tests.

Grapefruits and grapefruit juice can enhance its effects on Nifediac CC by increasing the quantity of this medication within the body.

 

It is not recommended to eat wine or grapefruit juice when you take this medication.

Do not take any other medications in the absence of discussing with your physician.

 This includes prescription and nonprescription (over-the-counter OTC) medicine, herbal and vitamin supplements.¶
Before using Nifediac CC, consult your doctor
The hazards of taking a drug must be evaluated against the benefits. You and your doctor will decide. Considerations for this drug include:
Allergies
Mention any unexpected or allergic reactions to this or other medicines to your doctor. Tell your doctor if you have allergies to foods, colors, preservatives, or animals. Read the ingredients carefully on non-prescription products.
Pediatric
No studies on the impact of Nifediac CC on children's ages have been done. No evidence of safety or efficacy.
Geriatric
No geriatric-specific issues have been shown in investigations to date, limiting the use of Nifediac CC in the elderly. However, elderly people are more prone to age-related renal, liver, or heart problems, necessitating prudence and dose adjustments.
Studies on women show that this medicine presents no harm to the baby when used while nursing.
Medicine interactions
While many medicines should never be used together, others may be used even if an interaction is possible. In certain circumstances, your doctor may alter the dose or take other precautions. It is critical that your doctor knows if you are using any of the following medications. The interactions listed below were chosen for their potential significance and are not all-inclusive.
Contraindications: This drug should not be used with any of the following medicines. Your doctor may adjust the dose or frequency of one or both medications if they are prescribed simultaneously.
Abametapir, Amobarbital
Aprobarbital
Armodafinil
Atazanavir
Boceprevir
Bosentan
Butabarbital
Butalbital
Carbamazepine
Ceritinib, Clarithromycin
Clobazam
Clopidogrel
Cobicistat
Conivaptan
Dantrolene
Dexamethasone
Digoxin
Efavirenz
Enzalutamide
Epirubicin
Etravirine
Fedratinib
Fentanyl
Fosnetupitant
Fosphenytoin
Itraconazole
Ketoconazole
Lacosamide
Lopinavir
Mephobarbital
Methohexital
Mibefradil
Modafinil
Nafcillin
Nefazodone
Nelfinavir , Netupitant
Nevirapine
Oxcarbazepine
Pentobarbital
Phenobarbital
Phenytoin
Posaconazole
Prednisone
Primidone
Rifabutin
Rifapentine
Ritonavir
Saquinavir
Secobarbital
Ayurveda
Telaprevir
Thiopental
Voriconazole
Using Nifediac CC with any of the following may raise the chance of side effects, but it may be the best treatment for you. Your doctor may adjust the dose or frequency of one or both medications if they are prescribed simultaneously.
Cimetidine
Dalfopristin
Quinidine
Quinupristin
Vincristine
Liposome
Food/tobacco/alcohol interactions
Specific drugs should not be used right before or right after eating certain foods due to possible interactions. Alcohol and tobacco usage may potentially create drug interactions. The interactions listed below were chosen for their potential significance and are not all-inclusive.
Using Nifediac CC with any of the following may raise the chance of side effects, but it is not always avoidable. Your doctor may adjust your dose or frequency of usage, or give you particular instructions about food, alcohol, or cigarettes.
Other health issues
Other medical issues may impact the use of this drug. Tell your doctor if you have any other health issues, especially:
Bowel obstruction
Hypotension (blood pressure is low)
Cardiogenic shock (shock caused by acute heart attack)
Galactose intolerance
Glucose-galactose malabsorption
Dosage and administration of Nifediac CC
Dosage must be tailored to the individual demands of each patient. If you have hypertension or angina, you should start with 30 or 60 mg once a day. Nifediac CC Extended-Release Tablets should not be chewed or divided; they should be consumed whole.

Dosage is to be adjusted according to the patient's requirements.

 

It is suggested that Nifediac CC be taken orally each day with an empty stomach.

Nifediac CC

 is an extended-release dosage form, and tablets must be consumed in one piece, and not chewed or split.

 

It is recommended that titration occurs over a period of 7-14 days beginning with 30 mg every day.

The titration process is based on the effectiveness of the therapy and its safety.

 

The recommended dosage of maintenance is between 30 and 60 mg once a day.

A dosage

 of more than 90 mg per day is not recommended.

If a cessation from Nifediac CC is necessary, good clinical practice suggests the dose should be reduced slowly under the supervision of a doctor.

The co-administration of nifedipine and grapefruit juice should be avoided.

Be careful when administering Nifediac CC to assure that the correct dosage is prescribed. 
Detailed Nifedipine dosage information
Nifediac CC side effects
In large controlled studies where adverse reactions were observed spontaneously, there were a lot of adverse reactions but were not usually serious and seldom required the stopping therapy or dose adjustments. The majority of them were the result of the vasodilator effect of Nifedipine capsules.
Adverse Effect

Nifedipine capsules (%)




(N=226)

Placebo (%)




(N=235)

Dizziness, lightheadedness, and giddiness

27

15

The sensation of heat and flushing

25

8

Headache

23

20

Weakness

12

10

Nausea, heartburn

11

8

Muscle cramps, tremors

8

3

Peripheral edema

7

1

The mood can change, and anxiety may be present.

7

4

Palpitation

7

5

Dyspnea, cough, and wheezing

6

3

Nasal congestion Sore throat, nasal congestion

6

8
There's also an extensive uncontrolled situation in more than 2100 patients across the United States. The majority of patients suffered from the vasospastic form of angina pectoris or were resistant to it and about half were also receiving treatment with beta-adrenergic blockers. The most frequently reported adverse incidents included:
Incidence Approximately 10%
Cardiovascular Edema in the peripheral region
Central Nervous System: Dizziness, or lightheadedness
Gastrointestinal: nausea
Systemic: headache, flushing as well as fatigue
Incidence Approximately 5%
CVS: Transient hypotension
Incidence 2% or Less
Cardiovascular: palpitation
Respiratory problems: chest and nasal congestion and shortness of breath
Gastrointestinal: diarrhea, constipation, cramps, flatulence
Musculoskeletal: inflammation, joint stiffness, muscle cramps
Central Nervous System shaking and nervousness, jitteriness blurred vision, sleep disturbances problems with balance
Other: dermatitis, pruritus, urticaria, fever, sweating, chills, sexual difficulties
Incidence Approximately 0.5%
Cardiovascular Syncope (mostly in the initial dose or an increase in dosage)

Eerythromelalgia
Incidence Less Than 0.5%
Hematologic: thrombocytopenia and anemia Leukopenia and purpura
Gastrointestinal: allergic hepatitis
Facial thrombus: angioedema (mostly oropharyngeal edema that causes breathing difficulties in a handful of patients) gingival hyperplasia
CNS: depression, paranoid syndrome
Special Senses: temporary blindness at the top of plasma levels Tinnitus, transient blindness
Urogenital: polyuria, nocturia
Other symptoms include arthritis, ANA (+), Exfoliative Dermatitis, and Gynecomastia
Musculoskeletal: myalgia
Many of these side effects are thought to be related to dose. Peripheral edema was seen in approximately 25 percent of patients who took doses below 60 mg daily and in one patient with a dose of 120 mg daily or more. Hypotension transient, usually moderate to mild in severity, and rarely requiring the stopping therapy, occurred in one patient who took less than 60 mg/day and in one patient who took 120 mg daily or greater.
Very rarely, the introduction of Nifedipine capsules for therapy was related to an increase in pain in the angular region which could be due to hypotension. A temporary loss of vision unilaterally is also a possibility.
Furthermore, more severe adverse events were also observed that were not easily distinguished from the normal history of the illness in the patients. There is a chance that some or all of these events are connected. Myocardial infarction was reported in around 4 percent of patients, while the congestive heart condition or lung edema that occurred was approximately two percent. Conduction disturbances or arrhythmias occur in less than 0.5 percent of patients.
What if I missed dose
If you are missing a dose of this medicine make sure you take it as quickly as you are able. If it's nearing the time to take the next dose, you can skip the missed dose, and go back to your usual dosage schedule. Do not take double doses.
Storage
Keep the medicine in a tightly sealed bottle at room temperatures, and away from moisture, heat, and bright light. Avoid the medicine from freezing.
Keep your items out of children's reach.
Don't keep old medicine or medications that are no longer needed.
Consult your physician about what you can do with any medication that you do not make use of
How supplied
Nifediac CC 60 mg

Extended-Release Tablets

Rx only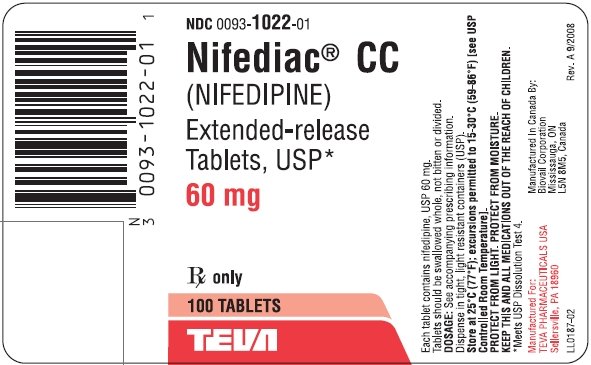 More details
Always consult your doctor to make sure the information presented on this site is appropriate to your particular situation.