Mitigare
Generic name: colchicine
Brand names: Colcrys, Mitigare
Drug class: Antigout agents
Medically reviewed by  A Ras MD.
What is Mitigare used for?
Mitigare is a prescription medicine that is used to prevent gout attacks. Mitigare may be given to you for other reasons.
Description
Colchicine is an alkaloid obtained from the plant colchicum autumnale.
The chemical name for colchicine is (S)-N-(5,6,7,9- tetrahydro-1,2,3,10-tetramethoxy-9 oxobenzol[a]heptalen-7-yl) acetamide. The structural formula is represented below:
Colchicine consists of pale yellow scales or powder; it darkens on exposure to light. Colchicine is soluble in water, freely soluble in alcohol, and slightly soluble in ether.
MITIGARE® (colchicine) capsules are supplied for oral administration. Each capsule contains 0.6 mg Colchicine and the following inactive ingredients:  colloidal silicon dioxide, lactose anhydrous, magnesium stearate, microcrystalline cellulose, and sodium starch glycolate. The capsule shell contains gelatin, purified water, titanium dioxide, erythrosine, Brilliant Blue FCF and Quinoline Yellow.
 Mechanism of Action
Colchicine's effectiveness as a treatment for gout has been postulated to be due to its ability to block neutrophil-mediated inflammatory responses induced by monosodium urate crystals in synovial fluid. Colchicine disrupts the polymerization of β-tubulin into microtubules, thereby preventing the activation, degranulation, and migration of neutrophils to sites of inflammation. Colchicine also interferes with the inflammasome complex found in neutrophils and monocytes that mediates interleukin-1β (IL-1β) activation.
Before taking Mitigare, tell your doctor:
If you are allergic to Mitigare; any part of this medicine; or any other drugs, foods, or substances. Tell your doctor about the allergy and what signs you had.
If you have any of these health problems: Kidney disease or liver disease.
This is not a list of all drugs or health problems that interact with this medicine.
Tell your doctor and pharmacist about all of your drugs (prescription or OTC, natural products, vitamins) and health problems. You must check to make sure that it is safe for you to take Mitigare with all of your drugs and health problems. Do not start, stop, or change the dose of any drug without checking with your doctor.
What are some things I need to know or do while I take Mitigare?
Tell all of your health care providers that you take Mitigare. This includes your doctors, nurses, pharmacists, and dentists.
This medicine interacts with many other drugs. The chance of side effects may be raised. This may include severe, life-threatening, or deadly side effects. Check with your doctor and pharmacist to make sure that it is safe for you to take Mitigare with all of your other drugs (prescription or OTC, natural products, vitamins).
Avoid grapefruit and grapefruit juice.
Deadly overdoses have happened with Mitigare in adults and children. Keep away from children. Do not take more than you were told. If Mitigare is taken by accident, call your poison control center or get medical care right away.
Some males have had sperm problems while taking Mitigare. This may affect being able to father a child. This may go back to normal after the drug is stopped. Talk with the doctor.
This medicine is not approved to treat gout attacks. If you have a gout attack while taking Mitigare, talk with your doctor.
If you are 65 or older, use Mitigare with care. You could have more side effects.
Tell your doctor if you are pregnant, plan on getting pregnant, or are breast-feeding. You will need to talk about the benefits and risks to you and the baby.
How is Mitigare best taken?
Use Mitigare as ordered by your doctor. Read all information given to you. Follow all instructions closely.
Take with or without food.
What do I do if I miss a dose?
Take a missed dose as soon as you think about it.
If it is close to the time for your next dose, skip the missed dose and go back to your normal time.
Do not take 2 doses at the same time or extra doses.
What are the side effects of Mitigare that I need to call my doctor about immediately?
WARNING/CAUTION: Even though it may be rare, some people may have very bad and sometimes deadly side effects when taking a drug. Tell your doctor or get medical help right away if you have any of the following signs or symptoms that may be related to a very bad side effect:
Signs of an allergic reaction, like rash; hives; itching; red, swollen, blistered, or peeling skin with or without fever; wheezing; tightness in the chest or throat; trouble breathing, swallowing, or talking; unusual hoarseness; or swelling of the mouth, face, lips, tongue, or throat.
Numbness or tingling in the hands or feet.
Pale skin.
Very bad muscle problems have happened with Mitigare. This can also lead to kidney problems. Tell your doctor if you have muscle pain or weakness, especially if you feel very tired or weak or have a fever. Tell your doctor if you are not able to pass urine or you have a change in how much urine is passed.
Low blood cell counts have happened with Mitigare. If blood cell counts get very low, this can lead to bleeding problems, infections, or anemia. Call your doctor right away if you have signs of infection like fever, chills, or sore throat; any unexplained bruising or bleeding; or if you feel very tired or weak.
What are some other side effects of Mitigare?
All drugs may cause side effects. However, many people have no side effects or only have minor side effects. Call your doctor or get medical help if any of these side effects or any other side effects bother you or do not go away:
Stomach pain or diarrhea.
Upset stomach or throwing up.
These are not all of the side effects that may occur. If you have questions about side effects, call your doctor. Call your doctor for medical advice about side effects.
You may report side effects to the FDA at 1-800-332-1088. You may also report side effects at https://www.fda.gov/medwatch.
If overdose is suspected:
If you think there has been an overdose, call your poison control center or get medical care right away. Be ready to tell or show what was taken, how much, and when it happened.
How do I store and/or throw out Mitigare?
Store at room temperature protected from light. Store in a dry place. Do not store in a bathroom.
Keep lid tightly closed.
Keep all drugs in a safe place. Keep all drugs out of the reach of children and pets.
Throw away unused or expired drugs. Do not flush down a toilet or pour down a drain unless you are told to do so. Check with your pharmacist if you have questions about the best way to throw out drugs. There may be drug take-back programs in your area.
Label
PRINCIPAL DISPLAY PANEL
NDC 59467-318-01
MITIGARE® (colchicine) Capsules
0.6 mg
100 Capsules
Rx Only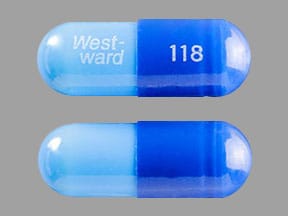 SRC: NLM .