Mephyton
Generic name: Phytonadione Tablets
Drug classes: Anticoagulant reversal agents, Vitamins
Medically reviewed by  A Ras MD.
What is Mephyton used for?
Mephyton is used to replace low vitamin K. It is used to undo the effects of certain blood thinners like warfarin. Mephyton is also used to treat or prevent bleeding.
Description
Phytonadione is a vitamin K replacement, which is a clear, yellow to amber, viscous, and nearly odorless liquid. It is insoluble in water, soluble in chloroform and slightly soluble in ethanol. It has a molecular weight of 450.7.
Phytonadione is 2-methyl-3-phytyl-1, 4-naphthoquinone. Its empirical formula is C31H46O2 and its structural formula is:
Mephyton® (phytonadione tablets) for oral administration contain 5 mg of phytonadione and are clean, pale yellow, semi-glossy, round, flat, beveled edge, scored and debossed with "VRX" above "405" on one side and debossed with "MEPHYTON" on the other side. Inactive ingredients are acacia, calcium phosphate, colloidal silicon dioxide, lactose, magnesium stearate, starch, and talc.
 Mechanism of Action
Mephyton tablets possess the same type and degree of activity as does naturally-occurring vitamin K, which is necessary for the production via the liver of active prothrombin (factor II), proconvertin (factor VII), plasma thromboplastin component (factor IX), and Stuart factor (factor X). The prothrombin test is sensitive to the levels of three of these four factors – II, VII, and X. Vitamin K is an essential cofactor for a microsomal enzyme that catalyzes the posttranslational carboxylation of multiple, specific, peptide-bound glutamic acid residues in inactive hepatic precursors of factors II, VII, IX, and X. The resulting gamma-carboxyglutamic acid residues convert the precursors into active coagulation factors that are subsequently secreted by liver cells into the blood.
In normal animals and humans, phytonadione is virtually devoid of pharmacodynamic activity. However, in animals and humans deficient in vitamin K, the pharmacological action of vitamin K is related to its normal physiological function, that is, to promote the hepatic biosynthesis of vitamin K-dependent clotting factors.
Before taking Mephyton, tell your doctor:
If you are allergic to Mephyton; any part of this medicine; or any other drugs, foods, or substances. Tell your doctor about the allergy and what signs you had.
This medicine may interact with other drugs or health problems.
Tell your doctor and pharmacist about all of your drugs (prescription or OTC, natural products, vitamins) and health problems. You must check to make sure that it is safe for you to take Mephyton with all of your drugs and health problems. Do not start, stop, or change the dose of any drug without checking with your doctor.
What are some things I need to know or do while I take Mephyton?
For all uses of Mephyton:
Tell all of your health care providers that you take Mephyton. This includes your doctors, nurses, pharmacists, and dentists.
Have blood work checked as you have been told by the doctor. Talk with the doctor.
Tell your doctor if you are pregnant, plan on getting pregnant, or are breast-feeding. You will need to talk about the benefits and risks to you and the baby.
For undoing the effects of a blood thinner:
People are treated with drugs to thin the blood when they have health problems that raise the chance of blood clots. This medicine is used to undo the effects of a blood thinner. The chance of blood clots may be raised after using Mephyton. Follow what the doctor has told you about preventing blood clots after use of Mephyton.
How is Mephyton best taken?
Use Mephyton as ordered by your doctor. Read all information given to you. Follow all instructions closely.
Take with or without food.
What do I do if I miss a dose?
Take a missed dose as soon as you think about it.
If it is close to the time for your next dose, skip the missed dose and go back to your normal time.
Do not take 2 doses at the same time or extra doses.
What are the side effects of Mephyton that I need to call my doctor about immediately?
WARNING/CAUTION: Even though it may be rare, some people may have very bad and sometimes deadly side effects when taking a drug. Tell your doctor or get medical help right away if you have any of the following signs or symptoms that may be related to a very bad side effect:
Signs of an allergic reaction, like rash; hives; itching; red, swollen, blistered, or peeling skin with or without fever; wheezing; tightness in the chest or throat; trouble breathing, swallowing, or talking; unusual hoarseness; or swelling of the mouth, face, lips, tongue, or throat.
What are some other side effects of Mephyton?
All drugs may cause side effects. However, many people have no side effects or only have minor side effects. Call your doctor or get medical help if you have any side effects that bother you or do not go away.
These are not all of the side effects that may occur. If you have questions about side effects, call your doctor. Call your doctor for medical advice about side effects.
You may report side effects to the FDA at 1-800-332-1088. You may also report side effects at https://www.fda.gov/medwatch.
If overdose is suspected:
If you think there has been an overdose, call your poison control center or get medical care right away. Be ready to tell or show what was taken, how much, and when it happened.
How do I store and/or throw out Mephyton?
Store in the original container at room temperature.
Protect from light.
Store in a dry place. Do not store in a bathroom.
Keep lid tightly closed.
Keep all drugs in a safe place. Keep all drugs out of the reach of children and pets.
Throw away unused or expired drugs. Do not flush down a toilet or pour down a drain unless you are told to do so. Check with your pharmacist if you have questions about the best way to throw out drugs. There may be drug take-back programs in your area.
Consumer information use and disclaimer
If your symptoms or health problems do not get better or if they become worse, call your doctor.
Do not share your drugs with others and do not take anyone else's drugs.
Some drugs may have another patient information leaflet. Check with your pharmacist. If you have any questions about Mephyton, please talk with your doctor, nurse, pharmacist, or other health care provider.
If you think there has been an overdose, call your poison control center or get medical care right away. Be ready to tell or show what was taken, how much, and when it happened.
This information should not be used to decide whether or not to take Mephyton or any other medicine. Only the healthcare provider has the knowledge and training to decide which medicines are right for a specific patient. This information does not endorse any medicine as safe, effective, or approved for treating any patient or health condition. This is only a brief summary of general information about this medicine. It does NOT include all information about the possible uses, directions, warnings, precautions, interactions, adverse effects, or risks that may apply to Mephyton. This information is not specific medical advice and does not replace information you receive from the healthcare provider. You must talk with the healthcare provider for complete information about the risks and benefits of using this medicine.
Label
PACKAGE/LABEL PRINCIPAL DISPLAY PANEL
NDC

 0187-1704-05

Rx only

Mephyton

®


(phytonadione tablets)

5

mg

100 Tablets

Each tablet contains




5 mg phytonadione

BAUSCH Health

9571405 20003219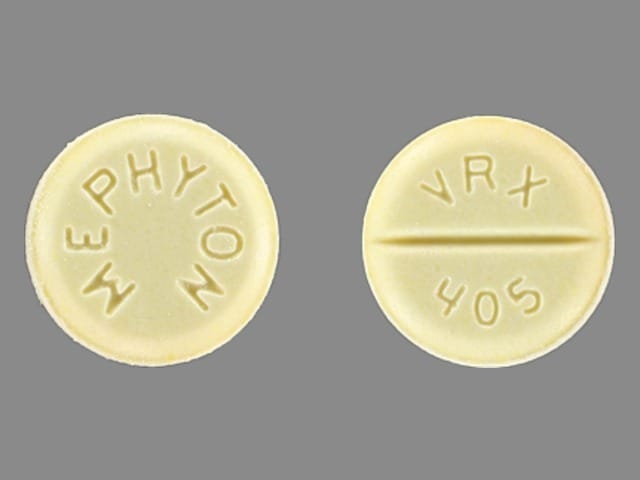 SRC: NLM .