Iressa
Generic name: gefitinib
Drug class: EGFR inhibitors
Medically reviewed by  A Ras MD.
What is Iressa used for?
Iressa is a prescription medicine that is used to treat lung cancer.
Description
Gefitinib is a kinase inhibitor.
The chemical name of gefitinib is 4-Quinazolinamine N-(3-chloro-4-fluorophenyl)-7-methoxy-6-[3-(4-morpholinyl) propoxy] and the following structural formula:
Gefitinib has the molecular formula C22H24ClFN4O3, a relative molecular mass of 446.9 daltons and is a white-colored powder. Gefitinib is a free base. The molecule has pKas of 5.4 and 7.2. Gefitinib can be defined as sparingly soluble at pH 1, but is practically insoluble above pH 7, with the solubility decreasing sharply between pH 4 and pH 6. In non-aqueous solvents, gefitinib is freely soluble in glacial acetic acid and dimethyl sulfoxide, soluble in pyridine, sparingly soluble in tetrahydrofuran, and slightly soluble in methanol, ethanol (99.5%), ethyl acetate, propan-2-ol and acetonitrile.
IRESSA® (gefitinib) tablets are available as brown film-coated tablets, containing 250 mg of gefitinib, for oral administration. The inactive ingredients of the tablet core of IRESSA tablets are lactose monohydrate, microcrystalline cellulose, croscarmellose sodium, povidone, sodium lauryl sulfate and magnesium stearate. The tablet coating is composed of hypromellose, polyethylene glycol 300, titanium dioxide, red ferric oxide and yellow ferric oxide.
Mechanism of Action
The epidermal growth factor receptor (EGFR) is expressed on the cell surface of both normal and cancer cells and plays a role in the processes of cell growth and proliferation. Some EGFR activating mutations (exon 19 deletion or exon 21 point mutation L858R) within NSCLC cells have been identified as contributing to the promotion of tumor cell growth, blocking of apoptosis, increasing the production of angiogenic factors and facilitating the processes of metastasis.
Gefitinib reversibly inhibits the kinase activity of wild-type and certain activating mutations of EGFR, preventing autophosphorylation of tyrosine residues associated with the receptor, thereby inhibiting further downstream signaling and blocking EGFR-dependent proliferation.
Gefitinib binding affinity for EGFR exon 19 deletion or exon 21 point mutation L858R mutations is higher than its affinity for the wild-type EGFR. Gefitinib also inhibits IGF and PDGF-mediated signaling at clinically relevant concentrations; inhibition of other tyrosine kinase receptors has not been fully characterized.
Before taking Iressa, tell your doctor:
If you are allergic to Iressa; any part of this medicine; or any other drugs, foods, or substances. Tell your doctor about the allergy and what signs you had.
If you are breast-feeding. Do not breast-feed while you take Iressa.
This medicine may interact with other drugs or health problems.
Tell your doctor and pharmacist about all of your drugs (prescription or OTC, natural products, vitamins) and health problems. You must check to make sure that it is safe for you to take Iressa with all of your drugs and health problems. Do not start, stop, or change the dose of any drug without checking with your doctor.
What are some things I need to know or do while I take Iressa?
Tell all of your health care providers that you take Iressa. This includes your doctors, nurses, pharmacists, and dentists.
Have blood work checked as you have been told by the doctor. Talk with the doctor.
Holes in the GI (gastrointestinal) tract may rarely happen.
This medicine may cause fertility problems. This may affect being able to have children. Talk with the doctor.
This medicine may cause harm to the unborn baby if you take it while you are pregnant.
Women must use birth control while taking Iressa and for some time after the last dose. Ask your doctor how long to use birth control. If you get pregnant, call your doctor right away.
How is Iressa best taken?
Use Iressa as ordered by your doctor. Read all information given to you. Follow all instructions closely.
Take with or without food.
Keep taking Iressa as you have been told by your doctor or other health care provider, even if you feel well.
You may put the tablets in 4 to 8 ounces (120 to 240 mL) of water. Stir for about 15 minutes and drink right away. Rinse the glass with 4 to 8 ounces (120 to 240 mL) of water and drink right away.
If you take cimetidine, dexlansoprazole, esomeprazole, famotidine, lansoprazole, nizatidine, omeprazole, pantoprazole, rabeprazole, or ranitidine, ask your doctor or pharmacist how to take it with Iressa.
Talk with your doctor before you take antacids while you are taking Iressa.
Those who have feeding tubes may use Iressa. Use as you have been told. Flush the feeding tube after Iressa is given.
What do I do if I miss a dose?
Take a missed dose as soon as you think about it.
If it is less than 12 hours until the next dose, skip the missed dose and go back to your normal time.
Do not take 2 doses at the same time or extra doses.
What are the side effects of Iressa that I need to call my doctor about immediately?
WARNING/CAUTION: Even though it may be rare, some people may have very bad and sometimes deadly side effects when taking a drug. Tell your doctor or get medical help right away if you have any of the following signs or symptoms that may be related to a very bad side effect:
Signs of an allergic reaction, like rash; hives; itching; red, swollen, blistered, or peeling skin with or without fever; wheezing; tightness in the chest or throat; trouble breathing, swallowing, or talking; unusual hoarseness; or swelling of the mouth, face, lips, tongue, or throat.
Fever.
Change in eyesight, eye pain, or very bad eye irritation.
If bright lights bother your eyes.
Very bad belly pain.
Chest pain or pressure.
Coughing up blood.
Mouth irritation or mouth sores.
Severe diarrhea.
Diarrhea that will not go away.
Very bad and sometimes deadly liver problems have happened with Iressa. Call your doctor right away if you have signs of liver problems like dark urine, feeling tired, not hungry, upset stomach or stomach pain, light-colored stools, throwing up, or yellow skin or eyes.
A very bad skin reaction (Stevens-Johnson syndrome/toxic epidermal necrolysis) may happen. It can cause very bad health problems that may not go away, and sometimes death. Get medical help right away if you have signs like red, swollen, blistered, or peeling skin (with or without fever); red or irritated eyes; or sores in your mouth, throat, nose, or eyes.
Some people have had lung problems with Iressa. Sometimes, this has been deadly. Call your doctor right away if you have signs of lung problems like shortness of breath or other trouble breathing, cough that is new or worse, or fever.
What are some other side effects of Iressa?
All drugs may cause side effects. However, many people have no side effects or only have minor side effects. Call your doctor or get medical help if any of these side effects or any other side effects bother you or do not go away:
Upset stomach or throwing up.
Diarrhea.
Skin irritation.
Pimples (acne).
Dry skin.
Change in nails.
Not hungry.
Dry eyes.
Eye irritation.
Feeling tired or weak.
These are not all of the side effects that may occur. If you have questions about side effects, call your doctor. Call your doctor for medical advice about side effects.
You may report side effects to the FDA at 1-800-332-1088. You may also report side effects at https://www.fda.gov/medwatch.
If overdose is suspected:
If you think there has been an overdose, call your poison control center or get medical care right away. Be ready to tell or show what was taken, how much, and when it happened.
How do I store and/or throw out Iressa?
Store at room temperature.
Store in a dry place. Do not store in a bathroom.
Keep all drugs in a safe place. Keep all drugs out of the reach of children and pets.
Throw away unused or expired drugs. Do not flush down a toilet or pour down a drain unless you are told to do so. Check with your pharmacist if you have questions about the best way to throw out drugs. There may be drug take-back programs in your area.
Label
PACKAGE/LABEL PRINCIPAL DISPLAY PANEL – 250 MG
NDC 0310-0482-30          30 tablets
IRESSA®
(gefitinib) tablets
250 mg
Manufactured for:
AstraZeneca Pharmaceuticals LP
Wilmington, DE 19850
By: AstraZeneca UK Limited
Macclesfield, Cheshire, England
Product of Belgium
AstraZeneca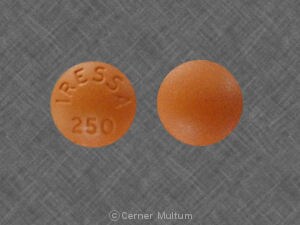 SRC: NLM .