Erleada
Generic name: apalutamide
Drug classes: Antiandrogens, Hormones / antineoplastics
What is Erleada used for?
Erleada is a prescription medicine that is used to treat prostate cancer. Erleada may be given to you for other reasons.
Description
Apalutamide, the active ingredient of ERLEADA, is an androgen receptor inhibitor. The chemical name is (4-[7-(6-Cyano-5-trifluoromethylpyridin-3-yl)-8-oxo-6-thioxo-5,7-diazaspiro[3.4]oct-5-yl]-2-fluoro-N-methylbenzamide). Apalutamide is a white to slightly yellow powder. Apalutamide is practically insoluble in aqueous media over a wide range of pH values.
The molecular weight is 477.44 and molecular formula is C21H15F4N5O2S. The structural formula is:
ERLEADA® (apalutamide) is supplied as film-coated tablets for oral administration containing 60 mg of apalutamide. Inactive ingredients of the core tablet are: colloidal anhydrous silica, croscarmellose sodium, hydroxypropyl methylcellulose-acetate succinate, magnesium stearate, microcrystalline cellulose, and silicified microcrystalline cellulose.
The tablets are finished with a commercially available film-coating comprising the following excipients: iron oxide black, iron oxide yellow, polyethylene glycol, polyvinyl alcohol, talc, and titanium dioxide.
Mechanism of Action
Apalutamide is an Androgen Receptor (AR) inhibitor that binds directly to the ligand-binding domain of the AR. Apalutamide inhibits AR nuclear translocation, inhibits DNA binding, and impedes AR-mediated transcription. A major metabolite, N-desmethyl apalutamide, is a less potent inhibitor of AR, and exhibited one-third the activity of apalutamide in an in vitro transcriptional reporter assay. Apalutamide administration caused decreased tumor cell proliferation and increased apoptosis leading to decreased tumor volume in mouse xenograft models of prostate cancer.
Before taking Erleada, tell your doctor:
If you are allergic to Erleada; any part of this medicine; or any other drugs, foods, or substances. Tell your doctor about the allergy and what signs you had.
If you are a woman. This medicine is not approved for use in women. This medicine may cause harm to an unborn baby or loss of an unborn baby if it is taken during pregnancy. If you are a woman using Erleada, talk with your doctor if you are pregnant, plan on getting pregnant, or are breast-feeding.
This medicine may interact with other drugs or health problems.
Tell your doctor and pharmacist about all of your drugs (prescription or OTC, natural products, vitamins) and health problems. You must check to make sure that it is safe for you to take Erleada with all of your drugs and health problems. Do not start, stop, or change the dose of any drug without checking with your doctor.
What are some things I need to know or do while I take Erleada?
Tell all of your health care providers that you take Erleada. This includes your doctors, nurses, pharmacists, and dentists.
Have blood work checked as you have been told by the doctor. Talk with the doctor.
Some people have had seizures while taking Erleada. The chance of seizures may be raised if you have certain brain blood vessel problems, take other drugs that may raise the chance of seizures, or if you have ever had seizures, brain injury, stroke, or brain cancer. Avoid tasks or actions where passing out may cause harm to you or others. Talk with your doctor.
The chance of falling is raised with Erleada. Falls may lead to very bad problems like broken bones. Talk to your doctor about the chance of falling and broken bones while taking Erleada.
High blood pressure has happened with drugs like this one. Have your blood pressure checked as you have been told by your doctor.
Heart disease has happened with Erleada in some people. Rarely, this has been deadly. If you have questions, talk with the doctor.
This medicine may cause high cholesterol and triglyceride levels. Talk with the doctor.
If you have high blood sugar (diabetes), talk with your doctor. This medicine may raise blood sugar.
Check your blood sugar as you have been told by your doctor.
This medicine may be used with other drugs to treat your health condition. If you are also taking other drugs, talk with your doctor about the risks and side effects that may happen.
If you are 65 or older, use Erleada with care. You could have more side effects.
This medicine is found in semen. Do not donate semen while you take Erleada and for 3 months after your last dose.
This medicine may affect being able to father a child. Talk with the doctor.
If you are a man and have sex with a female who could get pregnant, protect her from pregnancy during treatment and for 3 months after your last dose.
If you are a man and your sex partner gets pregnant while you take Erleada or within 3 months after your last dose, call your doctor right away.
If you are having sex and your partner is pregnant, use a condom while taking Erleada and for 3 months after your last dose.
How is Erleada best taken?
Use Erleada as ordered by your doctor. Read all information given to you. Follow all instructions closely.
Take with or without food.
Swallow whole. Do not chew, break, or crush.
Take Erleada at the same time of day.
Keep taking Erleada as you have been told by your doctor or other health care provider, even if you feel well.
What do I do if I miss a dose?
Take a missed dose as soon as you think about it.
If you do not think about the missed dose until the next day, skip the missed dose and go back to your normal time.
Do not take 2 doses at the same time or extra doses.
What are the side effects of Erleada that I need to call my doctor about immediately?
WARNING/CAUTION: Even though it may be rare, some people may have very bad and sometimes deadly side effects when taking a drug. Tell your doctor or get medical help right away if you have any of the following signs or symptoms that may be related to a very bad side effect:
Signs of an allergic reaction, like rash; hives; itching; red, swollen, blistered, or peeling skin with or without fever; wheezing; tightness in the chest or throat; trouble breathing, swallowing, or talking; unusual hoarseness; or swelling of the mouth, face, lips, tongue, or throat.
Signs of high blood pressure like very bad headache or dizziness, passing out, or change in eyesight.
Signs of high blood sugar like confusion, feeling sleepy, more thirst, more hungry, passing urine more often, flushing, fast breathing, or breath that smells like fruit.
Signs of high potassium levels like a heartbeat that does not feel normal; feeling confused; feeling weak, lightheaded, or dizzy; feeling like passing out; numbness or tingling; or shortness of breath.
Signs of low thyroid levels like constipation; not able to handle cold; memory problems; mood changes; or a burning, numbness, or tingling feeling that is not normal.
Chest pain or pressure.
Shortness of breath.
Seizures.
Swelling in the arms or legs.
Bone pain.
Low white blood cell counts have happened with Erleada. This may lead to a higher chance of getting an infection. Call your doctor right away if you have signs of infection like fever, chills, or sore throat.
What are some other side effects of Erleada?
All drugs may cause side effects. However, many people have no side effects or only have minor side effects. Call your doctor or get medical help if any of these side effects or any other side effects bother you or do not go away:
Feeling tired or weak.
Joint pain.
Not hungry.
Weight loss.
Hot flashes.
Upset stomach.
These are not all of the side effects that may occur. If you have questions about side effects, call your doctor. Call your doctor for medical advice about side effects.
You may report side effects to the FDA at 1-800-332-1088. You may also report side effects at https://www.fda.gov/medwatch.
If overdose is suspected:
If you think there has been an overdose, call your poison control center or get medical care right away. Be ready to tell or show what was taken, how much, and when it happened.
How do I store and/or throw out Erleada?
Store at room temperature protected from light. Store in a dry place. Do not store in a bathroom.
Store in the original container. Do not take out the antimoisture cube or packet.
Keep all drugs in a safe place. Keep all drugs out of the reach of children and pets.
Throw away unused or expired drugs. Do not flush down a toilet or pour down a drain unless you are told to do so. Check with your pharmacist if you have questions about the best way to throw out drugs. There may be drug take-back programs in your area.
Label
PRINCIPAL DISPLAY PANEL – 60 MG TABLET BOTTLE LABEL
NDC 

59676-600-12
Erleada

®


(apalutamide) tablets

60 mg

Each tablet contains 60 mg of
apalutamide.

Rx only

120 Tablets

janssen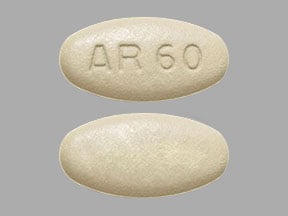 SRC: NLM .