Dilantin
Generic name: phenytoin (oral)
Brand names: Dilantin, Phenytek
Drug classes: Group I antiarrhythmics, Hydantoin anticonvulsants
Medically reviewed by  A Ras MD.
What is Dilantin?
Dilantin is a prescription medicine that is used to help control certain kinds of seizures.
Description
DILANTIN (phenytoin) is related to the barbiturates in chemical structure, but has a five-membered ring. The chemical name is 5,5-diphenyl-2,4 imidazolidinedione, having the following structural formula:
Each 5 mL of the oral suspension contains 125 mg of phenytoin, USP; alcohol, USP (maximum content not greater than 0.6 percent); banana flavor; carboxymethylcellulose sodium, USP; citric acid, anhydrous, USP; glycerin, USP; magnesium aluminum silicate, NF; orange oil concentrate; polysorbate 40, NF; purified water, USP; sodium benzoate, NF; sucrose, NF; vanillin, NF; and FD&C yellow No. 6.
Mechanism of Action
The precise mechanism by which phenytoin exerts its therapeutic effect has not been established but is thought to involve the voltage-dependent blockade of membrane sodium channels resulting in a reduction in sustained high-frequency neuronal discharges.
Before taking Dilantin, tell your doctor:
If you are allergic to Dilantin; any part of this medicine; or any other drugs, foods, or substances. Tell your doctor about the allergy and what signs you had.
If you are taking delavirdine.
If you have had liver problems in the past while taking Dilantin.
This is not a list of all drugs or health problems that interact with this medicine.
Tell your doctor and pharmacist about all of your drugs (prescription or OTC, natural products, vitamins) and health problems. You must check to make sure that it is safe for you to take Dilantin with all of your drugs and health problems. Do not start, stop, or change the dose of any drug without checking with your doctor.
What are some things I need to know or do while I take Dilantin?
Tell all of your health care providers that you take Dilantin. This includes your doctors, nurses, pharmacists, and dentists.
Avoid driving and doing other tasks or actions that call for you to be alert until you see how Dilantin affects you.
Very bad and sometimes deadly skin reactions (Stevens-Johnson syndrome/toxic epidermal necrolysis) have happened with Dilantin. People of Asian descent are most likely to get these. Get medical help right away if you have signs like red, swollen, blistered, or peeling skin (with or without fever); red or irritated eyes; or sores in your mouth, throat, nose, or eyes.
Like other drugs that may be used for seizures, Dilantin may rarely raise the risk of suicidal thoughts or actions. The risk may be higher in people who have had suicidal thoughts or actions in the past. Call the doctor right away about any new or worse signs like depression; feeling nervous, restless, or grouchy; panic attacks; or other changes in mood or behavior. Call the doctor right away if any suicidal thoughts or actions occur.
Lymph node problems like cancer have happened in people taking Dilantin. It is not known if Dilantin may be the cause. Talk with your doctor if you have swollen glands.
Have the level of phenytoin in your blood checked as you have been told by your doctor. If the level is too high, some side effects may happen. This includes a type of brain problem that may not go back to normal. Talk with your doctor.
Heart problems like slow heartbeat have happened with Dilantin. Call your doctor right away if you have any signs of heart problems like dizziness or passing out, chest pain or pressure, tiredness, or abnormal heartbeat.
This medicine may cause weak bones. This may happen more often if used for a long time. This may raise the chance of broken bones. Call your doctor right away if you have bone pain.
If you have high blood sugar (diabetes), you will need to watch your blood sugar closely. Tell your doctor if you get signs of high blood sugar like confusion, feeling sleepy, more thirst, more hungry, passing urine more often, flushing, fast breathing, or breath that smells like fruit.
If you are 65 or older, use Dilantin with care. You could have more side effects.
Birth control pills and other hormone-based birth control may not work as well to prevent pregnancy. Use some other kind of birth control also like a condom when taking Dilantin.
This medicine may cause harm to the unborn baby if you take it while you are pregnant. If you are pregnant or you get pregnant while taking Dilantin, call your doctor right away.
A bleeding problem that can be life-threatening may happen in newborns if you took Dilantin during pregnancy.
Tell your doctor if you are breast-feeding. You will need to talk about any risks to your baby.
How is Dilantin best taken?
Use Dilantin as ordered by your doctor. Read all information given to you. Follow all instructions closely.
Take Dilantin at the same time of day.
Keep taking Dilantin as you have been told by your doctor or other health care provider, even if you feel well.
Do not take antacids at the same time as Dilantin. Ask your doctor if you have a question about how to take antacids with Dilantin.
If Dilantin is given through a feeding tube, stop tube feeding for 2 hours before giving Dilantin. Restart tube feeding 2 hours after giving.
Shake well before use.
Measure liquid doses carefully. Use the measuring device that comes with Dilantin. If there is none, ask the pharmacist for a device to measure Dilantin.
Do not use a household teaspoon or tablespoon to measure Dilantin. Doing so could lead to the dose being too high.
This medicine interacts with many other drugs. The chance of Dilantin's side effects may be raised or how well Dilantin works may be lowered. The chance of the other drugs' side effects may also be raised. This may include very bad, life-threatening, or deadly side effects. Check with your doctor and pharmacist to make sure that it is safe for you to take Dilantin with all of your other drugs (prescription or OTC, natural products, vitamins).
Talk with your doctor before you drink alcohol or use other drugs and natural products that slow your actions.
Have blood work checked as you have been told by the doctor. Talk with the doctor.
This medicine may affect certain lab tests. Tell all of your health care providers and lab workers that you take Dilantin.
Wear disease medical alert ID (identification).
Follow laws about driving with a seizure problem.
Take good care of your teeth. See a dentist often.
Do not stop taking Dilantin all of a sudden without calling your doctor. You may have a greater risk of seizures. If you need to stop Dilantin, you will want to slowly stop it as ordered by your doctor.
What do I do if I miss a dose?
Take a missed dose as soon as you think about it.
If it is close to the time for your next dose, skip the missed dose and go back to your normal time.
Do not take 2 doses at the same time or extra doses.
What are the side effects of Dilantin that I need to call my doctor about immediately?
WARNING/CAUTION: Even though it may be rare, some people may have very bad and sometimes deadly side effects when taking a drug. Tell your doctor or get medical help right away if you have any of the following signs or symptoms that may be related to a very bad side effect:
Signs of an allergic reaction, like rash; hives; itching; red, swollen, blistered, or peeling skin with or without fever; wheezing; tightness in the chest or throat; trouble breathing, swallowing, or talking; unusual hoarseness; or swelling of the mouth, face, lips, tongue, or throat.
Trouble walking.
Feeling confused.
Slurred speech.
Swollen or sore gums.
Very bad muscle pain.
Trouble controlling body movements, twitching, change in balance, trouble swallowing or speaking.
If seizures are worse or not the same after starting Dilantin.
A burning, numbness, or tingling feeling that is not normal.
Not able to control eye movements.
Shakiness.
A very bad and sometimes deadly effect has happened in people taking drugs for seizures like Dilantin. Call your doctor right away if you have swollen glands; fever; rash; chest pain; unable to pass urine or change in the amount of urine passed; or signs of liver problems like dark urine, feeling tired, not hungry, upset stomach or stomach pain, light-colored stools, throwing up, or yellow skin or eyes.
Rarely, certain blood problems have happened with Dilantin. This can lead to bleeding problems or infections. Sometimes, these have been deadly. Tell your doctor right away if you have signs of infection like fever, chills, very bad sore throat, ear or sinus pain, cough, more sputum or change in color of sputum, pain with passing urine, mouth sores, or a wound that will not heal. Tell your doctor right away if you have any unexplained bruising or bleeding, or if you feel very tired or weak.
What are some other side effects of Dilantin?
All drugs may cause side effects. However, many people have no side effects or only have minor side effects. Call your doctor or get medical help if any of these side effects or any other side effects bother you or do not go away:
Dizziness.
Feeling sleepy.
Headache.
Feeling nervous and excitable.
Trouble sleeping.
Upset stomach or throwing up.
Change in taste.
These are not all of the side effects that may occur. If you have questions about side effects, call your doctor. Call your doctor for medical advice about side effects.
You may report side effects to the FDA at 1-800-332-1088. You may also report side effects at https://www.fda.gov/medwatch.
If overdose is suspected:
If you think there has been an overdose, call your poison control center or get medical care right away. Be ready to tell or show what was taken, how much, and when it happened.
How do I store and/or throw out Dilantin?
Store at room temperature.
Protect from light.
Store in a dry place. Do not store in a bathroom.
Do not freeze.
Keep all drugs in a safe place. Keep all drugs out of the reach of children and pets.
Throw away unused or expired drugs. Do not flush down a toilet or pour down a drain unless you are told to do so. Check with your pharmacist if you have questions about the best way to throw out drugs. There may be drug take-back programs in your area.
Label
PRINCIPAL DISPLAY PANEL – 100 MG CAPSULE BOTTLE LABEL
ALWAYS DISPENSE WITH ACCOMPANYING
MEDICATION GUIDE

Pfizer

NDC 0071-0369-24

Dilantin

®

(extended phenytoin
sodium capsules, USP)

100 mg

100 Capsules

Rx only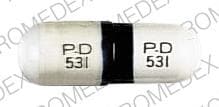 SRC: NLM .